As a business owner, it's important to know your market in order to capture the largest portion of potential customers — using Google Ads pay-per-click (PPC) advertising can help.
According to SEOTribunal.com, Google receives (on average) 3.8 million worldwide searches per minute. We all know that Google has long been a market leader for search engines and, as of July 2020, they control 86.86% of the global search market share.

There are several ways businesses can utilize Google to sell their products or services. They can create PPC ads to advertise on Google directly and their offerings can appear on Google Search, Google Play, Google Shopping, Google Images, and Google Maps. They can also advertise on the Google search partners network which includes hundreds of non-Google websites, as well as Google Video. No matter the ad type, there's a Google Ads option to fit all advertiser needs and options to target the right audience.

Today we are going to talk specifically about expanded text ads (ETAs). When writing copy for Google Search ETAs specifically, there are several important factors to keep in mind that will take your ads above and beyond. Here are the top three:

1. Ad Real Estate: The best practice for writing an ETA is to take advantage of the space you're allotted for each ad with headlines, descriptions, and extensions. The more space you take up on the search engine results page (SERP), the less space you leave for competitors above the scroll.
2. Intent: Understand why the potential customer is searching for your product or service. Ad copy that reflects what the consumer is looking for and how the advertiser can make their life easier will appeal to searchers more than generic verbiage. Put yourself in the position of the searcher and add copy that you would find compelling to see in an ad.
3. Call to Action (CTA): This part of the advertisement encourages the searcher to do something — whether to shop, click, call, download, or subscribe. Including a CTA that drives the consumer to move forward, convinces them to act now, or relays a sense of urgency can have a positive impact on your ad's click-through rate (CTR).
For more information on writing ETAs, check out my previous blog that shares five tips to expand your text ads' performance.
Working in paid search, I see hundreds of ads every week. Some stand out, while others flop miserably. The PPC ads below have been chosen because they show an exemplary use of best practices and stand out among their competitors.

Patagonia

Why I love it: This ad does a great job of connecting to the right audience. Adventurous shoppers can be hard on their gear, and it's good to know that Patagonia gear is made to endure tough conditions. The ad copy is also reflective of the love for the outdoors and protecting nature, which will help to bring in outdoorsy shoppers.

Apple Vacations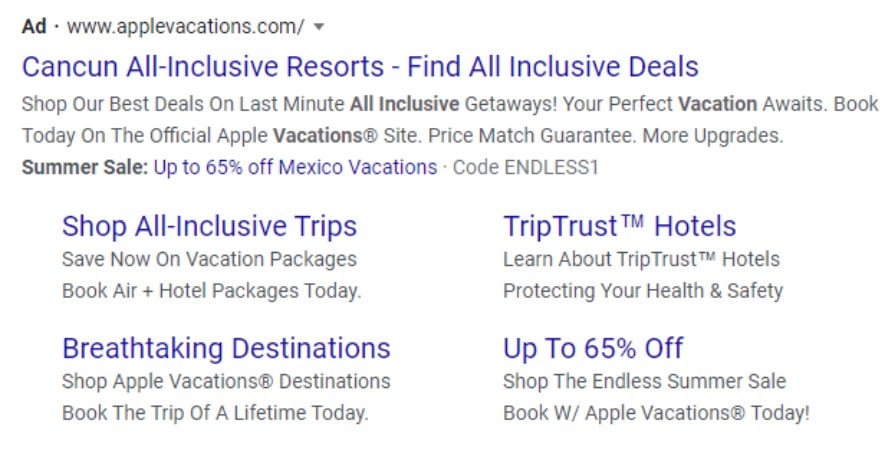 Why I love it: This ad has taken up lots of the SERP real estate with quality ad copy and an excellent use of extensions. The best part is that this ad also includes a promotion extension with a sale and promo code for consumers to use when booking their next Mexico vacation. If you have a sale going on, promoting it in your ads is a slam dunk because consumers won't want to miss out on the best price. Even better, if your sale has an end date, include it in the ad copy to increase the likelihood of action NOW.

Coldwell Banker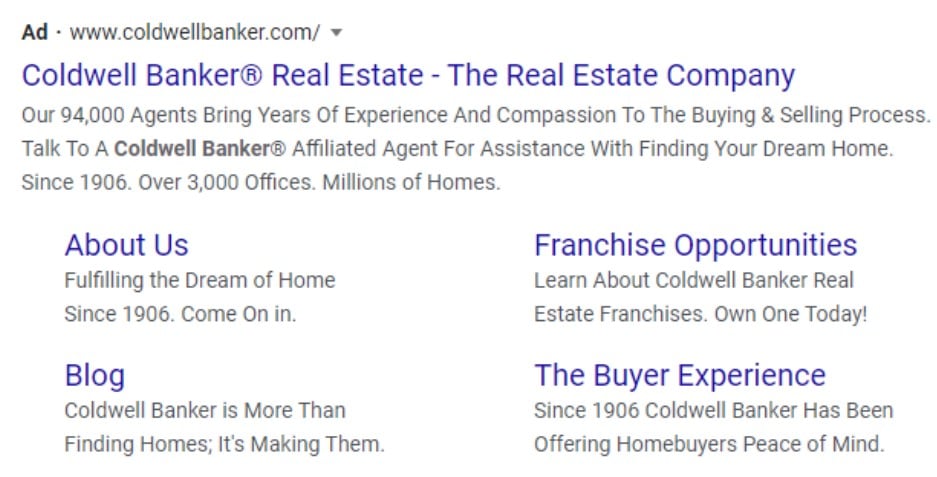 Why I love it: This ad appeals to the intent behind the search and what emotions the consumer may be feeling. Home buying and selling can be a daunting task, and this ad brings a sense of calm and "peace of mind" to the consumer's real estate search. Compassion, experience, and a sense that this company can help you find your dream home make this ad great.

GameStop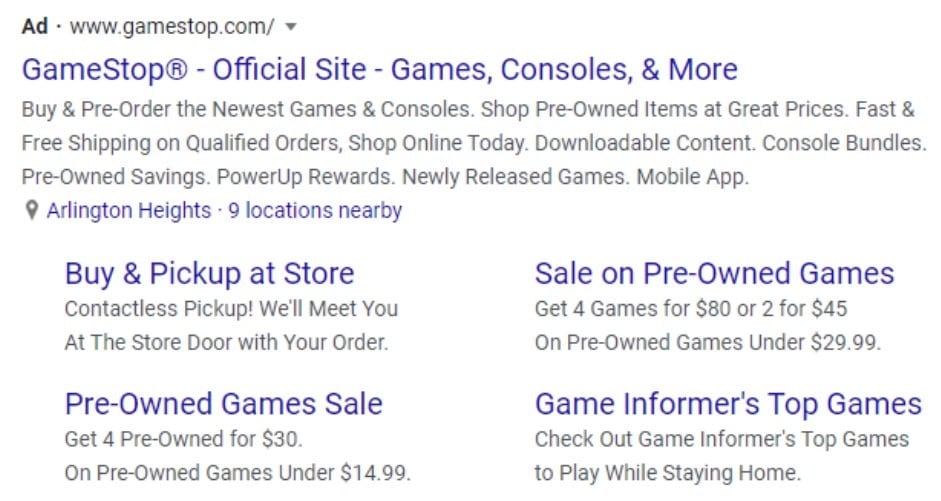 Why I love it: I appreciate the companies that have been putting in extra safety measures for the world we live in right now. This ad features a sitelink for "Pickup at Store," and it explicitly states that they will bring your order to you. These days, this kind of service is much appreciated by consumers and is the only way I shop.

Pickleball Central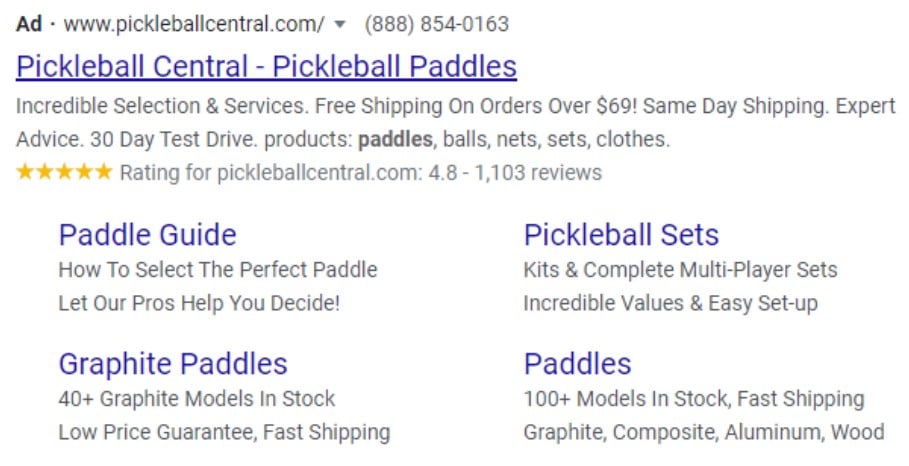 Why I love it: Consumers love to see reviews of companies and products before purchasing. We want to know that we are going to get the high-quality products we've been promised. Google Seller Ratings are an automatic extension and can show when your business meets certain criteria; you can find out more about how to qualify for them from our blog: Stand Out with Seller & Product Ratings on Google Ads.

Ivory Ella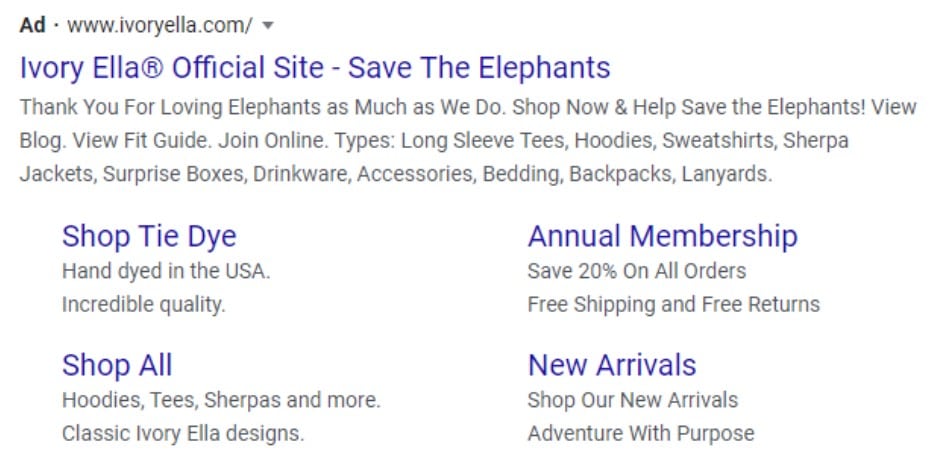 Why I love it: This ad pulls on heartstrings. Many consumers prefer shopping at companies that have similar values to theirs. This company has a mission to protect elephants and their habitat. As an animal lover, I'm more inclined to buy from them because I want to contribute to their mission and feel like I'm helping to better the world one purchase at a time.

West Elm

Why I love it: Like many other consumers, I do most of my shopping online — and mostly on my phone. It is very frustrating to deal with websites that are not mobile-friendly, so it's an excellent point to put in your ad copy that your website works well on mobile devices. This definitely caught my eye, and I am sure it has intrigued others who shop from their phones as well.

VCA Pet Hospital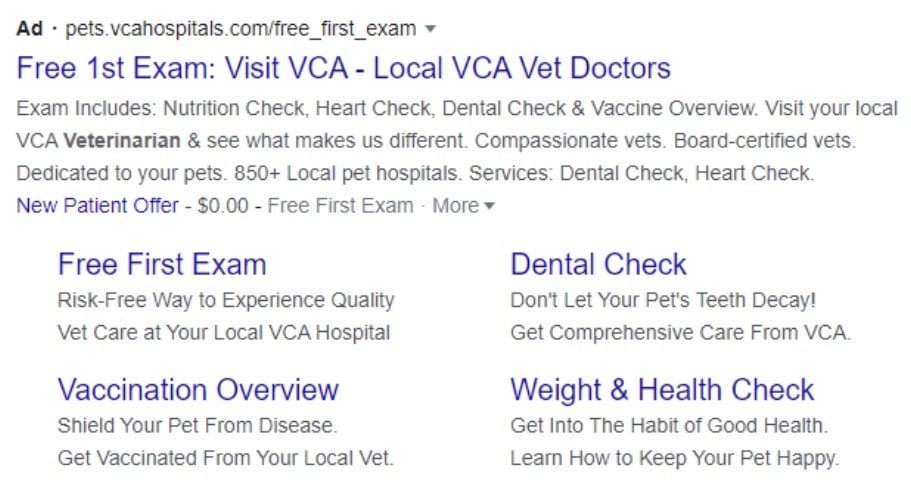 Why I love it: This veterinary doctor offers free first exams for your pet. This free offering is a great addition to health services ads but can work for any kind of company. If you offer incentives or promotions for new customers, include that in your ad because it will drive new customers to your website. Once they are there, hopefully your free offer will entice them to make an appointment or purchase.

Bella Bridesmaids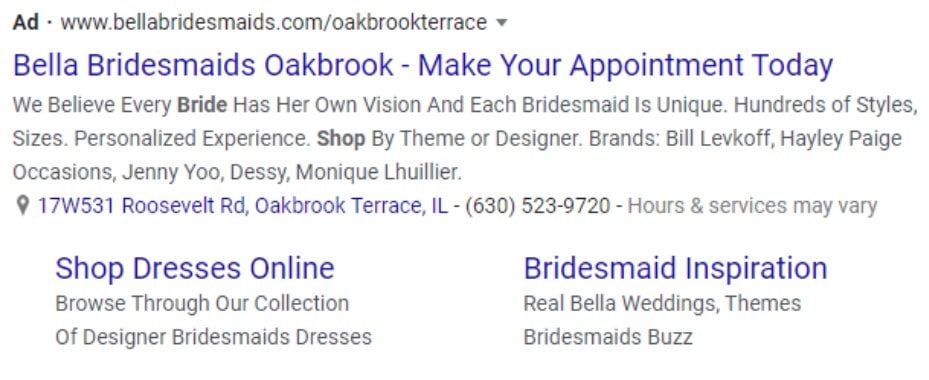 Why I love it: This company has several locations and has taken advantage of the location extensions. By clicking this ad, the consumer can quickly find a location near them to call, check hours, or shop in person. For people that don't want to shop online, having location extensions allows them to easily find you nearby which will drive traffic to your brick and mortar shop.

Aventon

Why I love it: For luxury items such as electric bikes, consumers think they're out of reach and too expensive; this ad addresses that immediately with the first description line. Consumers that are price checking, or may not be ready to purchase now, know from ad copy that the product they want from your company is affordable — without even clicking through to your site.

As you can see, Google is a great place to start advertising because it has the audience, reach, and ad copy options to set your ads up for success. Try implementing these best practices when writing your ads to optimize your performance and make better use of your ad spend. There is no better time to start than right now!