Seller and product ratings can give your paid advertising campaigns the star power to stand out in Google's crowded search engine results page (SERP).
These automatic extensions insert stars and other information in your pay-per-click (PPC) ads just under the headline, displaying your positive product or seller ratings. They give your ads a powerful boost by:
Building Trust for More Qualified Leads: These ratings are jam-packed with juicy information that your buyers can snack on before even clicking your ad. Gain their trust with the social proof needed to push them further down the sales funnel before you even pay for that first click.
Increasing Your PPC Clickthrough Rates: According to Google, "You can boost your ads' CTR (clickthrough rate) by up to 10%." As a result of a higher CTR, you can be rewarded with a lower cost per click (CPC). Talk about a win-win!
Saving You Spend: The best part is, they're completely free. Seller and product ratings serve with your ads at no extra cost to you. Google will only charge your usual click cost, (which should be lower due to an increased CTR).

How to Display Seller Ratings

Google seller ratings will automatically show an aggregated 3.5- to 5-star rating for your brand within your text ads, as in the example with Nike above. Google may also display additional qualifiers, such as the total number of reviews or average order accuracy.
To get started, your business must meet the following criteria:
Your average rating must composite 3.5 stars or higher
The domain for your reviews must match the domain URL of your ads.
You must have at least 100 unique reviews in the last 12 months in the country the ad shows across Google Customer Reviews or third-party aggregator sites. (See the link above for a list of approved aggregators.)
Why Aren't My Seller Ratings Showing?
Nothing's more frustrating to an advertiser than the fact that there's no guarantee Google star ratings will show for your ad, even if you meet all of the criteria.
Google will choose to serve rating extensions based on a range of complex algorithmic factors at the time of the auction, such as:
Time: Once you reach the 100 reviews threshold, it may take up to six weeks for Google to verify your reviews.
Country: You must also get 100 reviews for the country you wish to show your ads.
Ad Rank: Just like any ad batting for placement on the Google SERP, results will vary depending on your ad's rank at the time of the auction.
Despite the uncertainty, the advantage of having star ratings when Google does show them, far outweighs the effort on your part.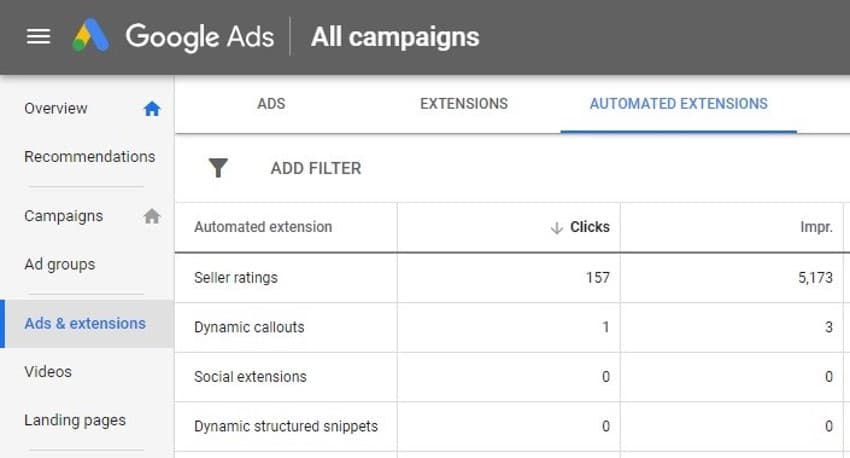 To check if your seller ratings are enabled in Google Ads, select "Ads and Extensions" from the left-hand menu, and then the "Automated Extensions" tab near the top, as shown below.

Since it's an automated extension, there is no way to manually turn it on if it isn't shown as enabled. If it is enabled, you can see if your Google seller ratings are currently running by pasting this the following URL into your browser and replacing "example.com" with your domain:
https://www.google.com/shopping/ratings/account/lookup?q=example.com
You will only see pages that meet Google's requirements on that page.

How to Display Product Ratings

Unlike seller ratings, Google product ratings show an aggregate star rating that reflects the actual product you're selling rather than your business. They're compiled from multiple different sources such as merchants, third-party review data, consumers, and editorial review sites. Ratings are matched to a product primarily by its global trade item number, brand, and manufacturer part number (if your product reviews aren't showing, this is the first thing to check in your product feed).
Product ratings can automatically show for your product listing ads on Google Shopping either at the top of the page within a product carousel, as shown below, or on the right side of the SERP.

In order for your ads to include product ratings, you must have a Google Merchant Center account associated with a verified business website. You can then upload your reviews feed manually, use a trusted third-party review aggregator site, or opt in to the Google Customer Reviews program.
You may also opt-out of Google ratings altogether. Keep in mind, there's no real benefit for opting out, as Google's extensions have shown to improve ad performance.
Seller ratings and product ratings are an excellent way for your ads and products to stand out in a crowded market. It's worth the time and effort to be part of these programs.