5 Ultra ETA Tips to Expand Your Text Ads' Performance
It started simply. First standard text ads morphed into expanded text ads (ETAs). And then, ETAs evolved again, emerging as ultra ETAs, with an optional third headline and a second description line, increasing the number of characters available in each ad by 66%.
The additional text that both Google Ads and Microsoft Ads have incorporated in their ultra ETAs can improve click-through rates (CTRs) by providing more information and taking up more space on the SERP.
With more options come more questions about how to best serve your ultra ETAs, and what makes one text ad more successful than another.
Follow these five simple steps for improving your ultra ETAs:
1. Consider the Message
You want your headlines and descriptions to reflect the keywords searched. Make sure that all parts of your ad flow together as a cohesive thought.
It's important to note that on smaller screens, like mobile devices, expanded text ads may only show the first two headlines and the first description. Make sure your ad copy provides the most essential information in those components and use the additional third headline and second description line for enhancing the original message.
2. Take up Space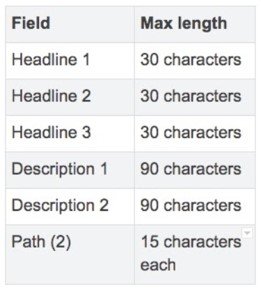 IMAGE
CAPTION: The character limits for Google Ads and Microsoft Ads text ads.
With 120 more characters available for ad copy, it brings the total available ad space to 300 characters. Try to use as much of the space allotted as possible; the more useful information you can provide to consumers, the greater chance you have of standing out amongst the rest of the search results.
3. Title Case Your Headlines
The three headlines are the first thing that will grab the attention of consumers. By title casing the headlines, you make your ad copy pop and look more uniform. For example, "Shop Online Now."
4. Sentence Case Your Descriptions
In the past, we've title cased descriptions in regular ETAs. However, we've found that with two 90-character description lines, sentence casing is easier to read and more visually appealing to the reader.
5. Three Ads Per Ad Group, Minimum
Having multiple ads allows the algorithm to test which ad performs the best. With more variations, you'll be able to understand which ad copy people are responding to and more easily match up to a searcher's query.
We recommend at least three ads per ad group, and even more for high-volume ad groups.
It's a good idea to run the ultra ETAs alongside your current expanded text ads for some time to test which versions are really performing the best before fully switching over.
If you know how to use them, ultra ETAs can boost your overall performance and drive more traffic to your site. With these tips in mind, you can start optimizing your ads right now to test the difference in your own campaign performance.