If you need to drive online customers to your brick-and-mortar locations, use location extensions in your Google Ads campaigns. One of many types of ad extensions, location extensions use data from your linked Google My Business (GMB) account to add location information to your paid search ads as shown below.

When people search for one of the keywords you're bidding on and see your ad, they could also see your address, directions, or the distance to your business, as shown above.
However, location extensions are not for all businesses. Those who wish to only do business online and do not want visitors to their location can skip this extension type entirely. Recently, some advertisers received the email warning below, notifying them that Google Ads will automatically link their account to a GMB with the same domain.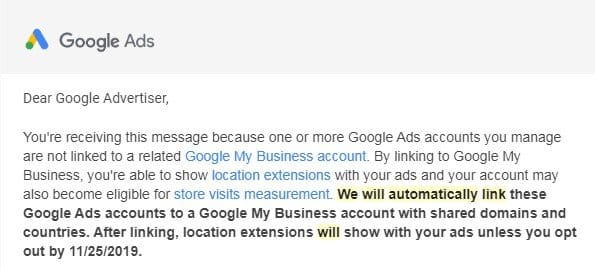 If you have received this notification and do not want location extensions enabled, you must log in and opt out by Nov. 25, 2019.
In order to get started with location extensions, you first need to set up your business in GMB. Then log into your Google Ads account and complete the following steps; as shown below.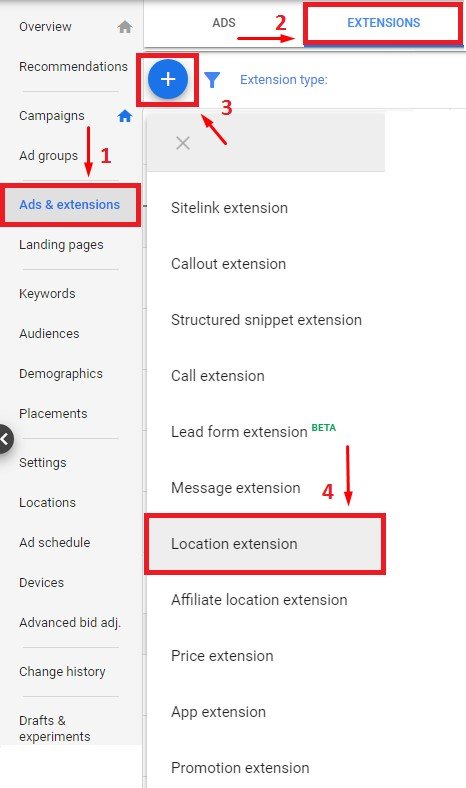 Click on "Ads & extensions."
Click on "Extensions."
Click on the blue, circular, plus button.
Click on "Location extension."
On the next screen, use the drop-down menu to choose whether you want to add the location extension to a campaign or at the ad group level. Most of the time location extensions are added on the campaign level.
Choose "Campaign" from the drop down and click on "Select campaigns," as shown below.
Next, choose all or some campaigns to assign your new location extension to. Then click "Done."
Next, choose how to show your ad as shown below.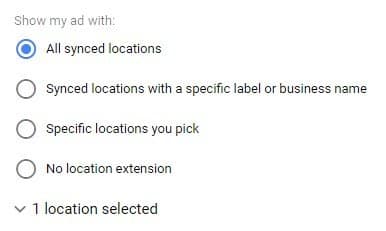 If your business only has one physical address, choose the "All synced locations" option. From there, you can click on the drop-down and see which location will be shown to your potential customers.
If you have multiple locations, choose which location to show with each campaign.
Click on "Save" and your location extension will be added to the campaign or ad group you have chosen. Since all the information for location extensions comes directly from your GMB account, it is very important to make sure that the data there is always up to date.
After you set up your location extensions, your ads will be eligible to show this extra information. Unfortunately, there is no way to force an ad to display a location extension, or to give one type of extension priority to ensure it is shown more often. The Google Ads algorithm decides which extensions are shown depending on the searcher and their intent.
Location extensions are a wonderful way to showcase your locality to potential customers and take up more real estate on the search engine results page. All that's required is a linked GMB account. If you don't have a GMB account set up, do it. It's free and it allows you to add location extensions to your ads.