If you're running a sale or promotion you want to highlight in Google or Microsoft ads, try adding a promotion extension. These extensions give you the ability to call out a special deal, whether it's dollars off a purchase or a percentage savings.
Just like in traditional advertising, promotions make your offering stand out to potential customers. In the digital advertising space, promotion extensions allow searchers to easily spot great deals and can generate new sales for your business.
Promotion extensions offer customization opportunities, such as device preference and flexible scheduling. Scheduling options include not only start and end dates, but settings for time of day and day of week timing as well. You can also add promotion details, such as a minimum-order value or a specific promotional code.
To call even more attention to your ad, you can choose from a list of over 30 occasions – like Back to School, Christmas, Diwali, and Women's Day – that will incorporate more detail into your extension, as shown below.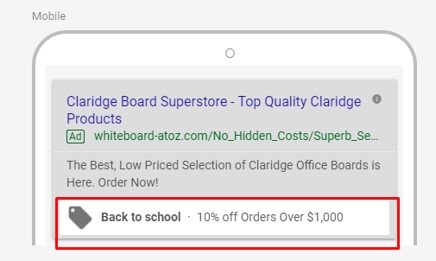 Like other ad extensions, promotion extensions can be added at the ad group, campaign, or account level. Ad group extensions take priority over both campaign and account level, and campaign-level extensions will show before account level. This hierarchy of extensions is true for all available ad extensions, allowing you to show the most specific and granular extensions to your potential customers.
To create a promotion extension in the Google Ads user interface (UI), you will first navigate to the "Ads & extensions" link in the left-hand navigation, as shown below. Then click "Extensions" in the top navigation. Click "+" and then "Promotion extension" to create a new one, and fill in the appropriate fields.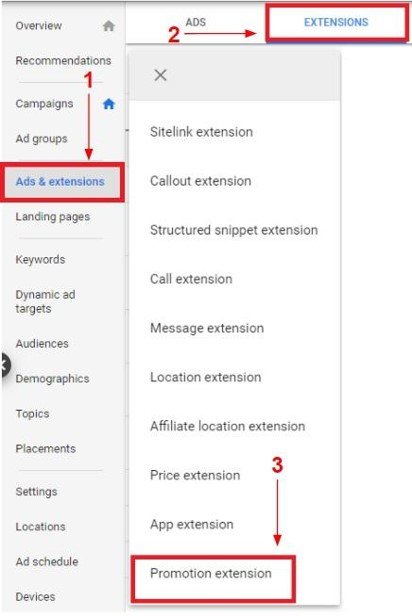 Creating a promotion extension in Microsoft Advertising is a bit more complicated. Since promotion extensions are newer in this platform, for now you can only add them in the UI and not Microsoft Editor. When logged into your Microsoft Advertising account, click on "Tools" in the top menu and then "Ads Lab," as shown below. From there you will select "Promotion" on the left-hand menu, and then click the blue "Add Extension" button.
You can easily update promotion extensions via the UI in both platforms, as well as via the shared library in Google Ads Editor. Editing extensions does not reset performance statistics, so you won't lose valuable data.
Like sitelinks, call extensions, and all other ad extensions, promotion extensions cost nothing to add to your account. You will only be charged for a click when someone clicks through to your landing page.
Promotion extensions are another great tool in the growing arsenal of ad extensions in Google and Microsoft ads. They offer one more way to make your ad stand out and increase the probability of drawing new customers to your business. If you have a sale or a promotion coming up, why not try a promotion extension? You have nothing to lose, and will likely gain customers.