The digital marketing industry can be confusing to those who are unfamiliar with it, especially if they don't know all the acronyms and platforms. When I first started in the paid search industry in 2008, I thought my friend who told me about JumpFly worked in "paperclip" marketing because she kept talking about pay-per-click. And I wondered how much marketing an agency could do for a single product like a paperclip.
It turns out my cluelessness about the digital advertising space is fairly common. One of the questions our sales team often gets asked is: "What's the difference between SEM (search engine marketing), SEO (search engine optimization), and PPC (pay-per-click)?"
For me, it was easiest to think about online advertising and SEM as a big umbrella with PPC and SEO underneath.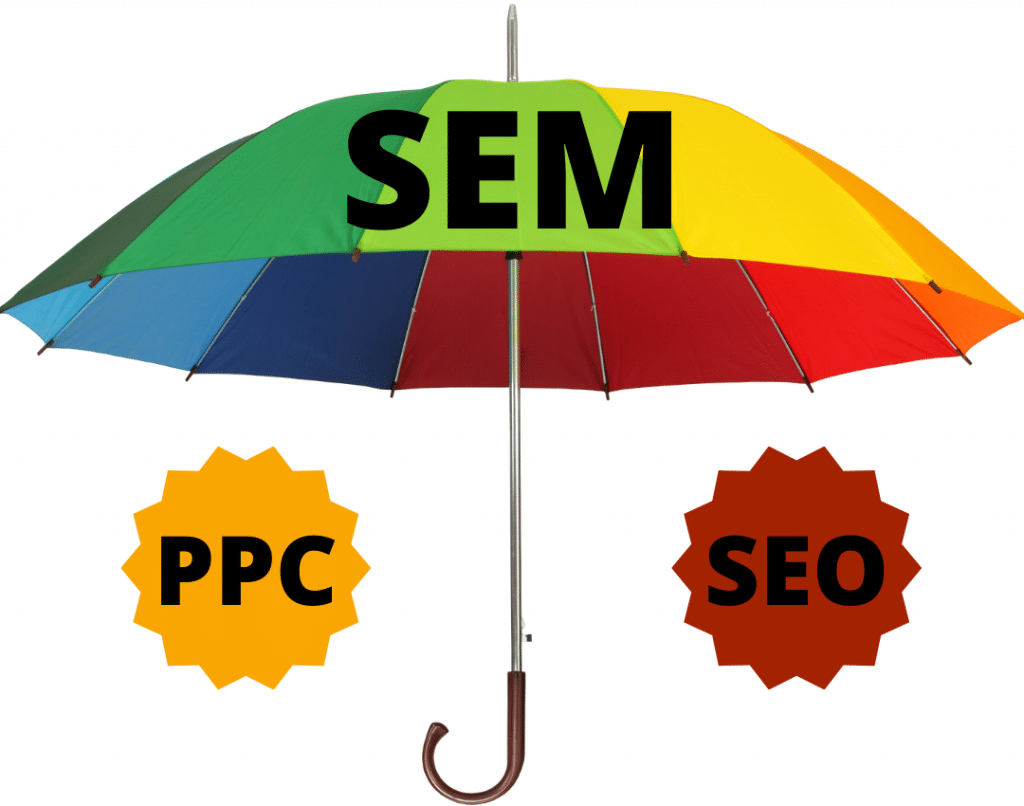 In order for SEM to deliver the optimal results, there needs to be both PPC and SEO efforts in place. But what is the difference between PPC and SEO? The main distinction between these two sides of the same coin is that PPC is paid while SEO is not. That doesn't mean that SEO is free, as there is a cost that goes into crafting compelling and well-optimized content for your website, but with SEO, there is not a cost per click like with PPC.
The concept of PPC is relatively simple. It's in the name itself: pay-per-click. When you set up a PPC account, you build ad campaigns containing keywords that users would use to search the internet for the goods and/or services that your business offers. These keywords are sorted into ad groups, and ads are written to convey your brand's messaging. You then decide how much you are willing to spend on clicks to bring traffic to your website using these keywords. After your campaigns are live and your ads are approved, you start receiving clicks – and paying for them, from as little as a penny to hundreds of dollars, depending on the competitiveness of the keyword and other factors. Once the users get to your website, the PPC portion of SEM is done.
With SEO, it's not so simple. While you don't pay for your clicks or position in sponsored search results, you do pay an SEO agency or someone on your own staff to create and optimize content that will help your page rank higher in the organic portion of the Search Engine Results Page (SERP). Google's spiders and algorithms crawl, index, and rank each page of the internet that's relevant to each keyword searched for, and the better your SEO signals are, the better your organic rank will be.
Having your page rank higher in the SERP to drive more traffic and conversions is the main goal of SEO. Achieving higher rankings can depend on things as varied as the technical aspects of crawling and indexing of your site, the words that populate the content that your visitors see, metadata in the code of your pages, the strength of your blog posts and other informational content, and the backlinks that other sites on the internet build back to your pages. SEO often intersects with other digital marketing disciplines, as well, such as media relations, user experience, design, and web development.
While PPC and SEO are powerful ways to promote your website individually, utilizing both PPC and SEO will help supercharge your SEM efforts. By covering both the paid and organic sides of search engine marketing, you are giving your business the best possibility for success on Google and beyond.
Before you decide whether you should do PPC or SEO, perhaps think about trying them both. Casting a wide net will allow you to see what works and what doesn't. Just remember to be patient – SEM, and especially SEO, takes time.