The power of LinkedIn data for business-to-business companies is undeniable. And there are more ways to use that powerful data than by advertising on the LinkedIn platform.
To start with, Microsoft owns LinkedIn. And they've made it possible to use LinkedIn Profile Targeting within the Microsoft advertising platform.
The three targets you can use are:
Industry
Job Function
Company
Let's get into what each of these categories is and what they can do for you.
Industry: Microsoft offers 24 main categories, from Agriculture to Wellness & Fitness. Within each main category are subcategories. For example, the category Software & IT Services has four subcategories: Computer Software; Information Technology & Services; Computer & Network Security; and Internet. You can target the main category or a subcategory.
Job Function: there are 27 different job functions, from Accounting to Education to Research. Job Functions are at a high level – for example, Education is a very broad job function. Is it preK, primary, secondary, higher education, or perhaps education administration? (Hey Microsoft: It would be great to see sub-categories of job functions, similar to Industry.) 
Company: one of the most interesting targeting methods, Company is just that – the ability to target employees at specific companies. Want to market to all Googlers? You can do that.

Or you can target many of the larger automotive dealerships in the United States: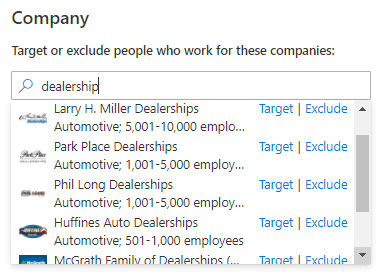 Or maybe all the employees of a specific hospital — you can do that too.

If you want to see how large the audience might be for a given target, head over to the Audience Network Planner, found under Tools > Planning.
If I wanted to market my medical supplies to health care workers, and I chose Industry: Hospital & Health Care, with job function Healthcare Services, I'd get the following monthly estimates: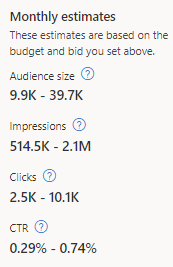 I could even further narrow my audience by gender: Female, as my product resonates best with women. 
How do you use it in your account?
Once you've figured out your audience, you have several ways you can use it.
Add it to your Search campaigns: We call that layering in your audience. When you add it, you'll need to decide whether you want to only target your selected audience when they search (add the audience as Target & Bid) or you want to bid up (or even down) to your target audience (add the audience as Bid Only). Either way, this is your traditional text ads that show when someone searches.
Create Microsoft Audience Network campaigns: These are campaigns that use images or your shopping feed to show ads on MSN, live.com, and other Microsoft Partner sites.
To use them, add your audience targeting in the Demographics tab of the campaigns.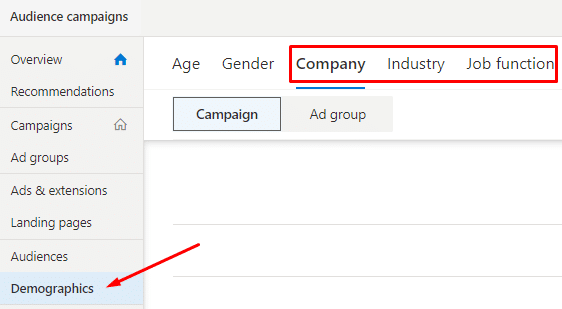 Read more about the two different ways you can set up your campaigns on my blog MSAN's Convenience and Control. LinkedIn demographics are a powerhouse of data for B2B advertisers and will become more powerful as Microsoft enhances the available data.