Microsoft opened up a whole new world in advertising opportunities with the advent of the Microsoft Audience Network (MSAN). I liken MSAN more to Google's Display advertising than traditional search advertising, but with a tighter net because of the targeting they offer. MSAN offers native-style ads – they look more like stories – shown on MSN, Microsoft Outlook and Microsoft Edge.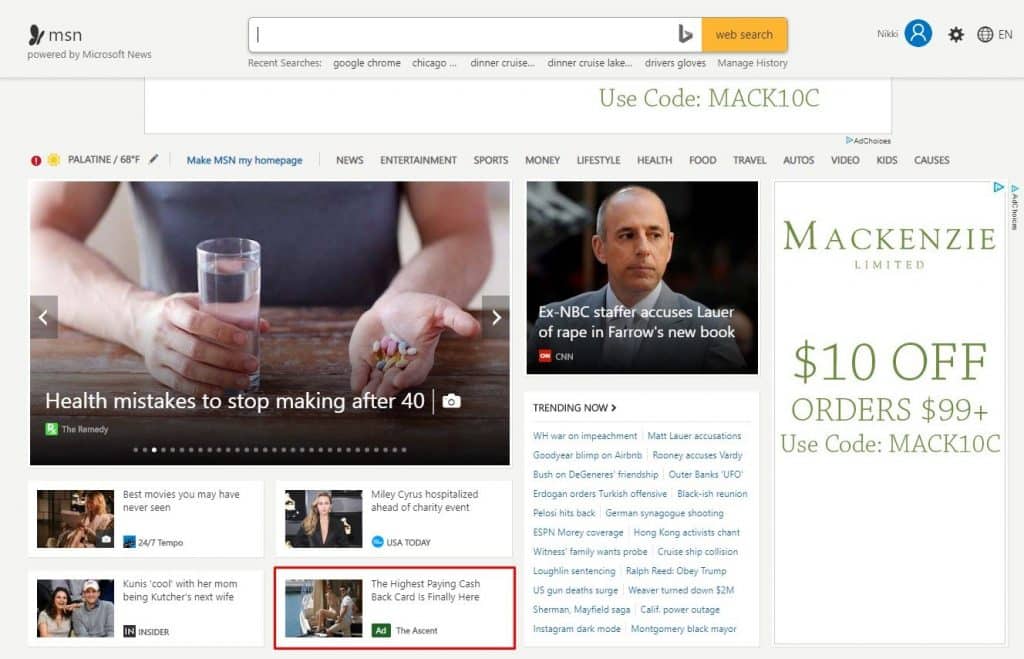 Microsoft thoughtfully gives advertisers two implementation options with MSAN: convenience or control.
The Convenience Option
Available to all Microsoft advertisers now, the convenience option is layered into your existing search campaigns. You don't need to create new campaigns, or think about which audiences or demographics to target.
However, because these ads are native, many of the placements require an image. It can be drawn from the image extensions on the campaign, or Microsoft will use an image they think is related. Unfortunately, we've heard a few horror stories featuring images that don't represent the brand well. Think of a dentist office touting how painless and gentle their dentists are, paired with an image of a scary-looking drill coming at someone in a dentist's chair.
If you don't have suitable images to add as extensions, and don't want your ads to show without controlling the images, you can opt out of showing completely. You'll find that setting under "Campaign settings," and then "Advanced settings," as shown below. Changing the bid adjustment to decrease by 100% will stop your ads from showing.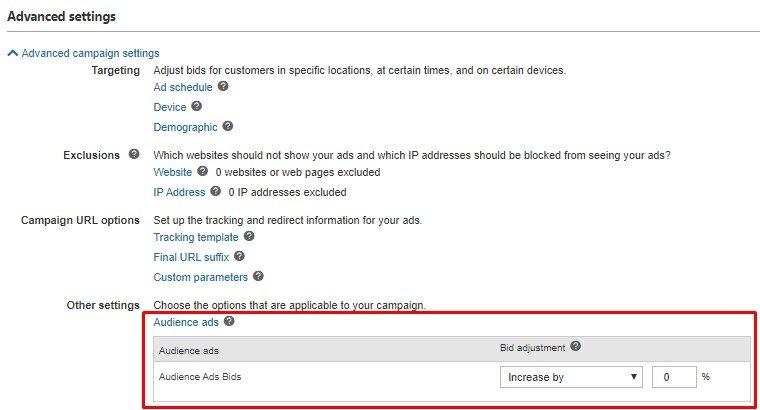 The Control Option
With the control option, the second way of showing MSAN ads, you create separate campaigns with individual budgets for deeper optimization using remarketing audiences, LinkedIn profile targeting, in-market audiences, product audiences and more. The control option is in open beta in the United States only.
I've been testing three types of MSAN campaigns using the control option:
Remarketing: targeting visitors to a client's website with targeted ads.
Prospecting: primarily targeting in-market audiences and LinkedIn profile targeting with either job function, industry, or company.
Shopping: targeting ads based on SKUs they visited, which requires updating your universal event tracking tag, or targeting more broadly by letting the Microsoft AI do the matching. The AI-matching method actually works quite well, and only takes about two minutes of campaign creation.
With control campaigns, ads should be written in the story-telling format that works best for all types of native ads. Asking questions and posing a problem both work well.
A few quick tips for your ads:
Make sure to watch your long headline length as Microsoft tends to truncate the long headlines, as shown below.

Make sure the short headline can stand alone – it may be used without the description or other copy.

Lifestyle imagery, rather than product-based imagery, works best for native ads.
For more information on MSAN marketing, watch my recent guest appearance on demand on the Microsoft Webcast, "The Art and Science of Search + Native." It features Katy Tonkin, head of Media & Digital Customer Acquisition at Microsoft Advertising, covering the five tactics for maximizing return on investment, and Jonathan Lim, solution account executive at Microsoft Advertising, going in-depth on the MSAN as a whole. I cap off the webcast with best practices, targeting choices, and real-world results.