We've looked at why you want to optimize your product detail page on Amazon as well as how to optimize your title, bullet points, and product description. These are all customer-facing efforts, but what about non-customer facing opportunities like backend keywords? 
In our final post in this three-part series, we will look at how to optimize for Amazon's search algorithm. The backend keywords or search terms that vendors and sellers can enter on their products are one of many ways to inform Amazon on how best to match your product to shopper searches.
Utilizing the Search Term and Platinum Keyword Fields in Seller Central


When you open an individual product to edit the details of that product within Seller Central, you will see the keywords tab in the navigation bar. Enter search terms here that you want your product to appear for organically when a customer searches on Amazon.
There is no need to repeat or separate the keywords within this field. Amazon takes into account different ordered words — so a phrase could be searched with the very first word in the list and the very last word and it will still trigger your product.
For example, in the search term field for our rubber ball, you should have: ball rubber red bounce bouncy play playground fun recess child child's children toy pet dog dogs cat cats.
If Person A searches for a "bouncy playground ball" since all those words are in the product search terms, they help your product rank for that person's search.
ball rubber red bounce bouncy play playground fun recess child children kids toy pet dog dogs cat cats
Person B is looking for a ball for their pet and searches "rubber ball for dogs" and also sees your product.
ball rubber red bounce bouncy play playground fun recess child children kids toy pet dog dogs cat cats
The goal is to enter words that are relevant to your product that a customer would search to find it. Keep search terms general to the product and the category without using branded or competitor keywords.
Avoid search terms that are already in your product title or heavily displayed in your bullet points and description. You don't get anything 'extra' from duplicating these keywords and stuffing them in where they may not make sense.
Amazon limits the length of the search term attributes to 250 bytes of data, so use the space wisely. If you see a warning message beside the search terms field, you have exceeded the limit. Check your words and make sure the ones you eliminate are in your content on the product detail page.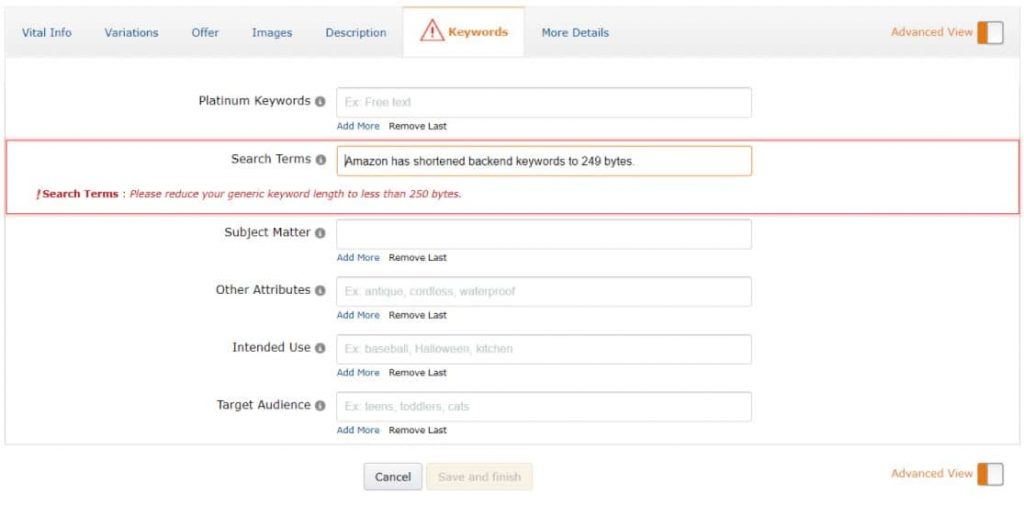 Q: I see fields for Platinum Keywords. Can I use those?
A: Within Amazon, there are different seller tiers. The platinum keywords fields are only available to platinum sellers. To receive a platinum seller status, you must have several million dollars in annual sales, a long, proven history of being a top-performing Amazon seller, and be invited by Amazon to upgrade your account. The platinum keywords fields are available to everyone, but they will not help your efforts to rank unless you are a platinum seller.
If you are a brand registered seller, you have access to the search term optimizer within your brand dashboard located under the performance tab. This is a great place to start if you are unsure of what other search terms to add to your products on the backend.
The Amazon search term optimizer provides detailed insight on which backend search terms work best for you, what is duplicated in your product content, and also suggests alternatives for search terms from shopper data.
For Vendors, the process of adding backend keywords is a little different. Search terms can be added via the new product set up sheet when you first list your product and can also be added in the Vendor portal when editing a product. Amazon will give you a list of what is already being displayed when you hover over the "What's This" link next to the Search Terms section title.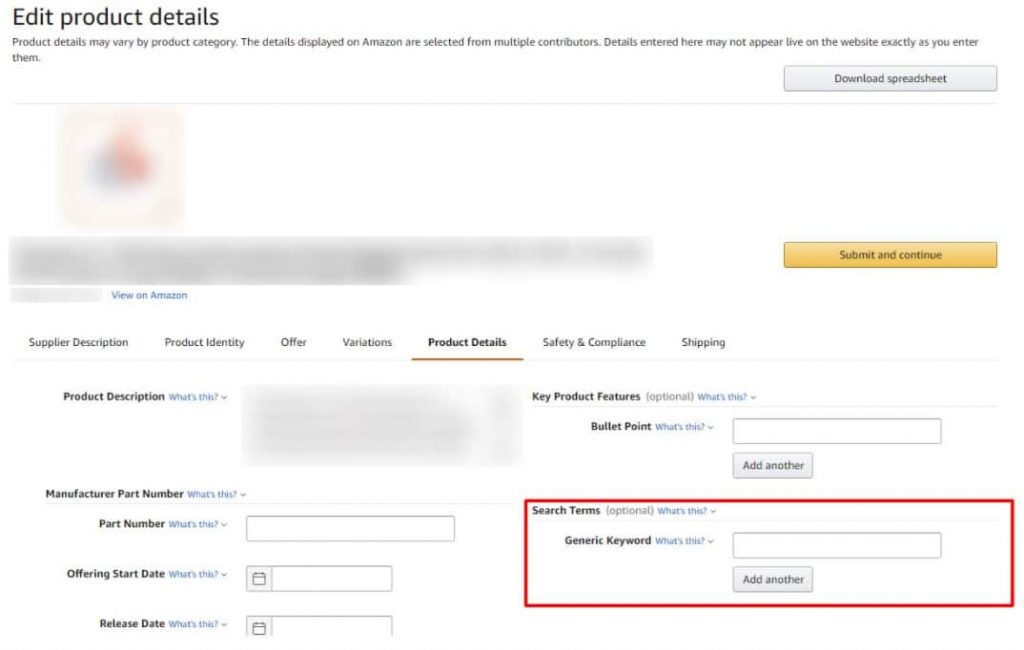 Backend keywords are helpful for the Amazon algorithm to find other search matches for your products. They are important to get right and use wisely, but they are not a cure-all for a poorly crafted product detail page. Your customer-facing content and your algorithm-facing keywords must work synergistically to find your ideal shoppers.
Optimization within the Amazon platform will help drive consistent conversions and grow your organic rankings. Put the best practices shared in our three-part series to work for your business and dominate your competition on Prime Day, Black Friday, Cyber Monday, and beyond!