In our last post, we looked at why you would want to optimize your product detail pages and how Amazon learns about your product to best match a customer's search. Now let's get into the details of how to optimize your product pages.
Q: How can I optimize my content?
A: Don't panic, we have a few tips to help you. Using the example from the previous post, let's imagine that this rubber ball is the new product that you're adding to your catalog.
1. Describe the Product in the Title
The title is the first written description of your product that customers see — whether it is from an organic search or from an ad. It is crucial that all your customer's initial questions are answered in the title. We have found that using approximately 130 characters or more in a title, with highly relevant terms regarding your product, is best.
Include the following information:
Brand name: Acme Ball Corp.
Description of product: Hollow Rubber Ball, Super Bouncy, Perfect for Child Play, Fetch with Pets, and General Rolling Around
Part or Model number (if applicable): Ball100
Color (if applicable): Bright Red
Size (if applicable): Small
When you're done, it should look something like this:
Acme Ball Corp. Hollow Rubber Ball, Super Bouncy, Perfect for Child Play, Fetch with Pets, and General Rolling Around, Ball100, Bright Red, Small
2. Detail the Top Five Characteristics in the Bullets
Amazon refers to the bullet point section of the product detail page as key product features. This is where you should highlight the top five attributes of the product and explain exactly why this is the best rubber ball available on Amazon.

Here are some examples of the traits that can be used to highlight a product:
Benefits of use,
What the product does or what problem it solves,
Styling details,
Operation of product,
Product dimensions,
Age appropriateness,
Country of origin,
Manufacturer's warranty information.
For our rubber ball, this is what our bullet points could look like:
Bright red rubber ball is hollow and constructed from 100% recycled rubber.
Lightweight and super bouncy, this ball is perfect for playtime with the kids or a pet.
Small in size, this rubber ball has a diameter of 2.7 inches, fitting comfortably in the palm of your hand.
Manufactured in the USA.
All materials are quality and safety tested.
Utilize all five of the bullet point fields if possible. The more you differentiate your product from similar products on Amazon, the more likely a customer will purchase from you versus your competitor.
3. Always Include a Product Description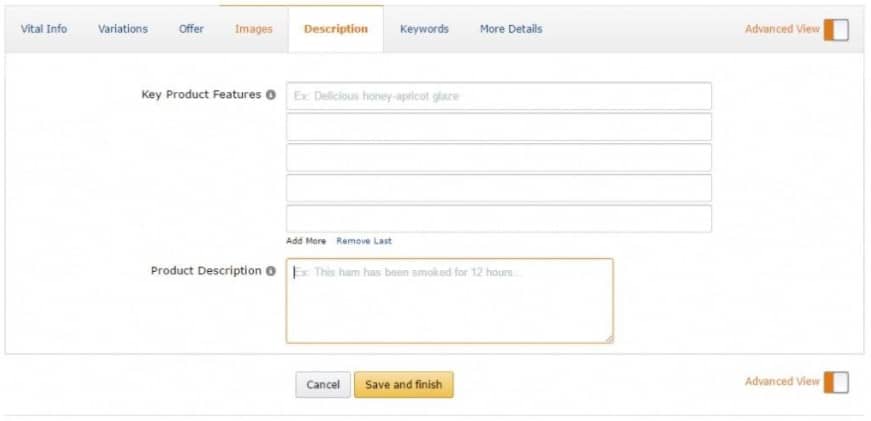 Think of this section as similar to your own website description. Insert your marketing copy here and any other long text asset you would use to describe your product in detail. This description is also indexed for keywords and search relevancy — so even if it does not show on Amazon all the time, the text you use is still working for you.
For our rubber ball, the description could read:
The Acme Ball Corp. rubber ball is super bouncy and sure to provide hours of fun at playtime. Bounce the rubber ball against the wall, floor, or toss it into the air for a great game of catch by yourself or with friends. Parents love this ball for their small children and toddlers. The non-toxic rubber material is tested for safety and quality, making this ball safe for young ball enthusiasts. Pet parents also love this ball for a rousing game of fetch for their fur babies. The rubber is durable and can withstand intense chewing or gnawing from both dogs and cats. This ball is constructed from 100% recycled rubber making it environmentally friendly and sustainably sourced. You can feel good knowing you are enjoying a rubber ball manufactured in the USA and backed by the Acme Ball Corp. lifetime warranty. Life is short, have a ball!
As you can see, this description includes many references to rubber and ball, which is what the product is. It also describes who we want to buy the ball — parents, pet parents, people who are environmentally conscious, or people who want to buy an American-made product.
Using your marketing copy in the description will boost organic and ad relevance, engage customers and build a connection with your brand.
4. Use as Many Helpful Images as Possible
While having all the amazing descriptive text in the world is a huge benefit, pictures can make or break a product. Make sure you use all of the available image upload fields in Seller Central.
Although they initially do not appear on site, a customer can click an image and bring up the slideshow feature which shows all available images.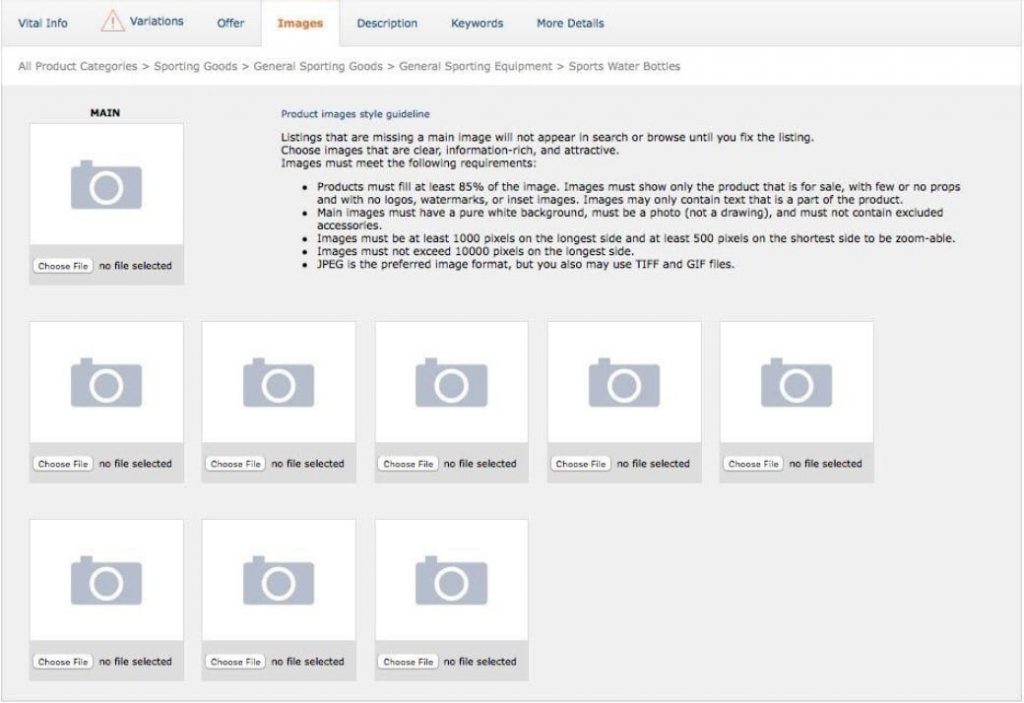 Tell a story with the images you upload. Show the customer the product in action, how it's intended to be used, size/dimensional images, and more. If it's a technical product, the images are a great place to show, rather than tell, features about it.
For our rubber ball, we would include a main image of the ball by itself on a white background to adhere to Amazon's Terms of Service. Additional images would include a picture of the rubber ball next to a tennis ball for size comparison, and an image showing the rubber ball in action on the playground with children, or with a dog in a fun game of fetch.
Keep these best practices in mind, and build a well-developed product detail page on Amazon. Customers will be able to answer all the questions they have and be excited to buy your product. If applied correctly, these steps will also boost your organic search ranking on Amazon.
As always, sales volume is a key driver for a product to succeed, but every little thing you do to optimize a product helps. Our next post covers backend optimization, the final piece of the Amazon product content optimization puzzle.