In the ever-evolving world of Google Ads, marketers have become accustomed to ad types coming and going. First, there were text ads. Then Google introduced expanded text ads (ETAs) in 2016, and text ads went away. The third generation of text ads, responsive search ads (RSAs), was released in 2018 and fit in nicely with Google's push for machine learning and automation.
Now, according to industry buzz, it appears that ETAs may be going the way of the text ad as Google prepares to phase them out to focus on RSAs.
In an RSA-only world, marketers need to make sure their messaging speaks to potential customers and stands out from the competition more than ever before. Here are four best practices for crafting compelling responsive search ads.
1. Headlines Are Your Friend
RSAs allow you to add 15 different headlines — each with 30 characters. You can easily pin headlines to stay in a particular top position of your choice, making it easy to ensure that your main message always shows. Google recommends utilizing at least eight to 10 of the available headlines, but we have found that starting with all 15 headlines helps with ongoing recommendations from Google.
Create two to three of the headlines with unique messaging that relates to the keywords in the ad group, and make sure to use often-used keywords in your headlines. Say you are advertising Simple Mobile wireless refills. In that case, your headlines may include something like "Simple Mobile Wireless Refills," "Simple Mobile Pay As You Go," and "Re-Up Your Simple Mobile Here."
The rest of your headlines should focus on your business's unique selling proposition (USP). Do you offer free shipping? Make that a headline. Does your product or service solve a consumer problem? Highlight that in a headline. Do you have a product guarantee or a worry-free return policy? Those would both make excellent headlines. Consumers love seeing USPs; they are enticing, attractive, and compel clicks. However many you do, make sure that at least three other headlines don't include your keywords.
Use whatever verbiage necessary in your headlines to ensure that your business stands out from your competitors. Use your copy to grab your potential customer's attention and make them feel like they need to visit your site to see how your product or service can help make their life better.
2. Be Descriptive with Your Descriptions
With a maximum of four description lines of ad text, your RSAs have the power to deliver the message you want to send. Like the preceding ETAs, RSAs only show two descriptions at a time, and each description line has a maximum length of 90 characters. Use these four description fields to highlight information that you didn't already cover with your headlines. This space is where you should include your call-to-action (CTA). Want searchers to request a free quote? Tell them with your descriptions by using verbiage like "Call Now for Your Free Quote!"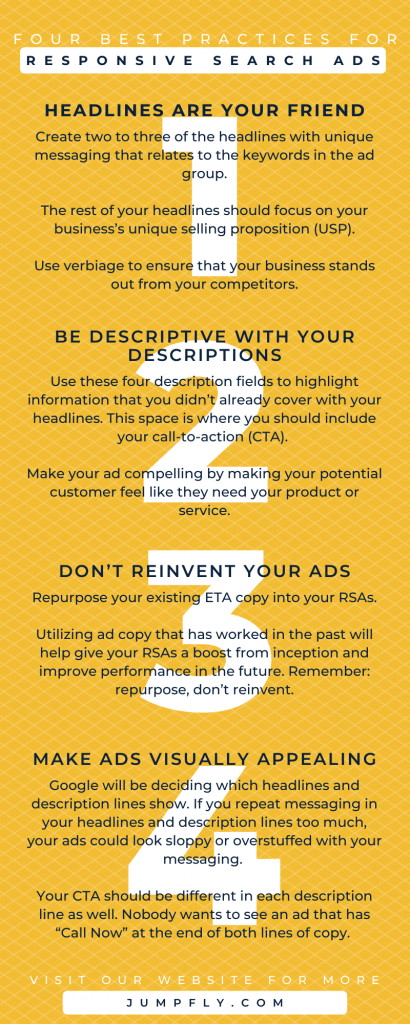 As with headlines, description lines can also be pinned to a preferred position. Pinning is crucial if you want to make sure that specific ad copy is shown to all users viewing your ads. Also, make sure that the descriptions are different enough from each other that they wouldn't be redundant if paired together.
Use the RSA descriptions as you would with ETAs and text ads before them. Make your ad compelling by making your potential customer feel like they need your product or service. Excellent ad copy is imperative with text ads, and RSAs are no different.
3. Don't Reinvent Your Ads
If you have been running ads for a while, you probably have a good idea of what copy works and what doesn't. Thankfully, you can repurpose your existing ETA copy into your RSAs. Google Ads Editor even has an easy way to export your current ETAs to RSAs, shown below:
A. Log into your Google Ads account.
B. Highlight the ETAs you want to convert into RSAs.
C. Right-click and select "Export as responsive search ads."
D. Make the changes in the .csv file that downloads.
E. Upload your new RSAs.
Utilizing ad copy that has worked in the past will help give your RSAs a boost from inception and improve performance in the future. Remember: repurpose, don't reinvent.
4. Make Ads Visually Appealing
With RSAs, it is essential to keep in mind that Google will be deciding which headlines and description lines show. If you repeat messaging in your headlines and description lines too much, your ads could look sloppy or overstuffed with your messaging. Your CTA should be different in each description line as well. Nobody wants to see an ad that has "Call Now" at the end of both lines of copy.
Here are some examples of RSAs from Google:
Example #1 – Women's Shoes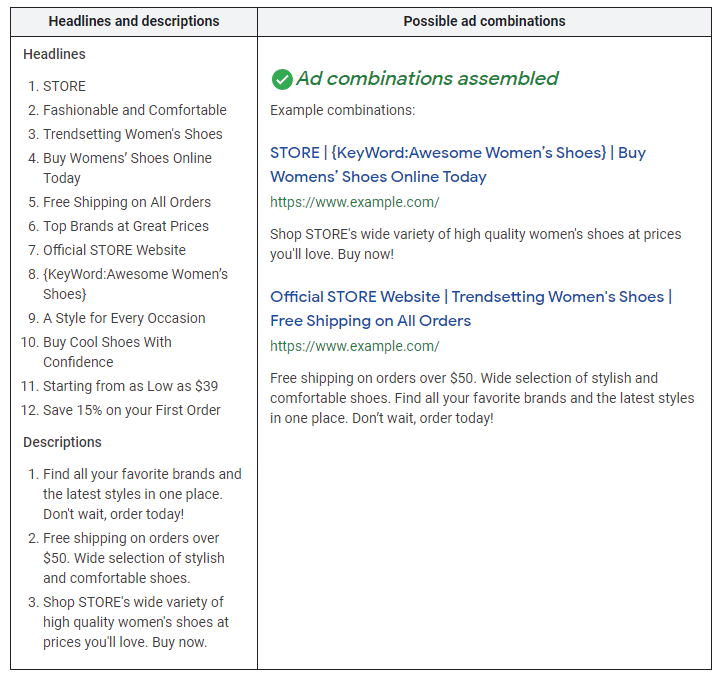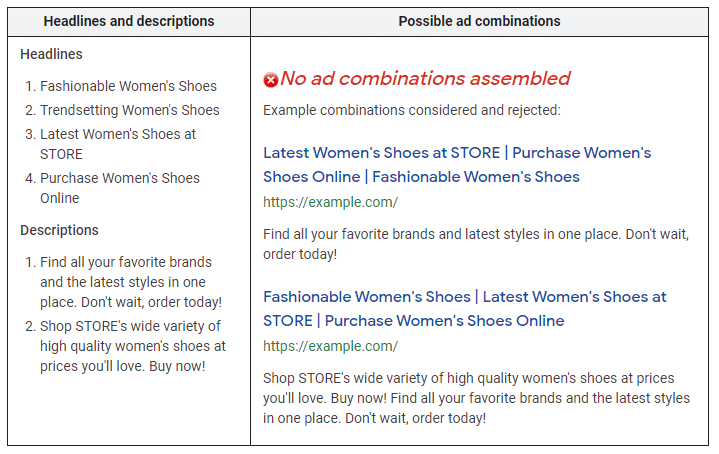 There are fewer than five headlines in the RSA example above, and they contain redundant text. There are also only two descriptions provided in this example, so Google's only option is to swap each of these descriptions in and out of position one.
The more headlines and descriptions you provide, the better the system can choose which to show. Don't worry about having too many assets in your RSAs; it's better to have too many than not enough.
Industry buzz suggests that ETAs will be sunsetted soon, but we still recommend creating one RSA and at least two ETAs per ad group until they are.
We live in a world where Google Ad formats change fairly regularly, and machine learning is the way of the future. Help your ads thrive in this landscape by ensuring they are as robust as possible. Using these best practices for RSAs can help you do precisely that.