If you are new to YouTube advertising or have been working with the platform for some time and are still asking the question "Is YouTube a platform that would help us reach our marketing goals?" then testing out one of Google's YouTube Brand Lift Studies may help you find the answer.
The YouTube platform has incredible potential, but unless you can confidently measure the impact of your video efforts, it's difficult to accurately assess the effect it has on your overall brand. 
When it comes to YouTube ads, you may have a hard time quantifying the impact your in-stream YouTube ads have on your overall marketing strategy. YouTube ads are mainly used for upper-funnel targeting (brand awareness/brand lift) but sometimes these metrics can be difficult to track and quantify accurately. 
Google's Brand Lift is a free tool to measure your ads' impact on the perception of your brand. With metrics such as ad recall, brand awareness, and consideration (rather than traditional metrics such as clicks, impressions, or views), Brand Lift can help you align your campaigns with your marketing goals.
Brand Lift's testing methodology and large sample size can provide you with detailed insights into how your campaigns influence the way people feel about your product or brand. 
Google has two versions of the Brand Lift Study. Brand Lift 1.0 (BL 1.0) has been around since 2015, and Brand Lift 2.0 (BL 2.0), which came out early in 2019.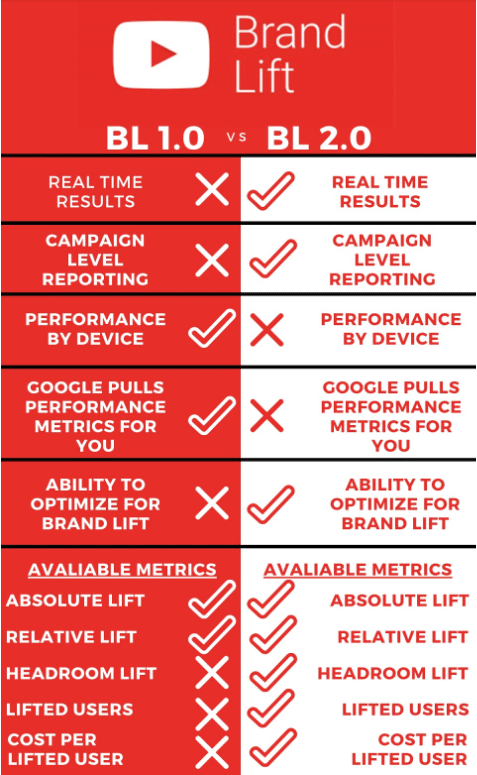 Each BL study contains slightly different features. Use the infographic below to help you decide which of the two fits your needs better.  
As shown above, BL 2.0 provides three new, useful metrics: headroom lift, lifted users, and cost per lifted users.
Headroom lift is the overall impact your ads had on presenting the ad, your brand, or product in a positive light compared to the potential reach or reaction your brand or product could have gotten.
Lifted users is calculated as (Unique Reach X Absolute Lift) to give an estimate of the number of users you lifted with your ads. The cost per lifted user is based on this metric. While this number is inferred from your surveyed group, it is extremely useful in understanding the effectiveness of various segments within your campaigns and your overall targeting strategy. 
To be eligible to use BL 1.0 you will need a budget of at least $3,500 in the first seven days of the campaign; a minimum of $5,000 in spend in the first seven days is required for BL 2.0.
The required budget increases from the minimum based on how many metrics you want to measure. In general, the more budget you have, the more accurate and representative the metrics from BL 2.0 will be. The decision of whether to use BL 1.0 or BL 2.0 will depend on what you want to get out of your campaigns.
A few example scenarios to use BL 1.0 would be:
Do you want to see if you can lift users who skip your ads that are not paid for?
Do you want to see the differences in lift caused by the device used?
A few example scenarios to use BL 2.0 would be:
Do you want to run YouTube continually and optimize as you go based on brand metrics?
Do you want to run a test of audiences to see how each responds to your ads to see where you can lift users for the lowest cost?
Ultimately, knowing which audiences are driving the most cost-effective lift in real-time allows for the shifting of dollars and ongoing testing of new audiences, something familiar to all performance marketers but previously missing from brand advertising.
Using the Brand Lift Studies can help you optimize for the best YouTube campaign performance, which will,  in turn, build your lower-funnel conversion rate and improve brand lift overall.