Even though there are thousands of sellers and major brands selling on Amazon, some of them are crushing it, earning high revenue amounts and gaining market share and market voice. How are these brands able to do this? We've outlined three examples below.
1. Power Stop
Power Stop currently earns $24.3 million in revenue, two-thirds of which is earned via eCommerce. While the company does have traditional marketing campaigns for its brick-and-mortar stores, Power Stop has robust content on Amazon. Power Stop optimized its Brand Store and has A+ content on nearly every product. Optimized content is key on Amazon, as it increases brand engagement and trust in the brand, with appealing content, making each detail page look more professional.
While Amazon and brands themselves do not disclose the amount they spend on pay-per-click advertising on Amazon, it is clear from searching for Power Stop's products (brake pads and rotors), that the company puts plenty of effort into advertising on Amazon. Power Stop sponsored ads show up when searching for products in their category – even for terms as specific as "2014 ford f150 front brake pads and rotors." Its Sponsored Brand Video shows up and takes up most of the search results page:

Other searches for different vehicles for friction items (brake pads and rotors) show that Power Stop's Sponsored Brand ads show up at the top of the search results page:

In a competitive and specific category like this, what contributes to Power Stop's success on Amazon is keyword research and effective targeting strategies. Engaging content and targeted ads that handle top, middle, and bottom-of-funnel marketing strategies are what help Power Stop make two-thirds of its over $20 million dollars of yearly revenue on Amazon.
2. Bosch
Bosch sells products across many categories on Amazon, from automotive to power tools. As such, the company was able to make over $1 billion in revenue on Amazon in 2021, even as supply chain issues plagued manufacturers at the time.
As with Power Stop, optimized content is a powerful way to support the brand on Amazon. Even better, the Bosch Brand Store covers all of its product categories on Amazon via the drop-down menus.
One of Bosch's categories is power tools. Besides having A+ content on the company's product detail pages and a polished brand store, the brand also advertises on Amazon using brand defense, generic targeting, and competitor targeting tactics.
A search for a generic term, "rotary hammers," yielded not only two Bosch-sponsored ads, but also the first organic results were Bosch products: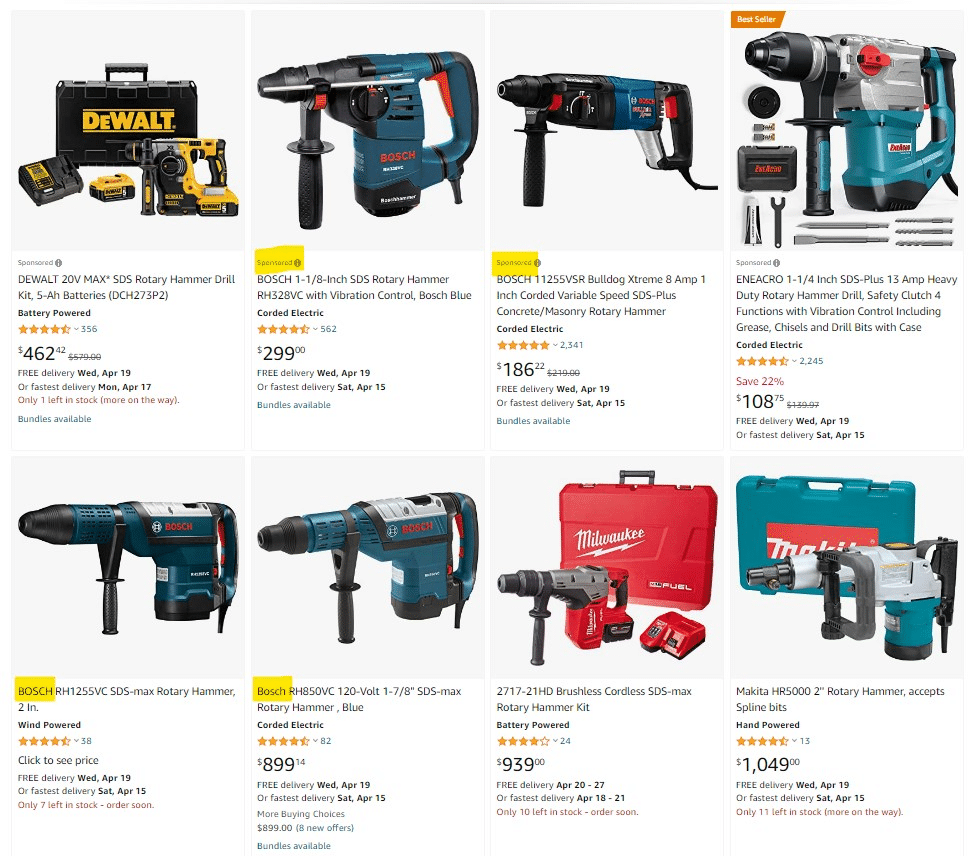 This means that Bosch has also been successful in securing their organic ranking on Amazon. Positive reviews and consumers made happy through customer service help Bosch achieve Best Seller status for its products on Amazon: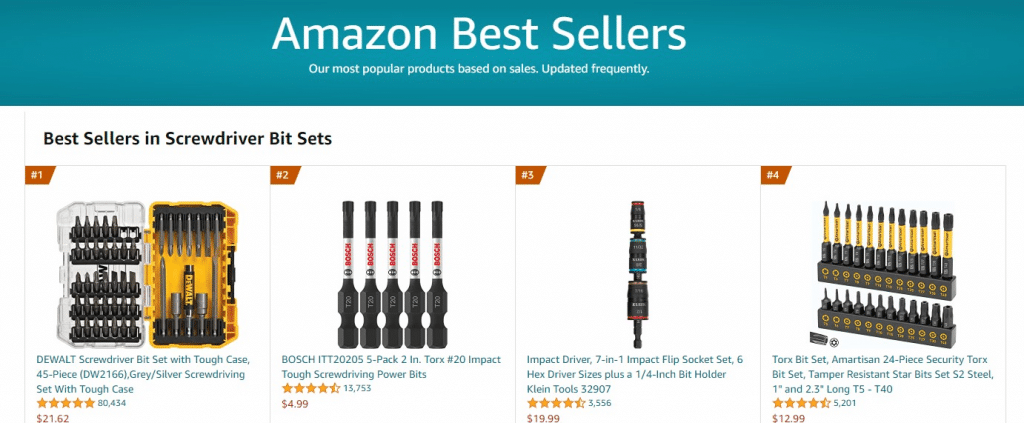 The screwdriver bit set has over thirteen thousand reviews, with an average rating of 4.5 stars. Honestly earned reviews are key to increasing a brand's organic ranking. There are several methods for increasing your review amount, including enrolling new products in the Amazon Vine program. Successful brands must abide by Amazon's terms of service when it comes to reviews. Otherwise, the brand's account is in danger of being shut down. If you see a product make it to the Amazon Best Seller page in their category with thousands of reviews, you can infer that these reviews are genuine. 88% of Amazon consumers take reviews from other customers into account. This is a powerful factor in having a successful brand on Amazon that should not be overlooked.
3. M3 Naturals
M3 Naturals is a beauty brand that sells and ranks consistently on Amazon, with its Amazon-designated Best Sellers being featured on the landing page for its Brand Store. Having products in Amazon's Best Seller lists adds a level of trust to the consumer. Amazon has not published the full criteria for how Best Sellers are selected.
M3 consistently holds the Buy Box for its products: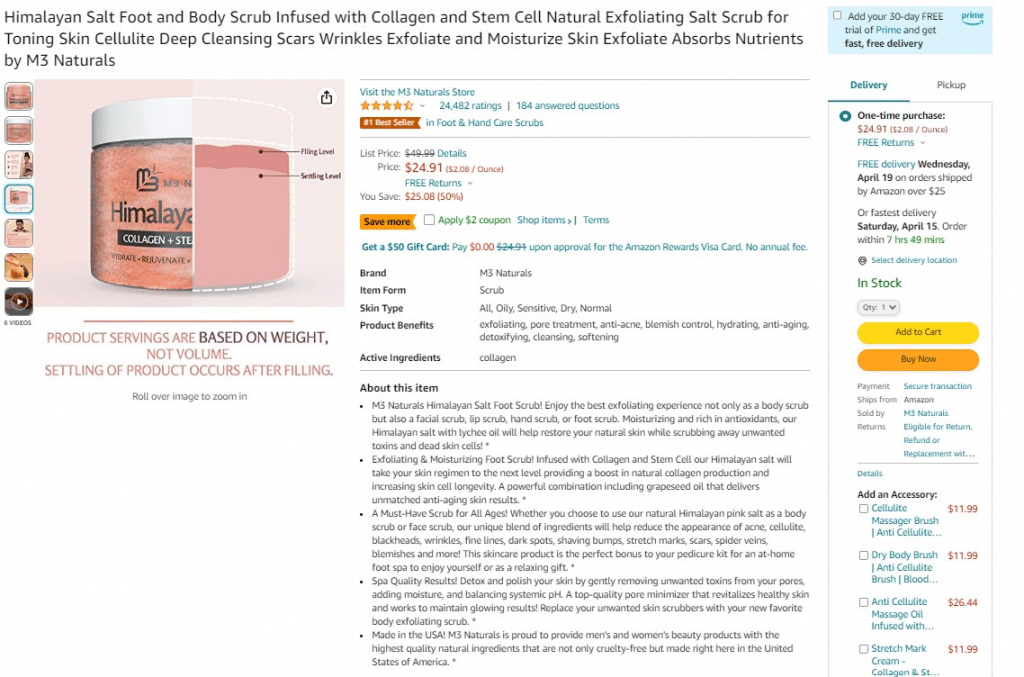 Unlike Power Stop and Bosch, M3 Naturals is a Fulfillment by Amazon seller and does not have a direct Vendor relationship with Amazon. Yet, the company is able to keep the Buy Box by having competitive pricing, featuring quick shipping times, and earning Prime eligibility.
M3 Naturals is also Brand Registered with Amazon, allowing the beauty company to use more tools than a non-brand registered seller, such that it has a Brand Story on all of its products. This is a feature that is only available for Brand Registered accounts: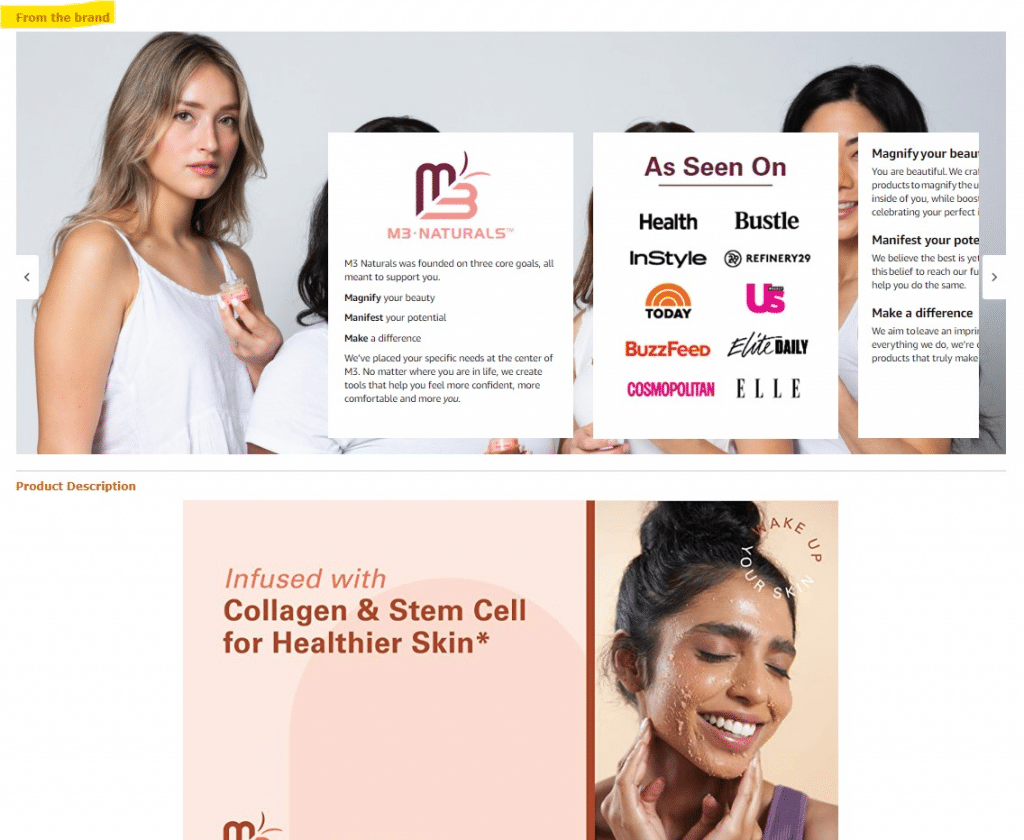 In the brand story, M3 Naturals also called out testimonials and features in popular blogs and magazines. This builds trust and shows value to the Amazon consumer.
M3 Naturals has A+ Content, which includes a comparison table and links to their other products, keeping the customer within the brand and the glance views away from competitors: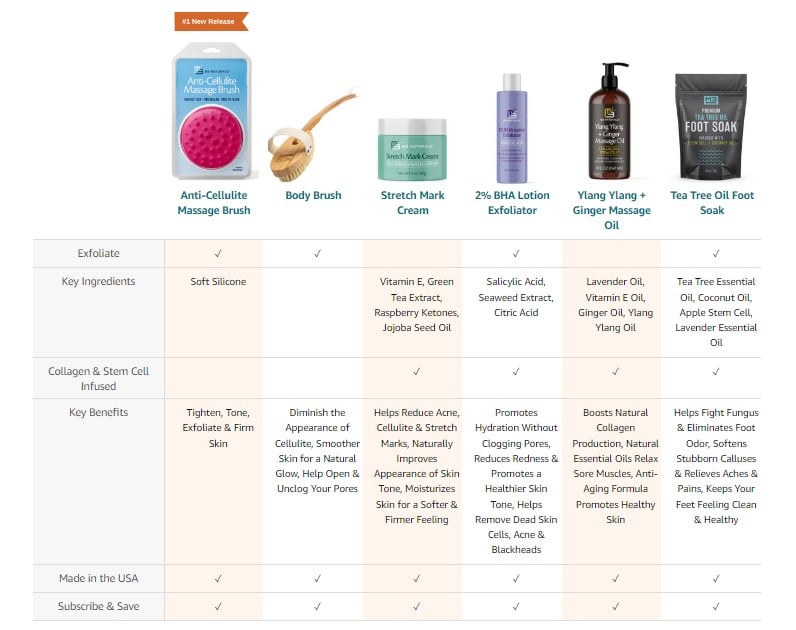 The Bottom Line:
Power Stop, Bosch, and M3 Naturals are killing it on Amazon, in competitive categories, no less. They're able to do this by using as many Amazon tools at their disposal, having polished optimized content, keeping the consumer happy enough to generate thousands of positive reviews, maintaining their organic rankings, and using a mixture of pay-per-click advertising strategies to protect and promote their brands. If you utilize these tools and tactics for your brand on Amazon, maybe your products could be next on Amazon's Best Sellers lists!