Frequently asked questions (FAQs) are often used as a clump of generalized questions and answers on a single FAQ page. However, they can work so much harder to improve your organic search rankings, even earning you rich results when implemented correctly for search engine optimization (SEO).
When Google adds extra information to a standard search result listing, it's called a rich result or rich snippet. FAQ-rich results (shown below) are just one of the many forms of rich snippets available, including reviews, how-to, videos, sitelink search boxes, and more.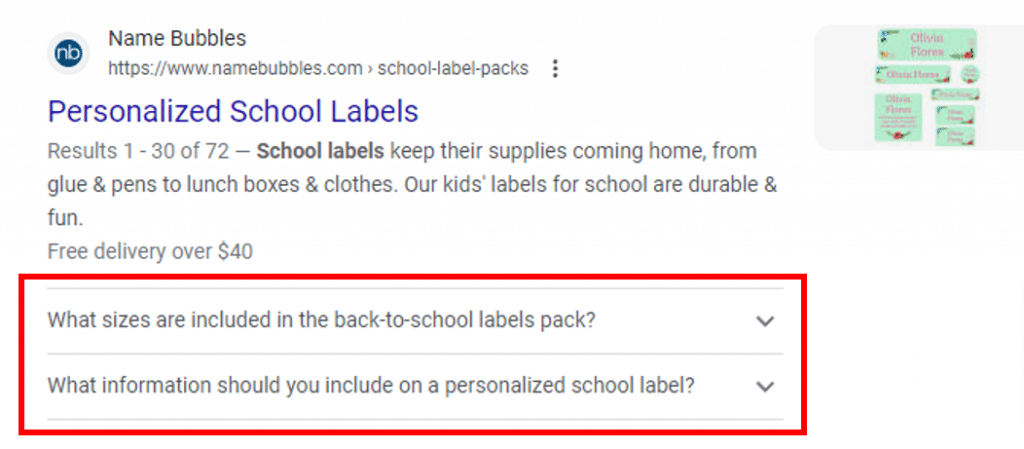 Google uses FAQs to help to provide answers to searchers directly in the search results. FAQ-rich results are also good for your site, though, because they make your result more visible and help push the competition lower on the page. 
The Benefits of Using Optimizing FAQs
The power of FAQs goes beyond answering your customer's most frequently asked questions. When you place optimized FAQs on various pages on your site — category pages, product pages, information pages, blog posts — you are enhancing the page with more useful content and providing a better user experience. FAQs allow you to work question-based keywords naturally onto the page. You can also add internal links in the answer section to enhance the flow of link authority through your site.
Frequently asked questions are excellent for eCommerce clients, as there are many questions that customers have when purchasing products. You can stand out among the competition by answering searchers' most frequently asked questions. 
Triggering Rich Results with faqPage Schema
To enable FAQ-rich snippets to display in Google's search results, you'll need to mark up your FAQs with faqPage structured data. This structured data, which is just data that informs a search engine what type of information it's crawling, helps Google determine whether a piece of content should be eligible for rich results or not. However, using structured data doesn't guarantee that Google will show your content as rich results in the organic search results for a given search query. To see how your marked-up FAQs could appear in the SERPs, try testing your pages with Google's Rich Results Test.
9 Tips for Writing Optimized FAQs
If you are trying to win the FAQ-rich results in organic search, we have compiled nine of the best ways to optimize your frequently asked questions with SEO in mind. Here are nine tools and ideas that you can use to help choose the best types of questions to include based on the things people search for. 
This tool gives you suggestions of the types of questions people are asking related to a specific keyword you enter. The downside to this tool is that there is no data on search volume, but it gives you a starting point with which to do additional keyword research. For example, if you were to input the keyword "lipsticks" into the tool, this is what it would look like: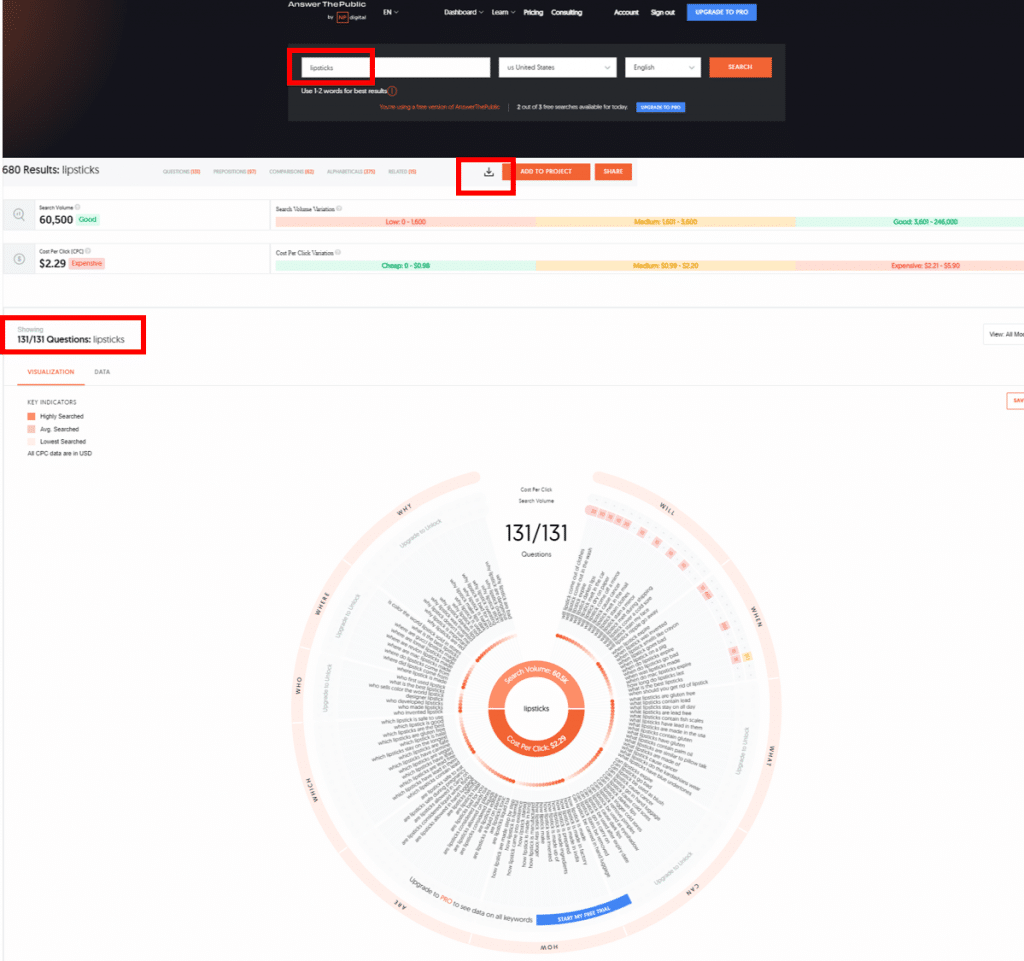 AnswerThePublic will give you "Questions" in a graphic that can be downloaded into a spreadsheet. When you download the questions using the free version, you'll get 30 suggestions of the types of things that people want to know related to "lipsticks." Build off of these to create SEO-optimized frequently asked questions.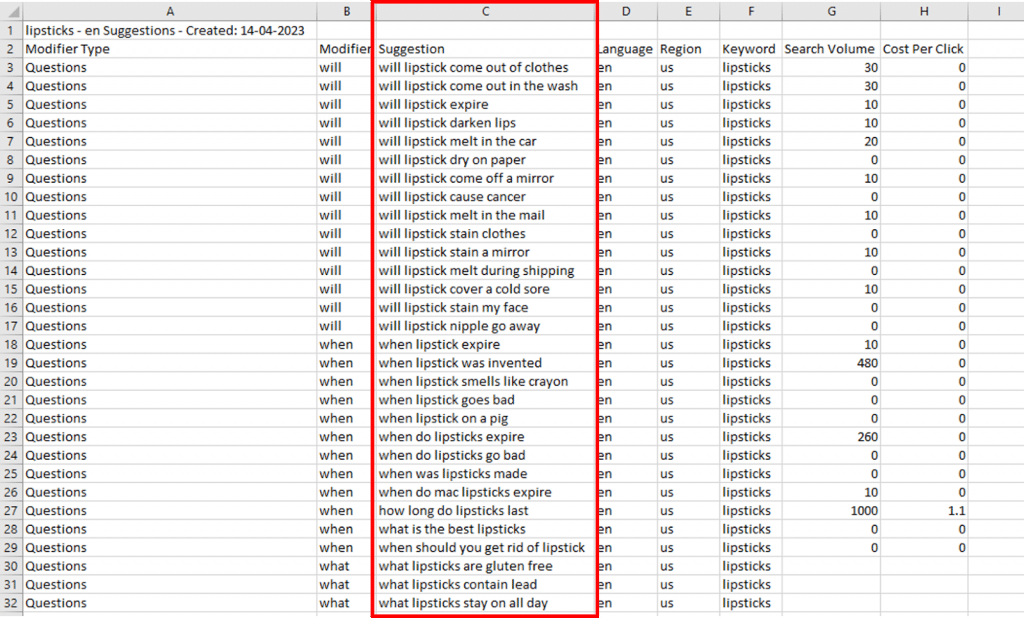 Google Keyword Planner is the gold standard for doing keyword research. As part of the Google Ads suite of tools, the keyword planner provides the number of searches per month — and other related data — for any search query you enter. It's a firm foundation on which to plan any content creation strategy, including FAQs.
Semrush's Keyword Magic Tool combines data from Google Keyword Planner and its own clickstream data to provide an alternate source of keyword research data. Semrush provides data in the form of the volume of searches per keyword. When you search a keyword and filter by "Questions," you will get a list of questions that are searched for with volume associated with the number of monthly searches for that query.
In the example below, we are searching in Semrush's Keyword Magic tool for questions related to the query "lipsticks." You will see a list of questions with the associated search volume for each.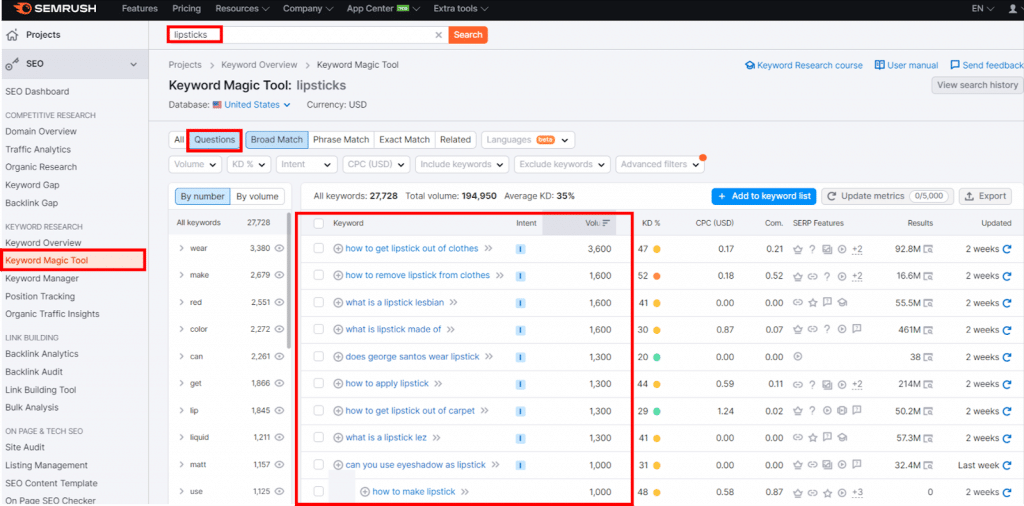 Google's "People also ask" Feature in the SERPs
The People Also Ask feature in the Google SERPs gives searchers a list of related questions to their initial query with an answer right in organic search. You can use these additional questions to gain insights into what users may want to know about your product offering and glean these questions to use for FAQs on your site.
Below is an example of the People Also Ask feature when searching for "lipsticks."

There's been a lot of buzz, not only in the SEO space but also across the internet, about ChatGPT, an AI chatbot. Read our previous article — "Should You Use ChatGPT to Write SEO Copy?" — to see our thoughts. One thing we have successfully used ChatGPT for was to ask the chatbot to draft FAQs for certain queries. Always be sure to fact-check the answers the AI tool gives you and rewrite the answers. You may be surprised by what the tool can come up with, though, as a starting point for your FAQ content.
For example, we gave ChatGPT the command to "write 5 to 7 faqs about lipstick," and it returned the following seven frequently asked questions with answers.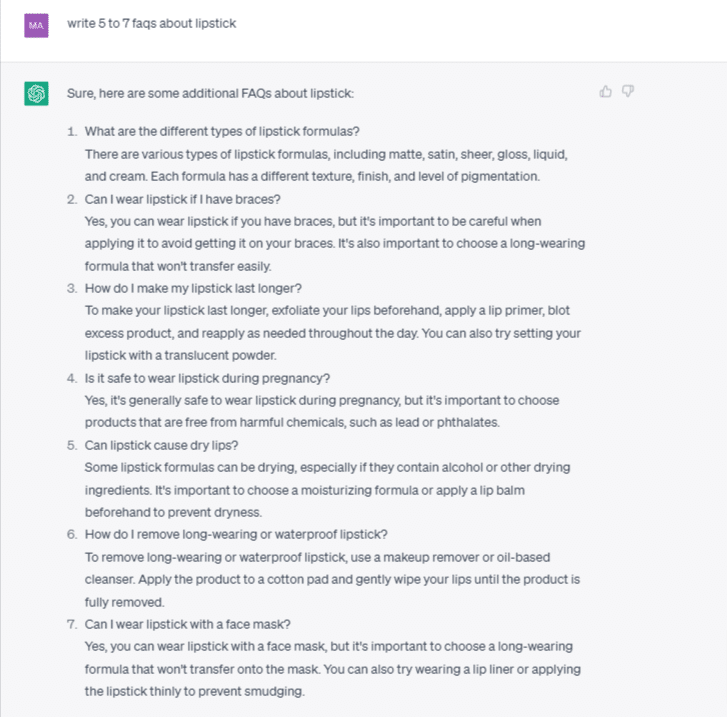 Use your Google Search Console account to see what queries you are currently ranking for on the specified page. Go to "Performance" and then "Search Results." Select a URL within the "PAGES" tab, and then look at the "QUERIES" tab for that URL. This will give you some ideas as to what people are searching for when they land on your page. Use them to your advantage to write SEO-optimized FAQs.
Ask Your Client What Types of Questions They Get Asked Frequently
Reach out to your clients to ask them about the types of questions that they receive. Their customer service department may have some input in this area, as they are the main point of customer contact and hear many of these most-asked questions daily. The sales or marketing teams will also likely have their own versions of high-value questions that can be answered with strong FAQ content.
Use Questions from the Main FAQ Page on the Site for Inspiration
Some of the top questions that are already included on your main frequently asked questions page could lend themselves to use on other pages. They might be good to expand on in detail related to each type of product or service that you offer. These questions may not show as keywords that people frequently search for in Google Keyword Planner, but they can be good to answer to lend contextual relevance to the page.
Use Patterns of Types of FAQs for Other Pages
When optimizing and writing FAQs for each of the pages on your site, you can borrow from other pages by using similar patterns. Some of these types of questions may not have search data associated with them, but they may still be great questions to answer to give your customers more information about your products and services, and lend additional contextual relevance to the page.
Investigate Competitors' Sites
Take a look at your top competitors' websites to see if they have FAQs in place on their pages. Use available FAQs as inspiration when writing your own frequently asked questions, though naturally with your own unique spin on the content. If they don't use FAQs on their collection pages, then you have an opportunity to provide more rich copy than your competition, which could lead to a chance to rank in the SERPs with an FAQ-rich snippet. 
Guidelines When Writing SEO-Optimized FAQs
We've found that writing about five to seven FAQs with 50-75 words answering the question is a good standard practice for SEO frequently asked questions. The heading should incorporate keywords and be based on what you found that people are searching for when looking for items similar to your products. The answer to the FAQ should incorporate the keyword theme as well. The order of FAQs is also important, as Google typically chooses the top two to show in the SERPs. We recommend basing the order on search demand if there is data. 
When you write optimized content as frequently asked questions, you have an opportunity to have the FAQs display in the SERPs as a rich result. An FAQ-rich snippet extends the length of your organic search result and includes two FAQs beneath the title tag and meta description, pushing the competition down further in the SERPs. 
If you haven't tried using FAQs in your SEO content strategy, use these nine tips as a starting point to get great ideas for writing your own FAQs. You'll be adding additional contextual relevance to your pages, and potentially improving the way that your pages appear in the search results with FAQ-rich results as well.