Lead form extensions have been a Google beta since 2019 and are a great addition to your Google Ads campaigns. But it is important to know where they fit into your digital advertising efforts.

Similar to other Google Ads extensions, lead form extensions expand your ad with additional information about your business. This expansion helps your ad take up more valuable space on the search engine results page (SERP) and gives users more of an opportunity to interact with your ad and business.

Once set up in your Google Ads campaign, lead form extensions will show underneath your ad on the SERP. This new extension allows you to capture information by giving users a form to fill out through your ad – all without having to click through to your website.

As similar as they are to other Google Ads extensions, these powerful extensions differ from other extensions in some very important ways:
Lead form extensions only show on mobile and tablet devices. This makes them a great option for boosting your mobile lead generation efforts. 
Lead form extensions are eligible for search campaigns only. This creates a seamless experience for mobile searchers by making it easy for users to submit information and get in contact with your business. 
Not all verticals are eligible to leverage this extension. Check to see what verticals are eligible here.
Google provides the option of integrating directly with your customer relationship management (CRM) software. This integration will take some work on your part. More information on Google's webhook can be found here. If integration is not an option, you can download a .csv file that contains your form submission data. Note: it is extremely important to regularly check or download this from Google Ads. User information is retained for 30 days, but responses should ideally be sent within 24 hours. 
How to Set up a Lead Form Extension
Setting up this new extension is similar to setting up other Google Ads extensions:
Log into your Google Ads account,
Click on 'Ads & extensions',
Then click 'Extensions',
Click the round blue plus button and select 'Lead form extension (beta)'.
There are three main components that make up a lead form extension: Extension, Lead Form, and Submission Message. 

Extension
This is what users will see beneath your ad on the SERP. Choose a call-to-action and add your 30-character extension text to make your ad stand out.
Call-to-Action is a drop-down list that includes the following nine options: Learn more, Get quote, Apply now, Sign up, Contact us, Subscribe, Download, Book now, and Get offer.
Extension Text shows under your call-to-action. For example, Free Landscaping estimates, Interest Rates Starting at 2.5%, etc.

Lead Form
This is what shows after a user clicks on the extension part of your ad. This is the meat of the lead form extension and where users will enter their information to get in touch with your business.
Headline – Up to 30 characters (shows below the business name),
Business Name – Up to 30 characters,
Description – Up to 200 character description of your business,
Questions – These are checkbox selections of the most common lead generation fields. Note: less is more when capturing lead information. Request only the information that is necessary for you to get in contact with the person submitting the form. Users are far more likely to enter their basic information than they are to provide copious amounts of details. 
More Questions – There are a variety of additional questions you can ask. These predetermined questions are based on the advertising vertical your product or service falls under. 
Privacy Policy – As required by Google, you must provide a link to your business privacy policy on your website. This can be an obstacle to this extension if you do not have a privacy policy in place on your website. 
Background Image – This is the image that users will see at the top of your lead form. Recommended dimensions are 1200×628, which corresponds to an aspect ratio of 1.91:1. Adding an image is highly recommended as it helps with the overall look and feel of the extension.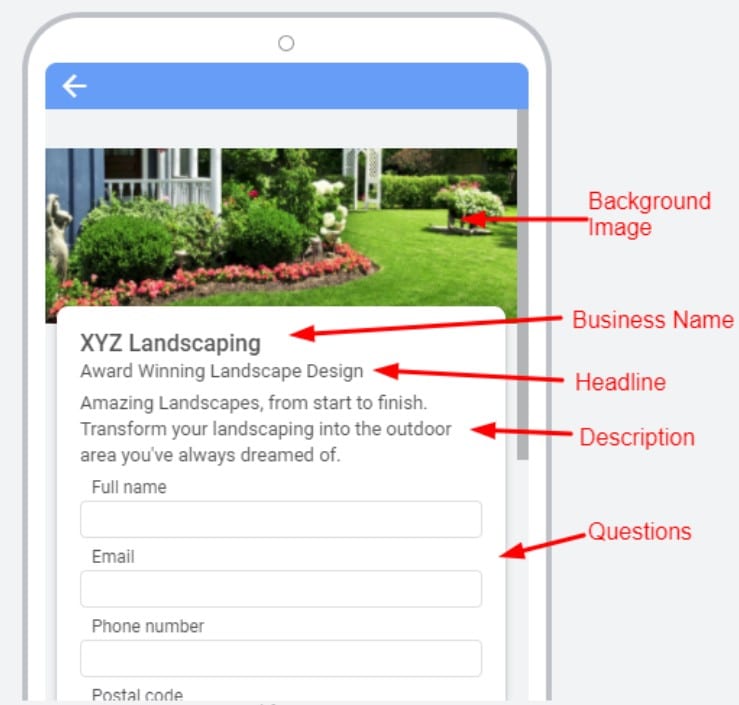 Submission Message
This is the text that appears after a lead form is submitted by a user. Use verbiage similar to your website thank you page for this portion of the lead form extension. This is your opportunity to thank the user for choosing to request information from your business and to reassure them that you will be in contact with them soon.

Headline – Up to 25 characters,
Description – Up to 200 characters,
Call-to-action – Drop down list with 3 options; None, Visit Website, Download. Adding a call-to-action requires you to enter a URL.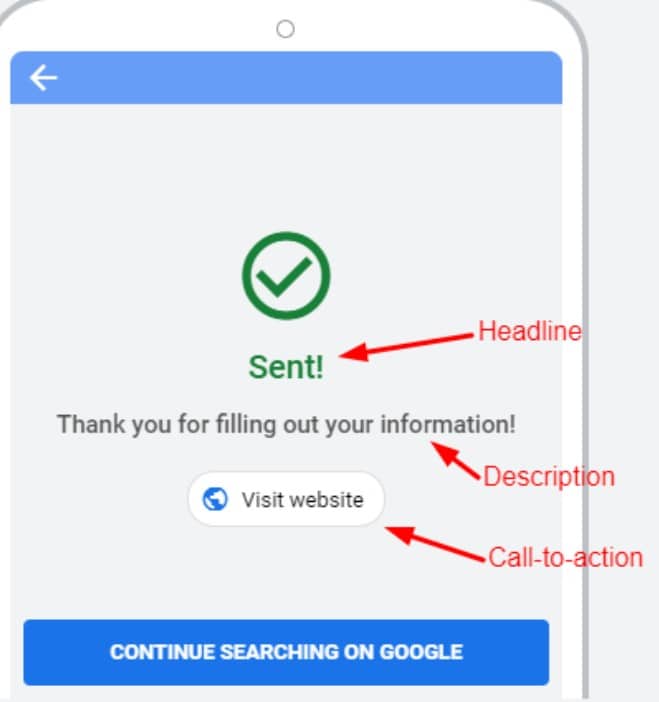 Lead form extensions can be a beneficial addition to your mobile search efforts. As with any feature within Google Ads, make sure that your lead forms extensions align with your overall advertising strategy. Before you start, double-check that you have a privacy policy in place on your website and that you are in a vertical that is eligible to leverage lead form extensions. Then set them up and see what types of leads you receive.