With over 800 million active global users, TikTok's spot among some of the most popular social media platforms is undeniable. This huge audience has advertisers eager to start using this channel as a part of their marketing strategy.
If you're already advertising on TikTok or looking to get started, here are some tips for producing effective creative for your paid advertising efforts.
To propel your campaigns to new heights, use these six production tips to improve the creative in your TikTok ads.
1. Blend In to Stand Out 
TikTok is built on user-generated content, so highly produced ads are often quickly dismissed by users. Keep your content in tune with the organic nature of the app so that users will be more inclined to watch and interact with your entire video ad.
Use these three tips to increase engagement:
Grab attention quickly: Users will scroll past if they don't see relevant content. Introduce your product or service — and the problem that it solves — within the first few seconds of the video.
Shoot videos vertically: Film with a vertical orientation to give your videos the optimal amount of screen space to display your product or service.
Use TikTok's native editing features: Play around with different options to make your video stand out and uniquely represent your brand. Different text overlays, filters, effects, transitions, and audio tracks are available within the TikTok app.
The more natural your ad feels within the user's feed, the more likely they will be to stay and watch.
The video above is an example of a TikTok apparel ad.
The video above is an example of a TikTok music ad.
The video above is an example of a TikTok phone accessory ad.

2. Use TikTok Creators
No one knows TikTok better than the millions of creators who produce content on the platform every day. They know how to keep their audiences engaged while maintaining their creativity and unique video styles. 
Influencer campaigns can be cross-promoted on their account as well as yours, and this collaboration can expand your reach to new audiences. These creators can use account takeovers, sponsored videos, or branded hashtags to highlight your product or service in the content that users want to see.
Since these creators will be working directly with your product or service, make sure that they are the right fit. Find an influencer whose audience, personality, and values align with your brand. This is very important for building an authentic relationship between the brand and the influencer. 
3. Use Trending Audio, Challenges, and Dances or Make Your Own
Can't get those TikTok songs out of your head? TikTok is a full audio-visual experience so utilizing popular audio and video trends will help get your content in front of more people and allow for a more engaged audience.
Stay up to date on the latest trends and put your own spin on them. It's great content for both organic and paid efforts. As a reminder: using music clips or TikTok audio in advertising may require licensing. 
Want even more engagement? Start a TikTok challenge of your own. Brands like American Eagle, Hollister, Aldo, and many others have created viral dance campaigns that get users to share their favorite items and use branded hashtags. 
4. Vary Your Content
Appeal to a larger audience by showcasing your product or service in a variety of ways and testing multiple types of video styles in order to determine which works best for your brand.
Since TikTok recommends refreshing ad creative every 7 days, creating new and engaging content is of utmost importance.
5. Use Your Content to Teach
Want to move users further down your sales funnel? Create a TikTok tutorial. Popular among many verticals — including beauty, fitness, DIY, cooking, etc. — tutorials often inspire users to recreate your video themselves.
Everyone wants to learn something new, especially while being stuck at home. Move users further down the funnel by providing educational videos that explain the key benefits of your product or service. 
6. Ad Copy — Less is More
On TikTok, ad copy is not the star of the show and should be used as supplementary material to enhance your ad, not to carry the weight on its own. Clear and developed brand statements or branded hashtags are ideal.
Keep ad copy short, relevant, and witty — let the video do the talking. You can also use text overlay within the video for callouts, promotions, or to explain your product or service. 
7. Build Within the Creative Safe Zone 
When building TikTok creatives, make sure that your ad is displayed clearly and neatly within the user interface. This ensures that your key message remains viewable for the duration of your video. 
See below for a guide to building your video around TikTok's Creative Safe Zone: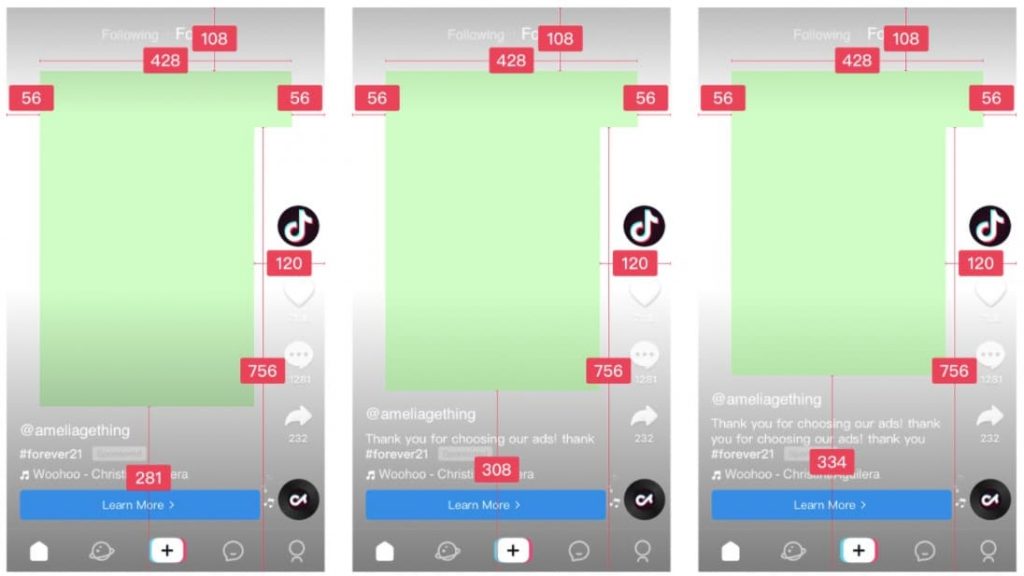 TikTok is a relatively untapped audience of potential customers who are actively engaged in consuming content. Get your message in front of audiences that other social platforms may not include. Embrace the playfulness of the app and let your audience create a genuine bond with your brand. You never know, your video could be the next big thing to go viral.