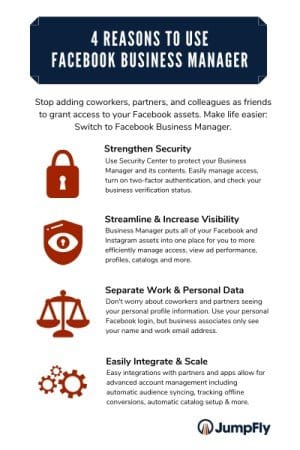 Anyone that spends a significant amount of time on Facebook or Instagram for business reasons has probably heard about Facebook Business Manager, a tool that helps organize and manage your social business assets. But you already have access to your assets, and the previous method of adding people worked just fine, so you may think, "Why bother?"
Facebook Advertising has come a long way in recent years, growing into a must-have ad platform. To manage it all efficiently and effectively, Business Manager has become an absolute necessity for these four reasons.
1. Better Security
There is no question that Business Manager is a more secure way to manage your pages and ad accounts. There is an entire Security Center for you to oversee the safety of your brand and business assets.
Domain Verification: Claim and control the editing privileges of your content and links so your brand is not misrepresented.
Block Lists: Stop your ads from running on specific websites or apps within Audience Network, Instant Articles, and Facebook in-stream videos.
Two-Factor Authentication: This is an extra layer of protection beyond just a username and password that you can apply to your entire business to ensure the security of your social assets.
Account Access: Quickly manage people, partners, and apps that have access to your assets, and see who has been inactive.
Alerts: Security notices that require your attention appear at the top of your Business Manager, ensuring fast visibility into current issues.
2. Streamline Your Workflow and Increase Visibility
Managing business assets on Facebook and Instagram is cumbersome. You have your page, profile, ad account, pixel, catalog, line of business … the list goes on and on. Business Manager puts all of your assets in one place for better visibility and increased efficiency.
If you manage multiple pages or ad accounts, Business Manager is a dream come true. All of the accounts you own or have access to live in one place. You can create Business Asset groups for quick categorization, view performance overviews at scale, and more.
3. Separate Your Work Life from Your Personal Life
The old method of assigning access required you to become friends with other admins before access could be granted. This meant that coworkers and partners could see the entirety of your personal Facebook profile. Yikes! With Business Manager, you still use your personal Facebook user and password to gain access, but there is a clear division of work and personal data. Your business associates will only see your name and work email.
4. Quickly Integrate with Partners and Apps
Business Manager allows you to work with multiple business partners and integrate with customer relationship management (CRM) systems, as well as providing access to other features. You can automatically create and sync custom audiences, offline conversions, catalogs, and more. It will definitely increase your efficiency and allow for more advanced management of your assets.
It's time to migrate to Facebook Business Manager if you haven't already. You will have increased security, better visibility and efficiency, a clear division of work and personal data, and powerful integrations, giving you even more features to utilize in advertising, organic page management, and more.
While Facebook Business Manager isn't exactly intuitive to set up, we've made it easier with our Facebook Business Manager setup guide.
Download the infographic as a PDF or full-size JPG file.