Custom Segments are a powerful tool you can use to drive website conversions via YouTube (and Display) campaigns. They are the most useful audience type available if you are looking to combine both reach and conversions, and Google considers it a best practice to use this specific audience type for your YouTube "Drive Conversions" campaigns.
This article intends to explain why Custom Intent audiences are effective, as well as walk you through how to create audiences for your next YouTube campaign.
What Are Custom Segments?
First off, I need to clarify what Custom Segments are. Depending on how many years of active duty you have in Google Ads, you may have heard of "Custom Intent" audiences. Custom Segments are essentially the same thing, but at some point, Google decided to re-name them Custom Segments (I guess Custom Intent sounded a little…creepy?)
Either way, the goal of Custom Segments is to use search terms and phrases to reach people who are likely to be interested in your products or services. Those people have revealed the intention to convert based on their recent behavior and activities online, which is why they are so effective. You are able to reach a collection of people who have indicated an interest in the product or service you sell, have likely never interacted with your website before, and the audience is typically very large.
How to Create Custom Segments
To set sail on the audience creation journey, first, you need to click into Tools & Settings > Audience Manager and then click the "Custom Segments" tab located near the top-middle of your page. There are two basic types of Custom Segments you can create—I typically start with the second one to have the most control: 

NOTE: You can additionally expand your audience by adding URLs or Apps that your ideal customer might visit. I typically steer clear of that. While it does expand your audience size, I view it as also watering down the effectiveness of your included search terms because your audience becomes less targeted.
Next step—you want to add search terms that your customers are likely to search. Let's say I am the biggest seller of Texas Instrument calculators in Cambridge, Massachusetts. I sell a lot of these bad boys. Naturally, I want to find people with intent to purchase these, so I will start with "texas instruments calculators" as my first search term to include.
The neat part is from there, Google will suggest related search terms based on your initial input. I put in "texas instruments calculators," and Google then spits out 30+ related search terms they know to have volume. Another common option is to add converting search terms from your Search network campaigns.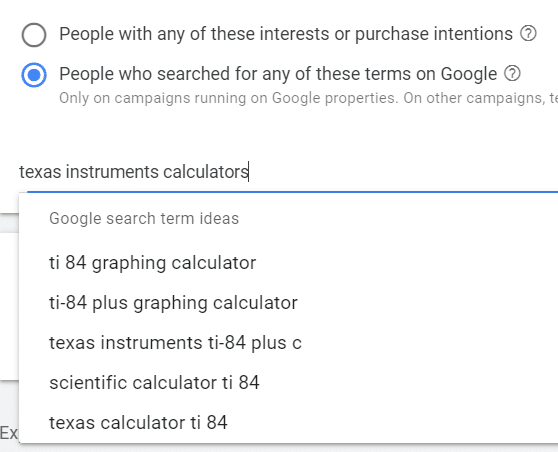 Click any search terms that are closely related to the products you sell. Don't blindly add all of them—make sure you just add the ones that you like. As you add these, you'll notice your audience size starts to expand, and Google reveals demographic data of that particular audience (gender, age, parental status):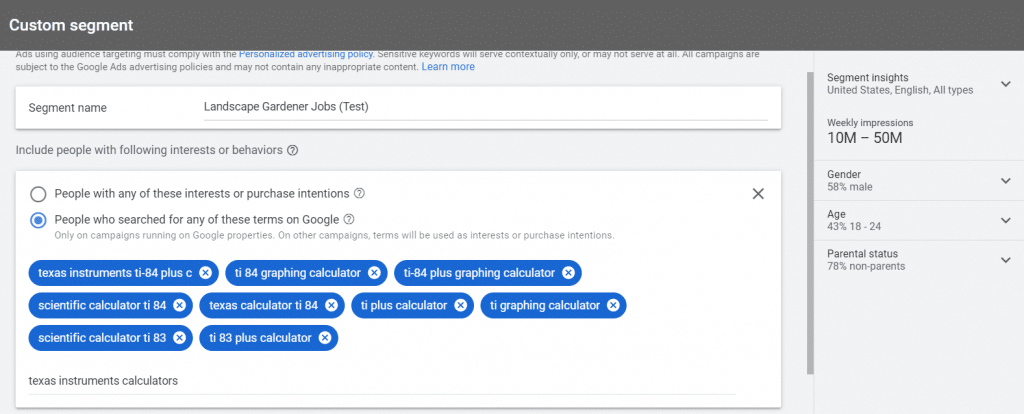 Another important note—towards the right of the screenshot above, you'll want to click "Segment insights" and then pick the "campaign type" dropdown to select "Video." Remember, we're creating a YouTube campaign with this audience, so selecting Video will reveal what you can expect in terms of volume for that particular campaign type. Expect the audience size to shrink a bit when isolating the projection to just Video: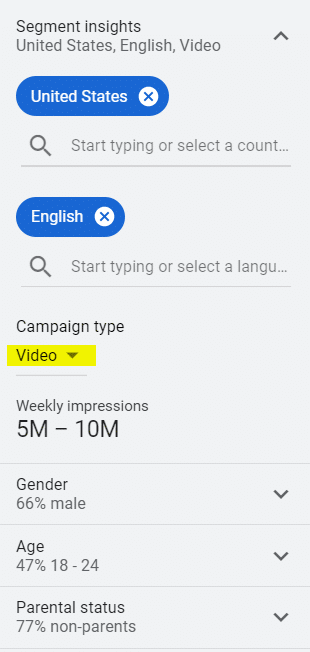 Once the audience is built to your liking, click "Save," and you're done! Next up, we want to select the most effective campaign type possible for this YouTube campaign, which I'll show to you next.
Creating the YouTube Campaign
There are many potential Video campaign types to choose from, but selecting one that's focused entirely on driving website conversions is actually quite simple. Start by creating your campaign and selecting the following options:
Goal: Sales or Leads (depending on what conversion action your business deems relevant)
Campaign Type: Video
After you select those two options, you'll see the only bidding strategy available is "Drive Conversions," which means you're all set and ready to go forward! (screenshot below)

From there, you go through a typical campaign creation flow: pick your bid strategy (Maximize Conversions or Target CPA), add your custom segment (obviously!), and create your YouTube ads (link to a YouTube video plus Headlines and Descriptions).
A recently added option to look out for is the option to add "Optimized Targeting." Google will check this box automatically and tell you it will lead to 20% more conversions if you opt in. This is something I am unchecking at the moment, but I intend to test opting in for high-performing clients.
Here is what that check box looks like in the creation flow: 

I will uncheck that for now while remembering that testing this could lead to an enthralling blog article in the future.
Once you have everything set up, click "Create Campaign," grab some coffee, call your mother to say hi, eat some dinner, sleep for 10 hours, wake up, and then maybe check the campaign for the first time. I say that jokingly, but these campaigns can take a while to get humming. You might not see any conversions for a couple of days, so have some patience and let the campaigns learn.
I've found many instances of success with these campaigns. Can you expect the same level of efficiency with a YouTube campaign as you do with Search? Well, probably not. They usually aren't quite up to that level. But it's important to recognize that your ads are now showing on an entirely new platform that you might not have been previously, and they are driving incremental conversions that otherwise might never have been captured! That's pretty cool, and that's a powerful way of looking at it as you explain performance to your clients or colleagues.