If you've created a new Google Ads campaign recently, chances are you may have already noticed the removal of two well-known automated bidding strategies: Target Return on Ad Spend (Target ROAS) and Target Cost-Per-Action (Target CPA).
Effective as of April 2021, Google announced that Target ROAS and Target CPA would be merging into Maximize Conversions and Maximize Conversion Value bidding strategies, respectively.
What does this mean for advertisers?
Gone will be the days where you can select Target ROAS and Target CPA as stand-alone bidding strategies, but don't despair just yet!
1) Advertisers won't need to make any changes.
Google has yet to announce a set timeline, but this will be a gradual change over several months that will not impact performance. Advertisers will still be able to select between the traditional Target ROAS and Target CPA bidding strategies or the new Maximize Conversions and Maximize Conversion Value with the optional Target ROAS and Target CPA fields.
After the migration period, campaigns using either Target CPA or Target ROAS will automatically be converted to their new equivalent bid strategies and will inherit existing CPA or ROAS goals. Best of all, you won't have to worry about your campaigns going through another algorithmic learning period, though you may wish to track campaign performance as these changes roll out.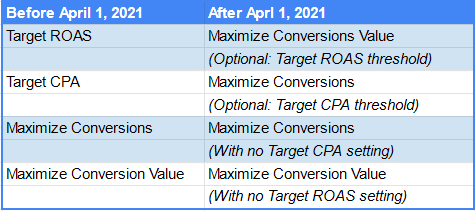 2) Maximize Conversions just got a whole lot better.
Before the update, maximize conversions would push as many conversions as possible within your budget, regardless of conversion quality or cost per conversion. With a limited budget, your costs per conversion may be cheaper but in less demand due to the low quality of the lead. For an unlimited budget, advertisers could end up paying extremely high CPAs with a lower ROAS due to a more aggressive automated bidding strategy.
By throwing Target CPA and ROAS thresholds into the mix, you can now place a safeguard for more profitable CPAs and ROAS that align with your business performance goals. Based on historical data from your campaigns, Google will recommend the best Target CPA or ROAS goals.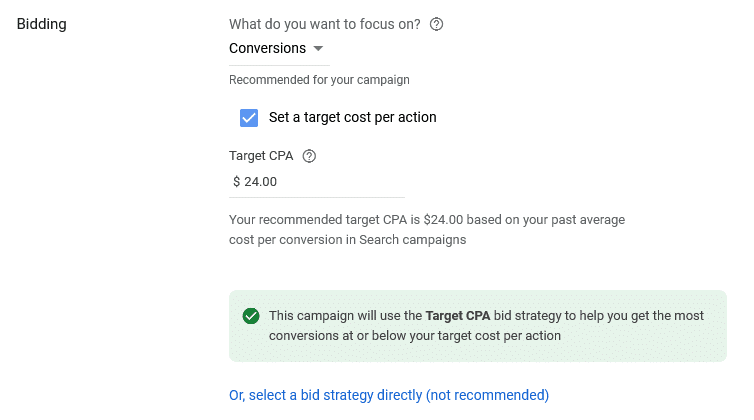 3) This is a fantastic opportunity to get into Google Ads smart bidding.

Let's face it; automated bidding isn't going anywhere. And moving forward, Google will continue to make this a priority in how advertisers manage their campaigns. At least with this update, we are given a little more control with two bidding strategies than with four static ones.

Take this as a chance to experiment and reevaluate existing campaign bidding strategies. Of course, there's no reason to change what's already rocking your account, but it could be worth testing a campaign that didn't quite make the cut before — especially those campaigns with limited budgets. If you've been on the fence about jumping on the smart bidding bandwagon, this is your wake-up call!