With Smart Display campaigns, you can set your target location to a specific country or geographic location, but you might be surprised where you're spending money. Double check your location reports and you might notice that countries you are not targeting are actually spending your budget.
To view the locations report, follow the steps shown below:
Select your smart display campaign.
Click on "Locations."
Select "User location report" from the "Geographic Report" dropdown.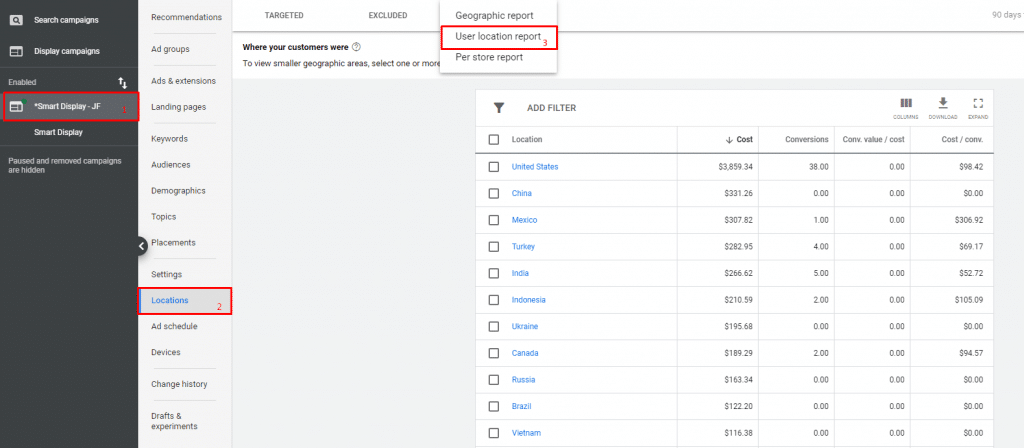 When the report loads, make sure that "cost" is one of your columns, as it is above. You'll see immediately whether you're spending in countries you are not targeting at all. In this case, China, Mexico, Turkey are all spending budget. Mexico and Turkey are actually countries that did convert. While for some this might be okay and you are able to fulfill your orders/requests, many other businesses do not have a worldwide offering so this would be considered wasted spend.
Why? If you don't ship products to those countries, you're wasting money advertising there. Smart display campaigns do help with account performance, but the limited control you have over how budget is spent has its drawbacks.
There is a simple, but effective fix to exclude countries from your smart display campaign, saving you money and improving your performance. To get started, follow the steps shown below:
Select your smart display campaign.
Click on "Locations."
Click on "Excluded."
Click the pencil icon.

Select the locations to exclude, starting with the locations wasting budget in location the report.
Google allows you to exclude every country except Iran, Syria, Cuba, and Sudan. Download this Google Sheets list of every country except the United States to easily exclude every other allowed country in bulk. You can easily edit it to match your excluded countries.
It is always a great idea to have a regular cadence on deep diving into your campaigns. Smart Display campaigns are a great place to start and an important way to identify quick wins to save money.