The Black Friday, Cyber Monday frenzy will soon be upon us, and this year's holiday shopping season is sure to look drastically different than any other year thus far.
With more people shopping online than in stores, and many states seeing surges in COVID-19 cases, the likelihood is high that more shoppers than ever will be browsing the web than visiting physical stores. As an ecommerce business, and an Amazon Seller or Vendor, it is critical to have a well-developed strategy for this peak shopping time to take full advantage of the increased traffic.
In 2019, small- and medium-sized businesses on Amazon saw increased year-over-year growth, many in the double-digit range. This year's growth is expected to surpass 2019's.
When planning for Amazon's holiday shopping season, you need to account for the following factors:
Buy Box Ownership
Inventory
Pricing
Promotional Activities
Advertising
By creating dedicated strategies for each of these factors, sellers and vendors will be able to benefit from increased shopper impressions and conversions.
1. Buy Box Ownership
Owning the buy box, which involves being the featured offer for a product when a shopper reaches the product detail page, is the critical first step for any Amazon strategy, especially during the holiday season. Take a look at your product catalog and determine what SKUs are your best sellers. Those are the ones where it is most important to control the featured offer in the buy box.
Sellers should analyze the "Detail Page Sales and Traffic Report" under the "Business Reports" section. One of the data points available there is "Buy Box Percentage." This metric will tell you how often you were in the buy box as the Featured Offer during the set timeframe.

For Vendors, Amazon offers are weighted higher than third-party offers for the buy box. This already gives you an edge. To check the "Featured Offer Rate" of Amazon, look at the "Lost Buy Box (LBB) Price" metric in the "Analytics" section of "Reporting." This will tell you how often Amazon lost the buy box and the Featured Offer due to their pricing level, which lets you know when you may need to offer Amazon a better purchase order price or run a promotion to compete.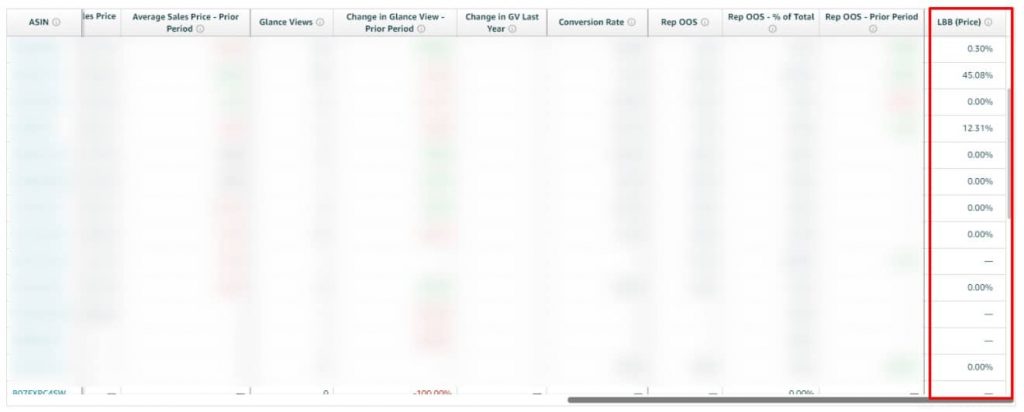 To improve the buy box percentage rate for your top products, you're going to need to evaluate your inventory, pricing, and shipping method for each. Your buy box eligibility is determined by a mix of these factors, as well as your Seller Feedback rating.
2. Inventory
For the products where you are looking to dominate the buy box during the holiday shopping season, be sure your supply chain is ready, inventory is at a healthy level in your (or Amazon's) warehouses, and you can meet the demand. Look at what your fourth-quarter trends have been over the past three years to gauge what you can expect for this season.
Another important step for Sellers is to look at your available inventory space if you use the Fulfilled by Amazon (FBA) program. Amazon limits inventory storage and increases storage fees during peak shopping seasons. Be sure this is factored into your holiday plan.
3. Pricing
Pricing is also a critical step that needs to be evaluated as we approach peak shopping time. Shoppers will want to look for deals around Black Friday and Cyber Monday as well as throughout the holiday shopping season. Amazon capitalizes on this expectation and places high emphasis on providing the lowest shopping prices when compared to other top ecommerce sites. This shows no sign of changing as Walmart and other big-name brands get in on membership shopping programs this holiday season.
Evaluate your pricing structure to be sure you're competitive to win the Featured Offer spot in the buy box, but also carefully plan your pricing strategy across other platforms. Amazon's algorithms watch other shopping sites and could suppress your offer if it finds a cheaper price on another platform — even if you're the seller there.
If you're finding it difficult to keep up with competitors who are also lowering their prices at this time, you may want to consider using the automated pricing strategies offered in Seller Central. You can set your minimum offer price and Amazon will adjust your offer price to be competitive until it hits your minimum price. For Vendors, your purchase order price to Amazon dictates in part how much Amazon will then sell the product for. You can look at your co-op agreement to see if you have promotional opportunities or to see if Amazon requests funding to provide the shopper a lower price.
4. Promotional Activities
Both Sellers and Vendors can offer promotions, coupons, and other marketing offers.
Amazon always specifies metrics that must be met to run different promotion types and coupons, and peak shopping days like Black Friday and Cyber Monday are no exception. For many of the promotion types, there is a minimum discount that must be provided. There are also fees involved in running many promotion types. Consider each type carefully and choose the ones that best fit your goals and margins.
Vendors can offer price discounts, Lightning Deals, Best Deals, and promo codes, as shown below.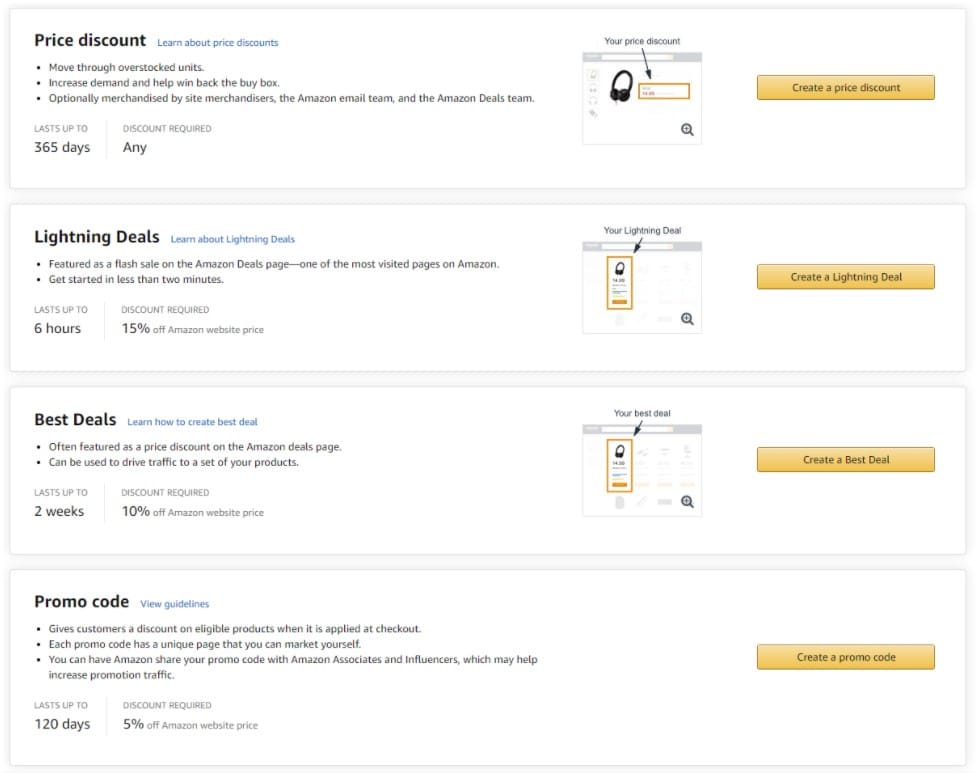 You can also offer coupons, as long as you submit the request for them at least 24 hours before they are intended to run.
Note that all promotions and coupons run through the Vendor program are subject to Amazon's profitability model. As a result, they may not run once the start date arrives, even if they are approved. Be sure to check your promotions before they are set to run and adjust accordingly.
For Sellers, the following promotional opportunities are available:
Lightning Deals
Percentage off Promotions
Buy One Get One Free
Coupons
Prime Exclusive Discounts
Social Media Promo Codes
Each Seller promotion type also has its own discount minimums. Some, like percentage-off promotions, have fees based on the time of year they are run. Review the options available to you now and apply for them early, so that they're ready to run for Black Friday and Cyber Monday. Amazon will also provide recommendations for Lightning Deals. Be sure to review this often in your account. Just because a product qualifies for a recommended Lightning Deal now, does not mean it still will be qualified later.
5. Advertising
Now that you know how to own the buy box, have a pricing strategy, adequate inventory, and a promotional plan, it's time to give your products some exposure.
Advertising during the holiday shopping season on Amazon is highly competitive, so you should expect to have a dedicated advertising budget for ads during this time. Amazon recommends setting your daily campaign budget 200% higher than they usually run at.
It's common for campaigns that typically never come close to spending their daily budgets to increase rapidly in impressions, spend, and conversions during this time. You'll need to be ready to shift your budget to meet demand immediately so that you can capitalize on this once-a-year opportunity to move product.
Examine your campaign spend during the fourth quarter last year:
Were your campaigns ever limited by budget? 
Did they stop running partway through the day? 
Or were there areas that had higher search traffic than others? 
This is where you want to concentrate some of that increased budget. The rest of the increased budget you will want to focus on the products you're prioritizing for holiday 2020.
What products are you owning the buy box on already? Be sure to drive traffic to those products to capitalize on being the Featured Offer.
What products are you running promotions on? Be sure to support that promotion with advertising to reach the widest audience.
Combining these strategies, Amazon Vendors and Sellers alike can maximize the Black Friday and Cyber Monday sales frenzy. Start preparing now — if you haven't already — for 2020 to be a record-breaking holiday shopping season.