As the COVID-19 coronavirus continues to spread, global panic is increasing. If you run an Amazon business, you've probably seen the effects already, from increased shopping for sanitizer, cleaning products, and face masks, to drop offs in luxury and nonessential purchases. As an Amazon seller or vendor, what do you do in these uncertain times?
Related Posts:
How to Grow Your SEO during COVID-19
How Innovation and Ads Can Save Your Business during COVID-19
6 COVID-19 Paid Search Strategies
First, don't react hastily. Remember that not all of the information you see may be accurate. Keep a cool head and evaluate your situation — especially your Amazon analytics — to make the best decisions for your specific market and business situation.
We've put together some tips for the most common challenges that sellers are facing as concern over COVID-19 increases worldwide: inventory shortages, supply chain disruptions, increased orders, and decreased orders.
Whether your business has been affected or not, these are some of the things to develop strategies around:
Inventory Shortages: This is by far the most common challenge that sellers face. Inventory shipments from China and other countries have been heavily impacted by COVID-19, and are either delayed or not being produced. As a result, vendors and sellers are trying to stretch their inventory to meet demand. If you had already planned for the Chinese New Year factory shutdown, you may be able to delay the inventory shortages a little longer to reduce your out-of-stock rates, but it is most likely coming. To prepare:

Cancel price reductions, coupons, and other promotions for inventory that is projected to run out.
Reduce advertising while maintaining your sales rank. Bring spend and exposure back gradually to conserve inventory.
Consider delaying any new product launches that are not time sensitive for products that are non-essential household items. Launching a new product on Amazon is difficult to begin with. Launching something while the entire shopping ecosystem is disrupted will be even more difficult against a new product.

Supply Chain Disruptions: As shipments are either slowed or paused from certain ports, you may not get your inventory when you expect to. The actions you'd take in this situation are similar to the ones above for running low on inventory. Another disruption is the stall Amazon has placed on FBA shipments. Until April 5th, Amazon is not allowing new shipments to be made to fulfillment centers that are not of products such as household essentials (cleaning products, toilet paper etc.), medical supplies, or other high-priority items. If you find yourself in this situation, your current FBA inventory that is already at Amazon is still eligible for sale, just not to be restocked. If you're worried about inventory at FBA running out, consider an FBM listing for that product. You can list the same ASIN twice with a different SKU to be fulfilled from your warehouse rather than Amazon's.
Amazon's Announcement on FBA can be found in Seller Central: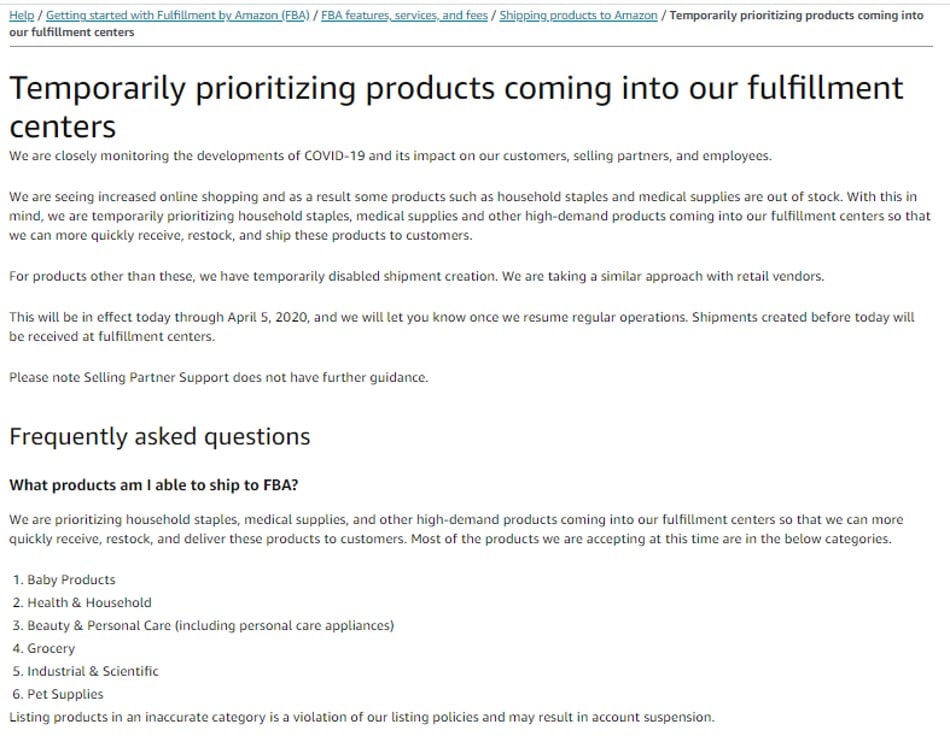 Increase Order Volume: Many sellers and vendors have found that their order volumes have increased if they sell items like sanitizer, cleaning supplies, toilet paper, face masks, and other daily necessities. You may be tempted to increase prices to capitalize on this sudden boon, but we'd caution you not to. Amazon has been watching prices on these types of products like a hawk and is suspending accounts for price gouging. If you are playing with your pricing, know the risk. You may suddenly find yourself with a suspended account and no revenue at all.
Decreased Order Volume: Conversely, some sellers and vendors are seeing decreased order volume — especially those selling luxury and nonessential items — as shoppers focus on the necessities.If you find yourself in this situation, consider these options:

Expand your offering if you have access to other products to reduce the strain on your current catalog to maintain your sales volume.
Be aware of window shopping. As companies send employees home, you may find more people window shopping without purchasing. If you have a smaller ad budget or don't want to support that window shopping, consider pulling back promotions or advertising spend.
With the announcement of Amazon Vendor stopping all purchase orders for non-essential products, it might be time for Vendors to test the Vendor dropship program where you can fulfill Amazon orders from your own warehouse or even look into the Seller side. You can list your current product ASIN in a new seller account to keep some level of business running on Amazon if Vendor is no longer placing its regular purchase orders.
See Amazon's announcement below that came out on March 17, 2020:
Hello from Amazon,
We are closely monitoring the developments of COVID-19 and its impact on our customers, selling partners, and employees.
We are seeing increased online shopping, and as a result products such as household staples and medical supplies are out of stock. With this in mind, we are temporarily prioritizing household staples, medical supplies, and other high demand products coming into our fulfillment centers so that we can more quickly receive, restock and deliver these products to customers.
Beginning today you will see:
Reduced Purchase Orders: We have temporarily paused ordering for products that are not household staples, medical supplies, or other high demand products.
Extended delivery windows for existing purchase orders: We have extended the shipment/delivery windows for some existing purchase orders to give you more time to fulfill the order. Please ship your products toward the end of the extended window.
This will be in effect today through April 5, 2020, and we will let you know once we resume regular operations.
We understand this is a change to your business, and we did not take this decision lightly. We are working around the clock to increase capacity, and on March 16 announced that we are opening 100,000 new full- and part-time positions in our fulfillment centers across the US.
We appreciate your understanding as we prioritize the above products for our customers.
Thank you for your patience,
Amazon
Every business faces a unique set of challenges and opportunities, in the COVID-19 coronavirus era more than ever. We hope that these tips will help you make the business decisions you need to in order to navigate the weeks and months ahead.