Let's face it, for half of the year, many of us have been stuck inside with nothing to do but look at our screens and the commercials that came with them. In preparation for colder weather, and for round two of being home-ridden, I'm sharing with you my top 10 favorite YouTube ads from 2021 and why I love them. Go ahead, sit back, relax, and maybe agree to disagree — at least when it comes to my number 10 pick!
1. Amazon, "Alexa's Body"
Amazon brought its A game to the 2021 Super Bowl with their ad featuring the voice-activated assistant Alexa but not quite as we know her. What begins with a woman admiring the design of Amazon's Echo Dot quickly goes off the rails when she sees an ad for a famous American actor. Replacing Alexa with the voice and body of Michael B. Jordan, all we can do is enjoy the hilarious romantic fantasies she experiences as her poor husband watches. Tech products aren't always the easiest to market, but this ad is brilliantly creative and well-executed.
2. Bud Light Seltzer Lemonade, "Last Year's Lemons"
After the collective nightmare that was 2020, I'm sure many of us can relate to Bud Light's "Last Year's Lemons" commercial. From ruined wedding plans to canceled vacations, all events in a normal year are conveyed being completely decimated by a relentless onslaught of lemons chucked from the sky. This Bud Light ad pretty much sums up 2020 without sugar-coating what we can all agree was the worst year ever. You have to appreciate Bud Light for turning a sour situation into a refreshing twist with their literal interpretation of the proverb "when life gives you lemons, make lemonade."
3. Traveler's "Legacy"
What's something all insurance ads have in common? They're funny. Popular brands such as Progressive, Geico, and Liberty Mutual all have running gags throughout their commercials that keep a serious service light, fun, and at the top of our mind when we'd rather not think about when we'd actually need it. Traveler's Insurance breaks from the mold with a heartwarming journey of a family business that survives a natural disaster. Rather than focusing on the devastation destruction can bring, we're instead given a hopeful turn as the business reopens and continues through the next generation. This is definitely one of the better ads this year that may tug at your tear ducts just a smidge.
4. Jimmy John's, "Meet the King"
Jimmy John's is never afraid to think outside the box with new, bold marketing strategies, and the "Meet the King" ad is no exception. Presented as a "Scarface" knock-off trailer, we're introduced to Tony Bolognavich, played by star Brad Garret, as the king of sandwiches. An all-out turf war begins as Tony Bolognavich competes with the new sandwich shop on the block, Jimmy John's. With fresh-baked bread and all-natural sliced meat, even his own family and trusted companions soon betray him. Seeing the unappetizing slab of processed meat from his warehouse, honestly who can blame them? Jimmy John's not only put together a visually engaging commercial but one that really highlights just what makes their sandwiches a cut above the rest!
5. Gain, "One Sniff and You'll Be a Gainiac Too"
Gain turns the everyday household product into a brand addiction with the promise of "One Sniff and You'll be a Gainiac Too!" Through a parody of the classic, hit song "Maniac," dancing, and exaggerated whiffs, Gains shows us that laundry day doesn't have to be a boring routine. Whether you're stuck at home or the laundromat, you can at least shake the olfactory scenery up thanks to Gain Flings!
6. AT&T, "Say Goodbye to Awkward Chats"
If AT&T didn't make one of the most relatable ads of 2021, then I don't know who did. Between remote work meetings, zoom calls with family and friends, and just trying to stream your favorite shows, we've all seen that irritating loading wheel that is the bane of the modern era. AT&T presents us with what bad connection speeds can mean when it matters the most. With AT&T Fiber, you can meet your sister's newborn in beautiful, high-resolution while avoiding your face getting frozen on less than flattering expressions.
7. GREENIES, "Stick"
Fact: You can't have a "Best Ads of 2021" list without at least one pet ad. GREENIES plays dog-owners' heartstrings everywhere by showing us a loveable pup that just doesn't know what's good for it. Don't make the mistake of the commercial's castaway, and treat your dog to something better to chew on than that old stick you were relying on for help!
8. Rocket Mortgage, "Certain is Better"
Rocket Mortgage leads us down the path of what actual uncertainty could look like with comedian, Tracy Morgan. From faulty parachute deployment to bear survival tactics, not knowing the answer could have serious, life-threatening ramifications. When it comes to major life changes like home financing, being "pretty sure" just doesn't cut it! Rocket Mortgage ensures "Certain is Better" especially in an unprecedented time where no one knows what will happen next.
9. Hyundai, "For Tomorrow, We Won't Wait"
You know there's a disturbance in the force when car companies actually have something important to say in their ads such as hot topics like global warming. World-renowned car brand Hyundai has been releasing a series of ads promoting their eco-friendly vehicles. By teaming up with award-winning South Korean boy band BTS, they can captivate two vastly different audiences with their extensive platforms. Though it's essentially a car commercial, the central message is a challenge for all of us to make a positive impact now for a better tomorrow. Way to step up and hopefully lead other large conglomerates in the right direction, Hyundai!
10. Oatly, "Wow No Cow"
Though a controversial topic, Oatly's CEO Toni Petersson had everyone buzzing at the 2021 Super Bowl. Music and lyrics written by Toni Petersson are incredibly catchy, simplistic, and get right down to what Oatly is about — "Wow No Cow." The company even poked fun at their low-budget ad by designing T-shirts that said "I Totally Hated that Oatly Commercial." Whether you're an absolute fan or can't stand oat milk, you can't deny it isn't already stuck in your head!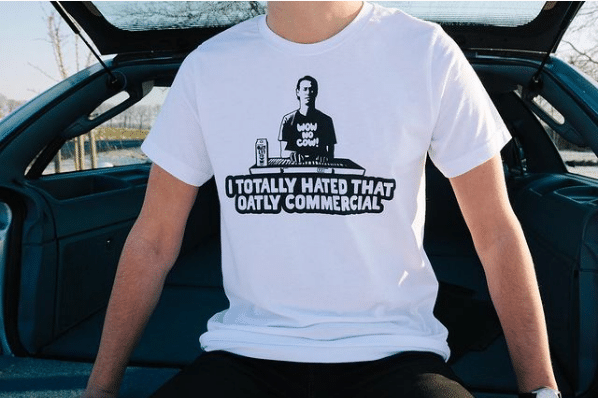 No one knew what life would look like after 2020, but in all honesty, it's been refreshing seeing companies embrace creative, uplifting, and more transparent marketing strategies viewers can relate to. Instead of shying away from the difficult subject matter, brands are acknowledging that life can be hard at times, though we can also enjoy the little things and support what makes life worth living for. Here's to hoping this is a trend that will stick around for a while, especially after such a strong year for ads!