Modern problems require modern solutions. I imagine this, or something along the lines of this, was what the fine folks at YouTube were thinking when they introduced their new audio ads.
Perhaps problem is not the correct choice of words here, but "modern opportunities require modern solutions" just doesn't sound as flashy.
The opportunity that bred these new types of ads stems from more people staying put for this past year than ever before. People are adapting to a new lifestyle. We are working from home, socializing over a webcam, and, if my dietary habits are any indication, ordering an unprecedented amount of takeout.
This new way of life is birthing noticeable trends in culture and our daily lives. One of these trends is that people are, unsurprisingly, spending more time-consuming music and music-adjacent media via YouTube. Of the top 100 global YouTube searches, over half of them were music-related. Searches for artists, songs, ASMR, podcasts, meditations, at-home workouts, and other similar topics comprise 58% of the top 100 YouTube searches worldwide.
People are turning to YouTube to be the background of their lives and YouTube is hoping to capitalize on this newly emerged market. Their newly introduced audio ads are similar to ads heard when listening to the free versions of streaming services like Pandora or Spotify.
These exciting new ads offer a unique way for advertisers to reach different audiences and raise their brand awareness — and therein lies the opportunity. According to Google, more than 50% of logged-in viewers who consume music content in a day consume more than ten minutes of music content. And it's during these extended listening sessions where these new audio ads will be heard.
YouTube audio ads are currently available in beta on Google Ads and Display & Video 360 on a CPM basis. Since this ad type is still in beta you can expect some changes to be made as Google tweaks and fine-tunes it. It's also important to note that these ads are not available to advertisers who are marketing sensitive products or content like healthcare, gambling, alcohol, etc.
The ad itself is an audio file, up to a maximum of 15 seconds long, played over a still image or simple animation. Below is an example of each type of audio ad provided by Google.
Similar to how placements are used to pick and choose which websites you want display ads to be shown on, United States advertisers using this new ad format are able to target specific genres of music listeners to show their ads. This YouTube placement option gives advertisers the opportunity to refine their ad targeting to certain genres of music as well as podcasts.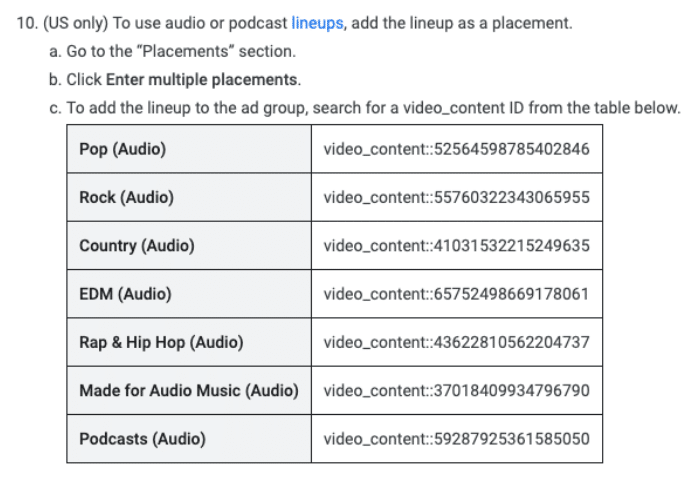 After a few months of alpha testing this snazzy new ad type, Google found that more than 75% of measured audio ad campaigns drove a significant lift in brand awareness. If you are looking to grow your brand awareness among avid music listeners the new YouTube audio ad might be the perfect ad type to bring into your marketing strategy.