Having demographics data enables you to target your messages and advertising spend more strategically. Amazon has finally given sellers that ability with its new Brand Analytics report in Seller Central.
Amazon shopper demographic data has been available before, but only to those with a vendor relationship with Amazon that paid to have premium analytics.
And while the data available to vendors is still more in-depth than what is available in Seller Central, the addition of demographic data to Seller Central at all shows that Amazon acknowledges that sellers need more data to understand their customers. Brand Analytics has been a beta feature in Seller Central for a couple of months, but all sellers can access demographic data now.
Sellers can find a goldmine of data in the Brand Analytics Report in the "Reports" tab in Seller Central, as shown below.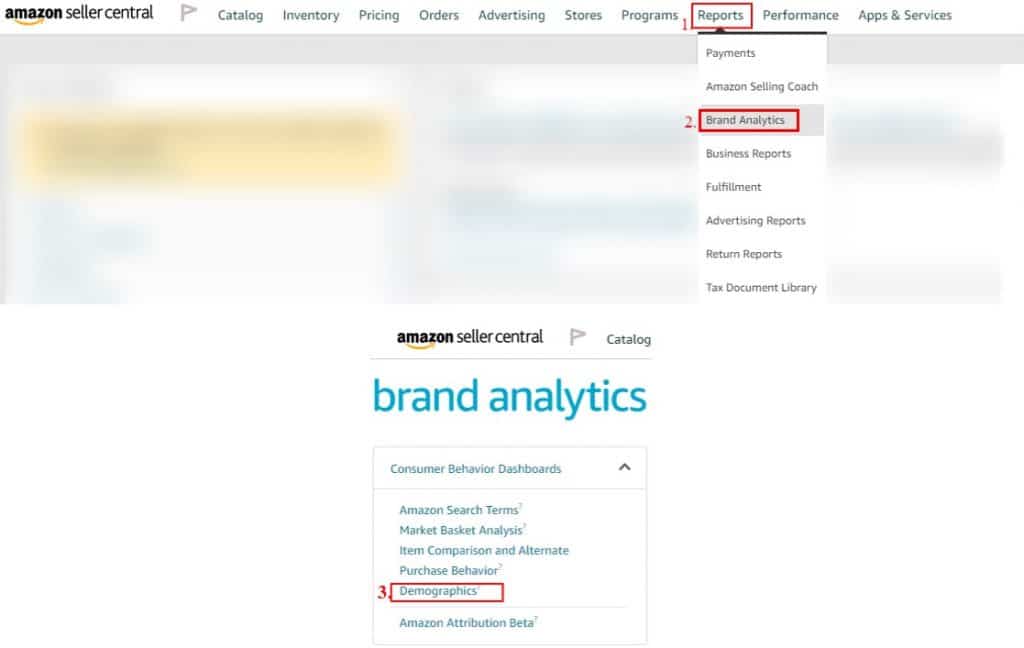 Brand Analytics offers insight into the following for Amazon shoppers who have purchased from a seller:
Age
Household income
Education
Gender
Marital status
All metrics are displayed as both a bar graph and a table showing the following:
Demographic metric
Number of unique customers who placed an order in the selected timeframe
Unique customers displayed as a percentage
Ordered product sales, adjusted for returns
Ordered product sales as a percentage of the total
Units ordered
Units ordered as a percentage of the total
How to Use the Data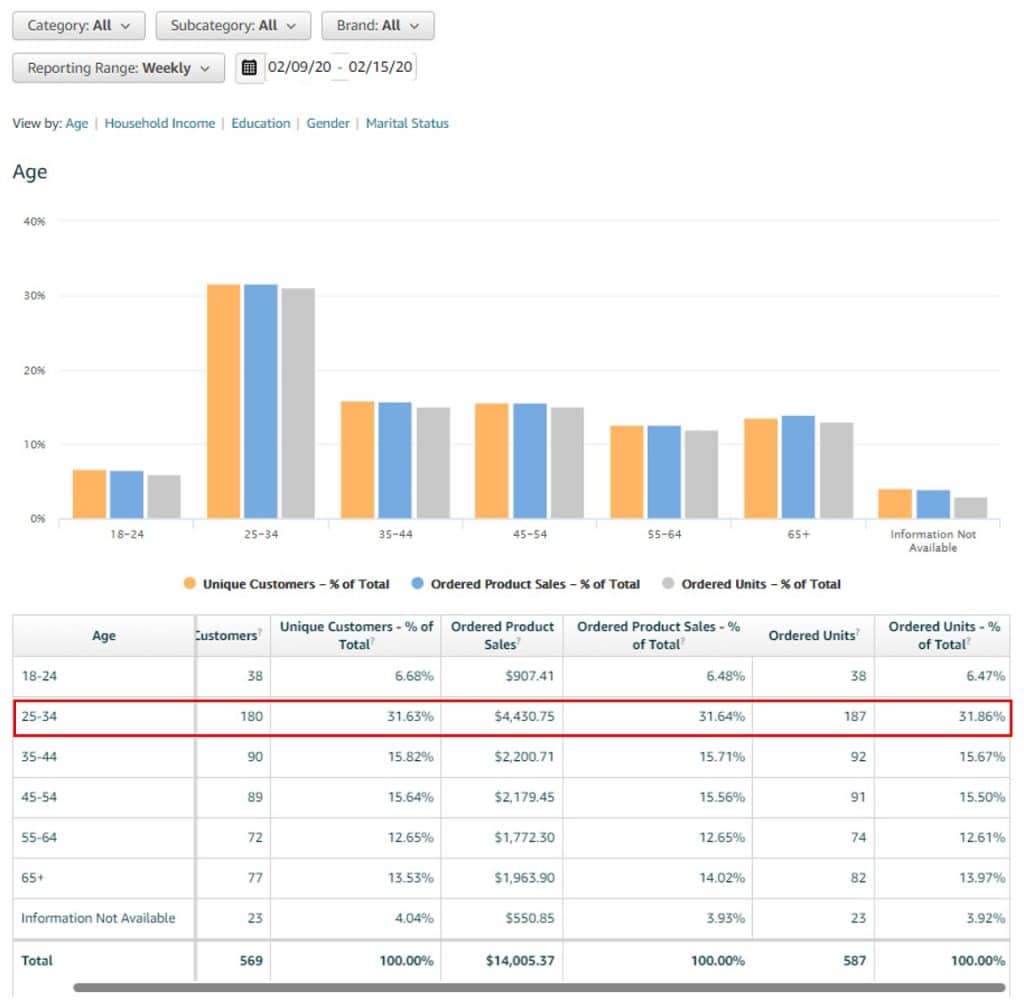 In the above image, we can see that this seller has a higher number of 25-34-year-old customers. These 180 unique customers placed 187 orders and accounted for almost 32% of the seller's total sales for the selected week.
With this information, we have a clearer picture of who is actually purchasing the seller's product. We can build a more in-depth buyer persona — a fictional character that represents your customers based on the characteristics found in your demographics data.
Using the same account that the age data was pulled from, this would be one of the seller's buyer personas:
A married woman, 25-34 in age with some college or a bachelor's degree, and a household income of $50,000 or less.
Applying the buyer persona to the product offering and business model can help you identify opportunities for growth.
When you create a buyer persona based Amazon demographics, you may be surprised to learn who your customers really are. Is it who you expected? If not, this is an opportunity for you to find additional ways to appeal to this particular buyer.
Gearing product copy and images on the product detail page to this particular buyer could increase conversion rates or order values. You can track the effectiveness by evaluating the metrics for the particular demographic you are tracking in the demographics report week over week.
Are you seeing a sales increase where you expected to? Do the units ordered or Product Sales seem to be increasing where you'd expect?
If so, you're on the right track. If not, you know where additional adjustment needs to be made.
Another way to capitalize on this data would be to curate additional products that may appeal to your consumer base. If you want to grow your product catalog, you should consider your current customers' needs, as well as the needs of those you may want to attract in larger numbers. There may be a way to create a variation of a current product to appeal to more shoppers, such as creating a bundle, a new feature, or a new use case. Perhaps personalization or another customization method would be an option for your products.
You can also compare the demographics from Amazon with those from your website, paid search program, social marketing, or other channels.
Is your shopper the same across all channels? If it is, you can optimize channels consistently for that primary shopper. If not, it's an opportunity to customize your content or advertising to your ideal shopper on each channel.
While demographics data is exciting and should inform your Amazon optimization, you should approach it strategically.
One type of buyer may be driving a large part of your business today, but what about the other segments? Is there a way to connect with them and grow other segments, as well? Take care not to overoptimize for one type of customer and alienate the rest.
Amazon's demographics data in Seller Center gives you the green light to get more personal with your advertising and product content. Build your buyer personas and optimize your Amazon presence strategically to maximize sales across all demographic segments.