Google continues to develop multiple enhanced machine learning features within their advertising platform with advanced Smart Bidding strategies that can better optimize towards different business goals across your campaigns or bidding portfolio. They include:
Target Cost Per Action/Acquisition (tCPA)*  
Target Return on Ad Spend (tROAS)*
Maximize Conversions
Maximize Conversion Value
Target Impression Share
*Target CPA and Target ROAS strategies are migrating into the Maximize Conversions and         Maximize Conversion Value Strategies during 2021 as noted below:
Maximize Conversions will have an optional target CPA
Maximize Conversion value will have an optional target ROAS
How Does Smart Bidding Work?
Google's machine-learning algorithms focus on data at a vast scale to help make more accurate predictions across your account about how different bid amounts might impact conversions or conversion value on every search. This includes a wide range of contextual signals in auction-time bidding. These signals are identifiable attributes about a person or their context at the time of a particular auction.
Several of these important signals include attributes like device type, location, weekday, time of day, audience lists, ad characteristics, browser, operating system, and of course the actual search query.
See our previous article 5 Smart Bidding Strategies To Reach Your Goals to learn more about the benefits of Smart Bidding. 
Case Use Best Practices: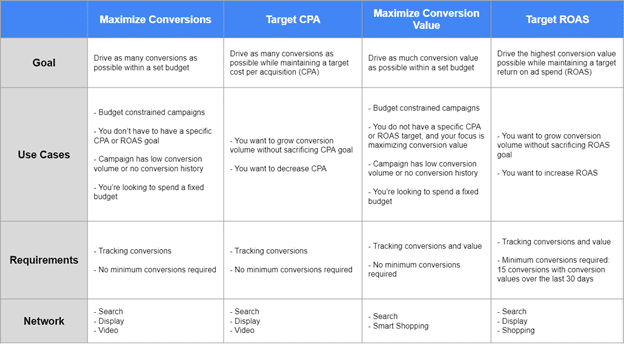 * Target Impression Share is available for Search only without any requirements
Experience-Based Insights:
Maximize Conversions/Revenue: This is most effective when working within limited budgets, so it's best to start by implementing along with budgets set appropriately. In situations where a budget is set much higher than actual spend, there is a tendency for spend to just increase up to the budgeted amount without corresponding conversion results. Once campaigns are performing at desired levels, then a measured approach to expansion is recommended with gradual budget increases to achieve more volume incrementally.
Target CPA: There is potential for excessive CPC when implementing this one, so the recommendation is to utilize Target CPA within a portfolio bidding strategy which then allows for setting a maximum bid limit.
Target ROAS: The recommended approach is to set your initial ROAS target somewhere just below your ultimate goal to promote traffic and conversion volume, then begin to increase ROAS target toward your final goal once realizing results.
Target Impression Share: This approach is best suited for situations where visibility is a priority over other performance metrics. With the flexibility to target different levels of exposure on the search results page, this can be a good fit for Branded campaigns (Targeting Absolute Top of Results Page) or any other key terms where you're looking to maximize overall visibility.
By choosing the Smart Bidding strategy that best aligns with your primary business goal, you can take advantage of opportunities to test powerful machine learning coupled with real-time automation. Even advertisers outside of ecommerce can work toward a more value-based bidding approach by assigning different values across various conversion actions based on the relative importance of each to their unique business goal.
Smart Bidding campaigns can be implemented on a test basis through campaign experiments or by controlling spend on a combined basis with other campaigns through shared budgets. Another interesting feature expected to arrive soon is the ability to set device-specific performance targets for mobile, desktop, and tablet with Target CPA bidding.
With recent enhancements and more flexible performance controls, now is as good a time as ever to give Google Smart Bidding a try.