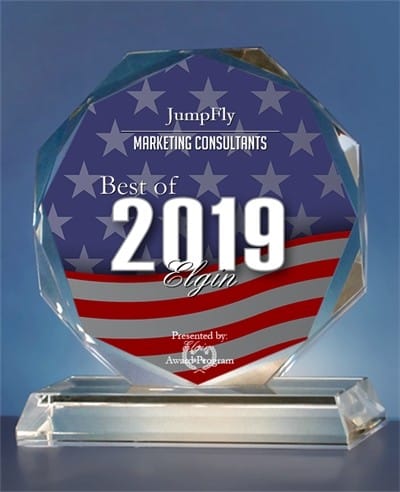 JumpFly has been selected as the recipient of the 2019 Best of Elgin Award in the Marketing Consultants category by the Elgin Award Program. This annual award program honors local businesses in the Elgin and Chicagoland areas that "have achieved exceptional marketing success in their local community and business category."
In winning this award, JumpFly is proud to be recognized for its outstanding performance in the Marketing Consultant category. JumpFly is honored to be included in a group of Chicagoland companies that "enhance the positive image of small business through service to their customers and our community and help make the area a great place to live, work, and play."
JumpFly looks forward to continuing to provide the excellent service and results that its clients expect from them as industry-leading, smart digital advertising experts.
About Elgin Award Program:
The Elgin Award Program is an annual awards program honoring the achievements and accomplishments of local businesses throughout the Elgin area. Recognition is given to those companies that have shown the ability to use their best practices and implemented programs to generate competitive advantages and long-term value. The Elgin Award Program was established to recognize the best of local businesses in our community. Our organization works exclusively with local business owners, trade groups, professional associations and other business advertising and marketing groups. Our mission is to recognize the small business community's contributions to the U.S. economy.
About JumpFly:
JumpFly professionally develops, implements and manages Google Ads, Microsoft Ads, Verizon Media Ads, Amazon Ads and Facebook advertising accounts, enabling clients to maximize internet advertising results while saving time and money. Proper setup and management of these powerful programs will likely make the difference between an advertiser's success or failure. JumpFly's full-service smart digital advertising solution enables clients to focus on their core business while achieving the best possible results from their search engine marketing campaigns. JumpFly is a Premier Google Partner, Facebook Marketing Partner, Microsoft Select Partner Agency, Snapchat Certified, and has an A+ rating from the BBB.