Clutch is a B2B ratings and reviews platform that evaluates companies based on their ability to deliver service, their overall brand strength, and client satisfaction rates. Every month, Clutch's team selects the top performing agencies given their expertise, ability to deliver, and location. In their 2019 report on the top Chicago B2B firms, JumpFly is listed as the number one agency among the top PPC management services firms. Clutch does excellent work gathering and documenting in-depth customer reviews to ensure comprehensive and honest information, and we'd like to thank our clients for their central role in helping us achieve this selective award.
"JumpFly is honored to be recognized by Clutch as the top PPC and Digital Marketing Agency in Chicago. This award exemplifies our dedication to providing the very best experience for our clients. At JumpFly we pride ourselves on the fact that we offer our clients not only leading industry expertise, but also the tenacity and care that comes with managing digital advertising campaigns. Receiving this recognition from Clutch reaffirms our dedication to provide stellar service to our clients. "
– JumpFly President, Michael Marchese
Here's a snapshot of what the firms we've worked with have to say regarding our services: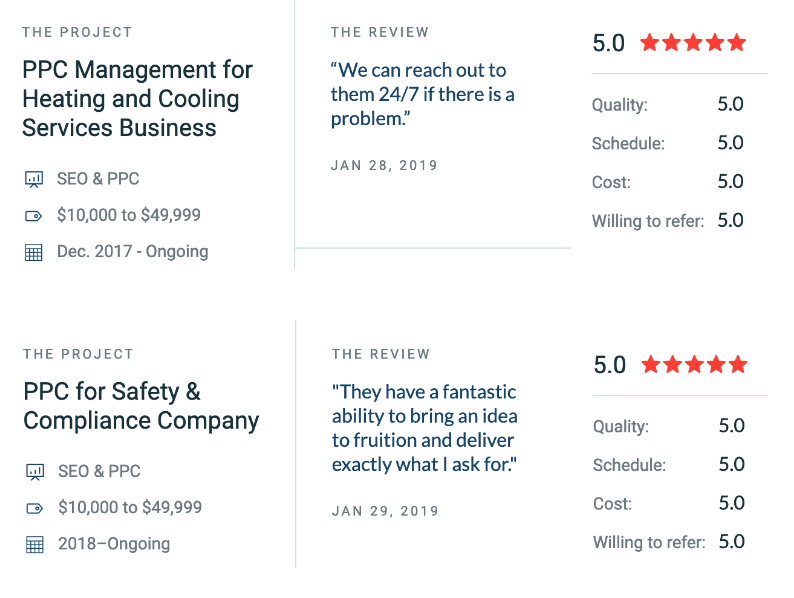 Overall, we're excited to have been recognized globally in 2018 by Clutch, and now, in our very own city of Chicago. We pride ourselves on our ability to deliver results to neighbors and international clients alike.