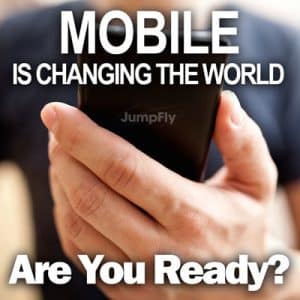 Today, it seems like everyone has a smartphone.  It has become our new normal – we are constantly connected, communicating and searching for information.
Having a mobile website has become a crucial component of having an online presence. If your website is not mobile-friendly, it's time to rethink your online marketing strategy.  The majority of searchers coming to your site are using a mobile device and this number just keeps growing. Statistics show that the path to a conversion will most likely start with a mobile search. The actual purchase may end up on desktop or tablet, but it is critical to optimize your site and your marketing efforts for mobile. This is the first impression you are giving the user – it has to be fast, relevant and user friendly.
About 92% of all young adults ages 18 to 29 and over 80% of 30 to 49 year-olds have a smartphone. The fastest-growing group is Americans from 50 to 64. A whopping three-quarters of them are now smartphone owners. As these numbers continue to grow, there are more potential buyers looking for your product or service. Give them a great user experience to keep them interested and engaged!
Picture this – a user sees your online ad and is intrigued enough to click for more information. When they land on your page, they have difficulty viewing your site and reading the content. They have to pinch and zoom and squint to try and see anything. Your purchase process may be confusing or hard to find. This leads to immediate irritation and frustration. Know what happens next? They are gone in the blink of an eye! They have abandoned your site and are on to the next one.
Nobody has the time to waste on a bad user experience. They want information and they want it right now.  If you don't instantly give them what they're looking for, you are not going to be a contender in the online marketplace.
The world of internet marketing is constantly changing and growing, but one thing we can be absolutely sure of – mobile is here to stay!  Making the investment now will surely pay off in the long run.
Once your website is fully optimized for mobile, JumpFly is here to help with your PPC management. Our professional account managers have years of PPC experience. They bring customer service to a whole new level by taking the time to understand you, your business and your goals. Contact us today for more information.