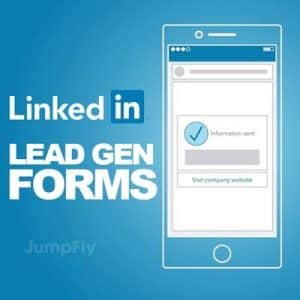 LinkedIn has introduced a new way for marketers to collect quality leads from on-the-go mobile users, taking standard Sponsored Content ads to the next level. Lead Gen Forms (https://business.linkedin.com/marketing-solutions/native-advertising/lead-gen-ads) deliver accurate user data to the marketer with just a couple clicks by the user.
With Lead Gen Forms, LinkedIn users will be able to engage with the marketer's offer – such as a webinar registration or a whitepaper download – by clicking on a call-to-action button. Once users click on the ad, they'll be taken to a form that is pre-filled with accurate contact information, extracted directly from the user's LinkedIn profile. Marketers can chose the fields that mean the most to them, from the user's name and contact info, to job title, company name, or even educational details. These chosen fields can then be saved as a template for quicker use in additional campaigns.
With a single click on the form page, the user instantly sends their information to the marketer, creating a new business lead. The user doesn't have to type anything in the form, not only saving time but also preventing typos or other misinformation from being transmitted to the marketer.
Once the form is submitted, the user is presented with a confirmation page that connects to the marketers offer page or another URL of the marketer's choice.
There is also built-in reporting in which the marketer can use to measure the campaign's cost per lead, the lead form fill rate, and even discover which specific audiences are converting into leads.
Contact JumpFly today if you're interested in learning more about how LinkedIn's new Lead Gen Forms can help drive quality leads for your business.