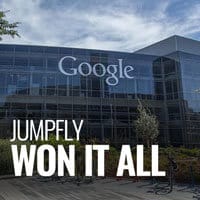 October 23, 2015 – JumpFly reached the top level in Google's Curiosity Challenge and won the grand prize. This challenge was one of Google's ongoing competitions, available to Google Partners through Google's Partner Rewards Program.
Google's email said:
"Congratulations on reaching the top level in the Q3 Curiosity Challenge – your agency won one ticket to the 2016 Google Partners Summit in California. We'll be in touch in early 2016 with more details on how you can redeem your ticket. .. Your agency also won a Mini Micro-Kitchen, five $75 credits to Udemy.com and a set of 15 Google Cardboard for your team…"
JumpFly's commitment to client success and satisfaction continues to earn praise from clients and within the industry. Participating in and winning challenges like these provide further evidence that JumpFly continues to thrive in a competitive environment. Furthermore, winning the opportunity to participate in another Google Partners Summit is a valuable accomplishment that will further enable JumpFly to remain on the cutting edge of a rapidly evolving PPC environment. Per Google, "The Google Partner Summit recognizes the best web professionals doing the most for their clients – launching innovative work, running effective campaigns, and pushing the digital ad space forward."
About JumpFly:
JumpFly professionally develops, implements and manages Google AdWords, Bing Ads, Yahoo Gemini and Facebook pay-per-click advertising accounts, enabling clients to maximize Internet advertising results while saving time and money. Proper setup and management of these powerful programs will likely make the difference between an advertiser's success or failure. JumpFly's full-service solution enables clients to focus on their core business while achieving the best possible results from their search engine marketing campaigns. JumpFly is a Google AdWords Certified Partner and Bing Ads Accredited Professional. JumpFly assists more than 400 clients, offers a money-back-guarantee, ranks as the #1 PPC Management Company by TopSEOs and Clutch, and has an A+ rating from the BBB.