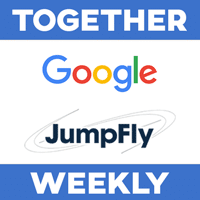 January 18, 2018 – Google's Stephanie Rivkin is now stationed once a week in the JumpFly office in Elgin, IL. JumpFly is honored to have Stephanie and Google in-house and excited about the increased support this opportunity brings for JumpFly clients.
Direct access to Google will prove to be valuable to JumpFly clients as Account Managers will have early and continued access to new betas, trainings, and account support. Googlers are exceedingly knowledgeable and always willing to take a deep dive into accounts to help Account Managers diagnose potential issues and grow accounts. Stephanie's frequent presence in the JumpFly office will have a positive impact on client performance overall.
Stephanie kicked off the year by helping Account Managers take a look at attribution models and the best ones to implement for each account. Updating attribution models will help clients in the long run as Google's algorithm and automation will be based on more accurate data.
JumpFly's Premier Google Partner Status and Google's continued investment in JumpFly will better help advertisers differentiate between agencies when identifying the most qualified partner. JumpFly is looking forward to continuing to build on this valuable relationship with Google.
About JumpFly:
JumpFly professionally develops, implements and manages Google AdWords, Bing Ads, Yahoo Gemini and Facebook pay-per- click advertising accounts, enabling clients to maximize Internet advertising results while saving time and money. Proper setup and management of these powerful programs will likely make the difference between an advertiser's success or failure. JumpFly's full-service solution enables clients to focus on their core business while achieving the best possible results from their search engine marketing campaigns. JumpFly is a Premier Google Partner, Facebook Certified Partner, and exclusive Bing Elite Agency. JumpFly assists more than 400 clients, offers a money-back- guarantee, ranks as the #1 PPC Management Company by TopSEOs and Clutch, and has an A+ rating from the BBB.