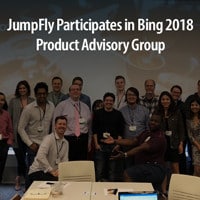 Once again JumpFly was invited to, and participated in, the Bing Ads Product Advisory Group (PAG) Meeting. This meeting, featuring in-depth conversations with Microsoft engineers and product managers, was held in Chicago, IL and JumpFly Account Director Jack O'Donnell was there representing JumpFly and their clients. The technical teams at the PAG meeting were genuinely eager to hear the feedback from the attendees, including JumpFly. The goal of Microsoft is to make Bing Ads a productive, intuitive marketing platform for all advertisers – big or small – and this important meeting helped to attain that goal.
The key areas discussed at the 2018 Product Advisory Group were:
Expanding and deepening customer engagement through Bing Ads – This topic included enthusiasm about the new Microsoft Audience Network, new audience capabilities, Local Inventory Ads, Bing Shopping and feed driven ad extensions.

Making the most of marketing budgets with Bing Ads – Including continuing to improve syndication traffic quality, bundling broad match, additional targeting considerations, and offline and cross-channel attribution.

Making the Bing Ads toolset do the work – Which included bidding agent advancement considerations, the desire to have more ad customizers, more extension compatibility with Google imports, multi-account management roadmap, management and optimization of in-market audiences, and improved management of audiences.
JumpFly is honored to have been given the opportunity to attend the Product Advisory Group again and is looking forward to the next time they can provide their valuable expertise to the teams at Bing that can truly make a difference.
About JumpFly:
JumpFly professionally develops, implements and manages Google AdWords, Bing Ads, Yahoo Gemini and Facebook pay-per- click advertising accounts, enabling clients to maximize Internet advertising results while saving time and money. Proper setup and management of these powerful programs will likely make the difference between an advertiser's success or failure. JumpFly's full-service solution enables clients to focus on their core business while achieving the best possible results from their search engine marketing campaigns. JumpFly is a Premier Google Partner, Facebook Certified Partner, and Bing Elite Agency. JumpFly assists more than 400 clients, offers a money-back- guarantee, ranks as the #1 PPC Management Company by TopSEOs and Clutch, and has an A+ rating from the BBB.