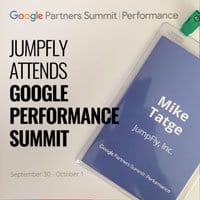 September 30, 2015 – Hand picked CEOs and Presidents from businesses participating in Google's Partner Program were invited to take part in two days of keynote speakers, advertising insights, discussions, networking and product demonstrations. This opportunity additionally enabled JumpFly Founding Partner Mike Tatge to spend time with industry peers and Google thought leaders to help fine-tune how Google's Agency program will work with agencies going forward.
Over the Summit's two days, Google experts shared their perspectives on key industry trends, and provided insight into the latest advertising strategies and opportunities. Google also showcased the latest and greatest Google AdWords products that are on the way in 2016. Established Google veterans that led the discussions and executive forums included:
Allan Thygesen – Vice President, Global SMB Sales and Operations at Google
Ray Kurzweil – Director of Engineering at Google
Bob Dillon – Director, Agency Sales, North America at Google
Bickey Russel – Head of Agency Development at Google
Five forum breakouts took place during this year's Performance Summit. Per Google, "the forums participants included an exclusive group of Managed Agency CEOs & key Google leadership on 5 topics that are mission critical to each party's success in the future. The goal was to kick-start an ongoing dialogue with all forums participants."
The five forums included:
Mobile Forum
Talent Development
New Business/Acquisition
Retail & eCommerce
Google Partner Support
Tatge said, "This year's Google Performance Summit was a valuable experience that included meaningful discussions about the PPC industry, upcoming AdWords features and the objectives of the Google Partner Program." JumpFly continues to attend various industry events in order to stay on top of the ever-changing PPC features and developments that continue to emerge. "Managing multiple PPC platforms with distinct and evolving features requires a dedicated team of hard working, dedicated, passionate and knowledgeable professionals. We are fortunate to have assembled an amazing team of PPC specialists and grateful that Google recognizes the value we provide our clients."
About JumpFly:
JumpFly professionally develops, implements and manages Google AdWords, Bing Ads, Yahoo Gemini and Facebook pay-per-click advertising accounts, enabling clients to maximize Internet advertising results while saving time and money. Proper setup and management of these powerful programs will likely make the difference between an advertiser's success or failure. JumpFly's full-service solution enables clients to focus on their core business while achieving the best possible results from their search engine marketing campaigns. JumpFly is a Google AdWords Certified Partner and Bing Ads Accredited Professional. JumpFly assists more than 400 clients, offers a money-back-guarantee, ranks as the #1 PPC Management Company by TopSEOs and Clutch, and has an A+ rating from the BBB.