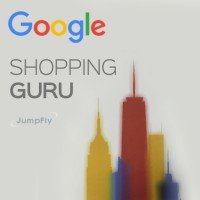 July 29, 2015 – JumpFly was invited to attend Google Shopping Guru Day hosted at the New York GooglePlex. Nikki Kuhlman, one of JumpFly's most experienced PPC specialists, participated in this prestigious event, where she became an official Google Shopping Guru. The event's schedule was packed with valuable presentations & workshops designed to help participants learn the best ways to optimize Google Shopping Campaigns and maximize the performance of Product Listing Ads (PLAs).
Part of the focus was on mobile's staggering growth and the challenge of measuring its importance. Google Retail Specialist, Andrea Vannucci, shared that, "75% of purchases are influenced by mobile searches but only 23% are done on a mobile device." Google stressed the need to properly track mobile conversions before pulling the plug on mobile, especially as mobile traffic continues to explode. Along with increased mobile traffic has been a significant rise in mobile shopping searches as well, growing by roughly 115% over the past year.
Google Shopping Guru Day presenters focused on the importance of having good/accurate data in the product catalog. Without good data, an agency's hands are tied when it comes to optimization. Google suggests enabling automatic daily item updates via micro-data when possible. "Google Shopping Guru Day reiterated how important the role of the feed's data actually is," says Kuhlman. "If you put junk in, you'll get junk out. Our job, as an agency, is to point out where the weaknesses are to our clients so they can improve it, or even better, let us manage the feeds for them. When that happens we can spend our time optimizing for Revenue, not battling just to get our client's ads shown." Google additionally reviewed how to improve a data feed and which attributes were the most important to focus on.
Shopping Campaigns, and the data feeds that drive them, have become a critical part of the PPC landscape for just about all ecommerce businesses. JumpFly's clients have seen a substantial increase in Product Listing Ad exposure and results, with Shopping Campaigns often generating the best ROI. JumpFly Founding Partner, Brad Garlin, says, "Clients continue to see impressive results from Shopping Campaigns. We actually provide a very powerful feed management solution that greatly helps optimize feeds and maximize results. We are thrilled when we find opportunities to tap into software that can effectively improve results; this is one of those opportunities. As always, we are grateful to be included in valuable events like Google Shopping Guru Day, that educate our team and help us improve results for our clients."
About JumpFly:
JumpFly professionally develops, implements and manages Google AdWords and Bing Ads pay-per-click advertising accounts, enabling clients to maximize Internet advertising results while saving time and money. Proper setup and management of these powerful programs will likely make the difference between an advertiser's success or failure. JumpFly's full-service solution enables clients to focus on their core business while attaining the best possible results from their search engine marketing campaigns. JumpFly is a Google AdWords Certified Partner and Bing Ads Accredited Professional. JumpFly assists more than 400 clients, offers a money-back-guarantee, ranks as the #1 PPC Management Company by TopSEOs and has an A+ rating from the BBB.