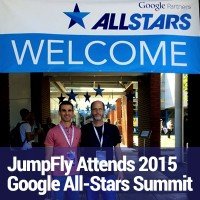 September 2, 2015 – JumpFly is proud that it earned a spot to another Google Partners All-Stars Summit, an event designed to showcase top performing Google Partners from around the world. JumpFly PPC Specialists Jack O'Donnell and Michael Marchese flew to Mountain View, California, to attend an exclusive three day Summit at the Googleplex.
Trip Details from the Invitation:
Round-trip airfare for two to Mountain View, CA
Three days—Monday to Wed, Aug 31 to Sep 2nd at the Googleplex
Start things off with a cocktail reception at 5:00 p.m. Monday, August 31st
Three-night stay in a hotel chosen by Google
Google Headquarters tour
International networking lunch
An entertaining Googly evening with like-minded agencies
Google travel bag
Transportation to and from the Googleplex
Talks from Google experts and thought leaders
Google store and visitors center visit
Speakers at this year's Google Partners All-Stars Summit focused quite a bit on "moments marketing" and how adverting needs to be more adaptive and relevant, reaching an individual user with the best possible message exactly when that user needs an answer/solution. They discussed the fact that on average, people check their mobile devices over 150 times a day, 82% of smartphone users turn to their phones to influence purchase decisions while in a store and 90% of smartphone users have used their phones to make progress toward long-term goals or multi-step processes while "out and about." Google stressed how advertisers need to make sure to deliver the most appropriate message during these brief, but precious moments.
Google discussed how YouTube is the world's second largest search engine with 1 billion unique users each month and 100 million people who share, comment or like YouTube videos each week. There are more than 100 hours of video uploaded to YouTube every minute. Google discussed the importance of capturing new visitors in the first five seconds of the video.
This information is just a fraction of the valuable knowledge gained and shared at the 2015 Google Partners All-Stars Summit. JumpFly's team members had a great experience, learned a lot and enjoyed high level discussions with Google and other agency team members. This Summit is just another example of the valuable resources made available to JumpFly via Google's Partner Rewards Program. JumpFly is incredibly grateful that Google recognizes the value that agencies provide AdWords advertisers, and hosts valuable events like this Summit.
About JumpFly:
JumpFly professionally develops, implements and manages Google AdWords, Bing Ads, Yahoo Gemini and Facebook pay-per-click advertising accounts, enabling clients to maximize Internet advertising results while saving time and money. Proper setup and management of these powerful programs will likely make the difference between an advertiser's success or failure. JumpFly's full-service solution enables clients to focus on their core business while achieving the best possible results from their search engine marketing campaigns. JumpFly is a Google AdWords Certified Partner and Bing Ads Accredited Professional. JumpFly assists more than 400 clients, offers a money-back-guarantee, ranks as the #1 PPC Management Company by TopSEOs and Clutch, and has an A+ rating from the BBB.