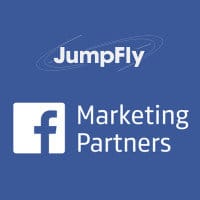 February 14, 2018 – JumpFly is proud to announce our status as a Facebook Agency Partner. This prestigious designation allows JumpFly's paid search experts to provide a higher level of comprehensive support and in-depth engagement for clients who want to advertise on Facebook and Instagram.
One of the benefits of JumpFly being a Facebook Agency Partner is direct access to a dedicated Facebook Partner Manager. Our appointed Partner Manager is located in Chicago, not far from JumpFly headquarters, and will be available to provide JumpFly staff with training, strategy planning, performance improvement suggestions, escalation of technical issues, conference calls with clients and more. JumpFly staff will have the opportunity to attend exclusive Facebook Agency Partner training sessions which will allow JumpFly to offer a premium level of service to clients.
To obtain the coveted Facebook Agency Partner recognition, JumpFly employees went through rigorous training, testing and evaluation processes. Facebook Agency Partner designations are not taken lightly and are only bestowed upon agencies that Facebook considers the best in the industry. Facebook sets a high bar for this recognition, but JumpFly's dedicated staff has demonstrated the excellence and proficiency necessary to meet and exceed the high standards set by Facebook.
JumpFly is very excited to be able to offer this premier tier of representation and support to our clients and we are excited to grow our client base of Facebook and Instagram advertisers as a Facebook Agency Partner.
About JumpFly:
JumpFly professionally develops, implements and manages Google AdWords, Bing Ads, Yahoo Gemini and Facebook pay-per- click advertising accounts, enabling clients to maximize Internet advertising results while saving time and money. Proper setup and management of these powerful programs will likely make the difference between an advertiser's success or failure. JumpFly's full-service solution enables clients to focus on their core business while achieving the best possible results from their search engine marketing campaigns. JumpFly is a Premier Google Partner, Facebook Certified Partner, and exclusive Bing Elite Agency. JumpFly assists more than 400 clients, offers a money-back- guarantee, ranks as the #1 PPC Management Company by TopSEOs and Clutch, and has an A+ rating from the BBB.