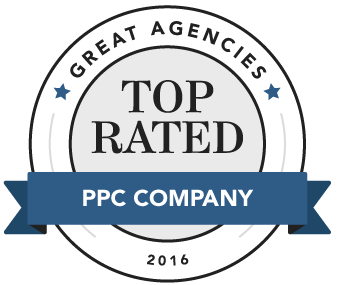 Great Agencies Ranks JumpFly #1 PPC Management Agency
September 1, 2016 – JumpFly was recognized as the #1 ranked PPC Company by Great Agencies, an industry leading review source that ranks service providers based on six ranking metrics: accreditations & expertise, reputation & complaint volume, media coverage, fee structure, transparency and staffing. Great Agencies collected more than 1,000 reviews on hundreds agencies and ranked them based on their findings. Based on their research, JumpFly was ranked the Best PPC Agency.
Great Agencies awarded the following "grades" to JumpFly:
| Description | Grade |
| --- | --- |
| Rating of Expertise | A+ |
| Overall Reputation | A+ |
| Complaint Volume | A+ |
| Popularity | A |
| Dollars Managed | A- |
| Certifications | A |
| Fees | A |
| Flexibility | A+ |
Per Great Agencies' website, "Only the Best Vendors Meet Our Standards. There are millions of competing businesses in the industries we target, but only a small number of them have the credentials to join our ranks. We research and dial-in on proven organizations; consistent performers with real offices and in-house professionals who make the magic happen every day. Freelancers are great but membership in Great Agencies is strictly limited to serious businesses."
This best in class designation represents the third such acknowledgement JumpFly has been awarded for demonstrating superiority in their space. JumpFly is additionally ranked the #1 PPC management agency by TopSEOs and Clutch. "We are incredibly proud to be recognized by another independent third party for our accomplishments. Receiving accolades like this provides further evidence that we are doing the right things for our clients," says JumpFly Managing Partner, Brad Garlin.
About Great Agencies:
Great Agencies is an independent rating authority that ranks the best internet vendors in SEO, PPC, Digital Marketing, Social Media Marketing, 3D Animation, Web Development, Mobile Application Development and Mobile App Marketing. There are three main factors that influence an agency's overall rating. The first is success. Does the agency offer a verifiable portfolio of success stories? Or can we assess the overall success of the agency in whatever their core offering is? The second factor is the agency's overall industry popularity; that is, if they're mentioned in the media or we find them mentioned in many industry publications. The third factor is complaint volume – how often we find complaints about the company and how often these complaints are directly related to their core offering. While every company rep you speak to will make the claim to be the greatest, few of them will have that X factor and very few will deliver on all cylinders (service, communication, reliability).