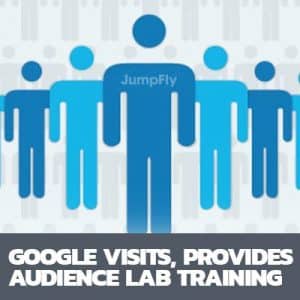 August 10, 2017 – Google's Sofia Altuna, Daniela Natal and Camilla Lima spent three days at the JumpFly office providing Audience Lab training for the JumpFly team.
Audience Engagement Specialist, Camilla Lima, provided in-depth training that focused on the importance of using audience insights and bid adjustments together to take PPC accounts to the next level.
Google's training stressed the importance of using Google Audience Data to identify users who may be interested in your product based on repeated patterns of behavior and clear intent signals. The use of data is imperative in finding accurate audiences to target. One might think that an appropriate audience for gaming would be young in age; however 45% of video game searchers on mobile are 35+. Or one might think an audience for automotive would be heavily skewed towards men while in reality, 60% of auto searchers on mobile are female. Data driven insights are the key to creating accurate audiences that are more likely to be interested in your product.
Finding top performing audiences is only one piece of the success equation. The addition of audiences to an account won't mean anything if the PPC strategy does not also include an appropriate bidding structure. Google's smart bidding features allow for machine learning to drive informed and accurate bidding decisions for every auction. These decisions are based on real-time signals across multiple platforms and devices to reach the user at the exact right time.
The future of AdWords advertising is rooted in using the tools provided by Google to reach the right audiences with the right message at the right time. Proper use of audiences will allow you to show your ads to the right people while smart bidding allows you to reach them at the right time. It's important to use both in conjunction to elevate your PPC performance!
About JumpFly:
JumpFly professionally develops, implements and manages Google AdWords, Bing Ads, Yahoo Gemini and Facebook pay-per- click advertising accounts, enabling clients to maximize Internet advertising results while saving time and money. Proper setup and management of these powerful programs will likely make the difference between an advertiser's success or failure. JumpFly's full-service solution enables clients to focus on their core business while achieving the best possible results from their search engine marketing campaigns. JumpFly is a Premier Google Partner and exclusive Bing Elite Partner. JumpFly assists more than 400 clients, offers a money-back- guarantee, ranks as the #1 PPC Management Company by TopSEOs and Clutch, and has an A+ rating from the BBB.