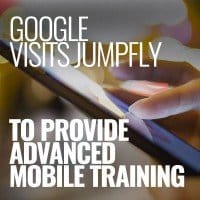 November 18, 2015 – Three Google team members traveled to Chicago's suburbs to meet with JumpFly and provide advanced mobile training. Julianne Gaudio, Google Agency Development Manager, Sofia Altuna, Google Agency Partner, and Roman Gancberg, Google Mobile Regional Specialist, met with JumpFly to explore in great detail, high level mobile-related best practices and opportunities.
At Google, Gancberg's team is in charge of understanding the SMB business to define strategic mobile priorities and develop business insights. Liaising with other partner teams (such as Product Management, Engineering, Marketing), his team works hard to both ensure that Google's SMBs' needs are addressed and conveyed to partner teams and equip the SMB Sales force with information, training, collateral, tools and opportunities needed for future growth.
Mobile efforts are increasingly important as U.S. users now spend more time digesting mobile media than desktop media. In fact, according to ComScore, mobile usage accounts for 60% of the time spent consuming digital media, while desktop-based digital media consumption makes up the remaining 40%. Apps are responsible for driving the majority of media consumption activity, the report claims, now accounting for 7 out of every 8 minutes of media consumption on mobile devices. If advertisers refuse to embrace their desired audience through mobile search and display, and/or don't provide a satisfactory mobile experience, they will fail to reach a rapidly growing portion of the population.
While Gancberg was meeting with JumpFly's account management team, Altuna and Gaudio met with JumpFly senior management to review JumpFly's corporate structure, services and strategies. Google provided a thorough analysis of JumpFly operations and offered recommendations for ongoing success. "We are incredibly fortunate to have such amazing resources available from Google. Roman, Sofia & Julianne are all incredibly knowledgeable and helpful. We are beyond grateful for their dedication and contributions that continue to help educate JumpFly's team to be the most effective Google AdWords Account Managers possible and maximize the value we can provide our clients. Their ongoing efforts are recognized and much appreciated," says JumpFly Founding Partner, Brad Garlin.
About JumpFly:
JumpFly professionally develops, implements and manages Google AdWords, Bing Ads, Yahoo Gemini and Facebook pay-per-click advertising accounts, enabling clients to maximize Internet advertising results while saving time and money. Proper setup and management of these powerful programs will likely make the difference between an advertiser's success or failure. JumpFly's full-service solution enables clients to focus on their core business while achieving the best possible results from their search engine marketing campaigns. JumpFly is a Google AdWords Certified Partner and Bing Ads Accredited Professional. JumpFly assists more than 400 clients, offers a money-back-guarantee, ranks as the #1 PPC Management Company by TopSEOs and Clutch, and has an A+ rating from the BBB.