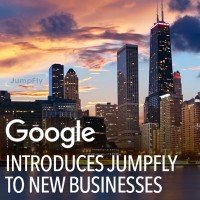 August 5, 2015 – Google invited JumpFly to co-host a joint event at Chicago's WeWork River North, a large co-working office space that accommodates hundreds of small to mid-sized businesses. The goal of this event was to educate many businesses, located in a central location, about the value of using Google AdWords, in addition to a qualified PPC management agency. Google representatives provided presentations about the need for search engine marketing and JumpFly Managing Partner, Mike Tatge, delivered a compelling session about the additional value gained by working with an agency. After the workshops were completed, Googlers and JumpFly representatives provided one-on-one consultations to help answer questions and better explain how both AdWords and JumpFly could specifically benefit each individual business. Upon the event's conclusion, some of Chicago's most promising startups now better understand the value of Google AdWords and why working with a trusted Google partner like JumpFly is often the right choice.
Event Details
Location: WeWork River North
Address: 111 W Illinois St, Chicago, IL 60654
Time: 12:30 pm – 3:30 pm CT
Sessions Included:
Why Digital Marketing & How to Get Started
Where do you find your audience?
SEO 101 + SEM
MicroMoments
Being there for the moments that matter
Branding
Creating demand for new to market products
Working with an Agency 101
How JumpFly can help
Measuring Success and Understanding your Return on Investment (ROI)
1-1 meetings & networking with potential advertisers
Presenters included Julianne Gaudio, Google Agency Development Manager, Sofia Altuna, Google Associate Account Strategist and Mike Tatge, JumpFly Founding Partner.
WeWork resident include startups, freelancers, entrepreneurs, and small businesses who value the inspiration and collaboration that co-working spaces are designed to foster. WeWork provides beautiful, collaborative, physical spaces for teams of any size and boasts Over 25,000 members who collaborate in-person via a digital app that lets users connect and work virtually with other members around the world. WeWork provides both formal and informal events to help encourage connections and offers access to health care, payment processing, IT support, payroll, legal assistance and much more.
"A special thank you to Google and WeWork for the wonderful opportunity to help some of Chicago's best start-ups better understand the power of Google Advertising and the benefits of working with a professional agency like JumpFly. I hope those who participated found good value in our open discussion," said Tatge. "We are excited to work with Google as they explore new ways to reach potential advertisers." Over the past 10+ years, JumpFly established strong relationships with all the leading PPC providers, including Google, Microsoft, Yahoo and Facebook. JumpFly continues to work with these valued partners in new and exciting ways to help reach businesses and maximize their PPC results.
About JumpFly:
JumpFly professionally develops, implements and manages Google AdWords, Bing Ads, Yahoo Gemini and Facebook pay-per-click advertising accounts, enabling clients to maximize Internet advertising results while saving time and money. Proper setup and management of these powerful programs will likely make the difference between an advertiser's success or failure. JumpFly's full-service solution enables clients to focus on their core business while achieving the best possible results from their search engine marketing campaigns. JumpFly is a Google AdWords Certified Partner and Bing Ads Accredited Professional. JumpFly assists more than 400 clients, offers a money-back-guarantee, ranks as the #1 PPC Management Company by TopSEOs and Clutch, and has an A+ rating from the BBB.