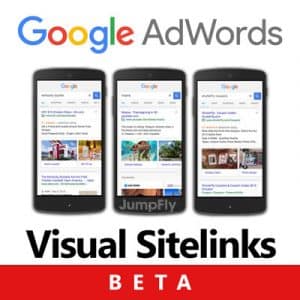 Earlier this year Google introduced a Beta called Visual Sitelinks in which rich image ads are being shown alongside traditional text ads to help boost the click through rate.  Unlike display ads, Visual Sitelink images can't have logos or text in the actual ad but are instead allowed to have a 25 character title and 50 character description show above and below the image.  Some of the other requirements are a minimum of four image ads shown in carousel format, JPG or PNG file, 16:9 aspect ratio, 5MB maximum file size and a photographic-quality image.  
The Visual Sitelinks only show on mobile devices and are intended to highlight specific product experiences and not just the product itself.  The idea is to have the user be visually captivated instead of only seeing an image similar to that of a shopping ad which just displays the individual product in its most basic form.  
One of the hardest parts of running this type of Sitelink is getting the images in the proper format and quality.  Most advertisers want to use their shopping images or a photo taken with a cell phone which most likely will not meet Google's requirements.  At Jumpfly, we have found that it's necessary to not only send over the proper information on the ad specs, but to also to have a call with the advertiser to make sure they understand exactly what this image is intended to do and how to convey a sense of emotion within the image.  
After months of testing the new Visual Sitelinks we have seen click-through rates six times that of other Sitelinks in the campaign, while still attaining similar conversion rates to traditional Sitelinks.   It has become clear to us that a user's sense of visualization is triggering a response that cannot be attained through text alone.  
For more information on Visual Sitelinks and other upcoming Google AdWords Beta programs, it is important to partner with a professional pay-per-click management company like JumpFly.