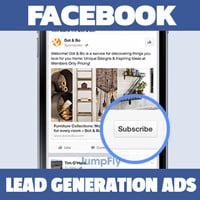 In a world where people expect to be able to do everything on their phones, marketers need to really analyze what the conversion experience is like not only on desktop, but also on mobile phones. Not only is your website important (see a prior blog: Mobile and Paid Search – Why It's a Big Deal), but the ad types are also important. Historically, lead generation on mobile has been difficult, specifically when forms are involved. I don't know about you, but I abhor filling out forms on my mobile phone. I avoid it at all costs! Facebook caught onto this problem and came up with a great solution in the form of Lead Generation Ads (www.facebook.com/business/news/lead-ads-launch).
Facebook Lead Generation Ads make it incredibly fast and easy for users to sign up to receive information from businesses, like newsletters, quotes and offers. When someone clicks on a lead ad, a form opens and the person's contact information is automatically populated based on the information they share with Facebook. That means you can fill out a form in just two taps! As a user, I am much more likely to submit a form this way than when I must manually fill out all my information.
Lead ads offer both standard and custom fields. You can include your own disclaimer, as well. While Facebook offers a wide range of form options, it's best to keep it as short as possible to maximize your conversion rates. At the end of each Facebook Lead Generation Ad, there is a website link. Treat this like a confirmation or thank you page after someone fills out a form on your website.
So where does all the data go for these lead ads? Facebook offers some third party integrations including Salesforce, Marketo, Oracle, Constant Contact and more (www.facebook.com/business/help/908902042493104) . If you can't use any of these integrations, there is a manual way to export your leads. Just go to Page > Publishing Tools > Forms Library and download your leads there. If you integrate, setup an autosponder to get in touch with leads right away. If you are downloading leads manually, try to respond within 1 day for best results.
We've seen incredible success with Facebook Lead Generation Ads. For example, we've seen email-only forms come in at less than $0.50 per lead and long forms come in at $5.00+. Compared to your cost per acquisition from sending traffic to forms on your website, these ads are almost always cheaper. We highly recommend giving them a try for your next lead generation campaign. Get in touch today and get started on Facebook Lead Generation Ads.
–