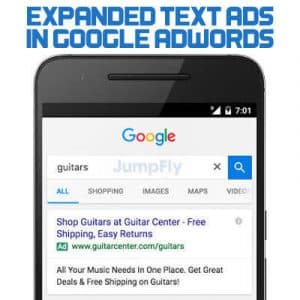 in 2016, Google made a huge announcement and introduced Expanded Text Ads to AdWords advertisers. Expanded Text Ads (ETAs) are a really big deal, literally. These new ad formats increase the amount of advertising real estate allowed for each ad by 47%. This increase in characters and space for ad copy allows advertisers to create more seamless and compelling ad copy allowing their business to truly stand out. The new ETA format shows across all devices (both desktop and mobile) and the ads wrap automatically based on the screen size of the device being used.
The addition of Expanded Text Ads was a big change for Google, arguably one of the biggest since AdWords was launched 15+ years ago. The new ETA formats effectively end the 25-35-35 regular text ad constraints. Instead of one 25-character headline, ETAs allow paid search advertisers TWO headlines each with 30-characters. ETAs also boast a longer description line, going from two separate 35-character lines of text to one 80-character description line. This change helps advertisers to get their message across without having to worry about writing two separate lines of ad copy, instead opting to craft one longer unified message for the ad. In this new ad format, the display URL is also no longer manually entered, but is automatically populated from the final URL that is provided. Another noteworthy upgrade to the display URL is the addition of two full customizable 15-character URL path fields that are appended to the end of the display URL on the served ad.
All this information is fine and dandy, but what does it REALLY mean to AdWords advertisers? Do ETAs perform better than standard legacy text ads?  The short answer is yes, ETAs that are created the right way can outperform standard legacy text ads by as much as 15%. The click-through-rate (CTR) of expanded text ads is typically better, as is the conversion rate. Perhaps this is due to the larger physical space the ETAs are taking up, or maybe it's because advertisers are able to use the two headlines to capture the attention of the searcher, and then give users as much detailed information as possible in the 80-character description line. Either way, the performance of Expanded Text Ads appears promising.
If you are a current advertiser interested in implementing ETAs in your AdWords account, but have no idea where to start, give JumpFly a call. Full-service paid search account management is all we do and we would be happy to manage your PPC campaigns. JumpFly prides itself on keeping our finger on the pulse of the new developments paid search industry. We are always looking for ways to implement new, exciting features into the campaigns that we manage for our clients.