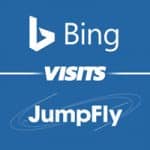 August 30, 2017 – Four of JumpFly's trusted Bing Ads representatives visited JumpFly's office to provide Bing Shopping training. Richard Park, a Bing Shopping Expert, provided Bing Shopping Training that included an in-depth look at optimization opportunities as well as pilots in development on the Bing Shopping Platform.
Richard's presentation highlighted the importance of Feed management in successful Shopping campaigns. Feeds require optimized product titles, accurate data and high quality images to return high performance. Optimizing product titles by using keyword-rich titles and descriptions helps to improve query matching to show the best product for any given search term. Accurate data in the feed will improve credibility and show your products and prices correctly. The image that shows in Shopping results needs to be accurate and of high quality. Better product images increase click-through and conversion rates as potential customers are able to more quickly find the product they are looking for. Bing relies heavily on the data provided in the Shopping feed and optimization of this feed will drastically improve performance of Shopping campaigns. When optimizing Shopping campaigns remember that the feed is king!
Bing shared many new features and upcoming pilots that will improve the Bing Shopping platform. JumpFly's Elite Partner status is critical in ensuring that JumpFly's clients are able to participate in new pilots as soon as they are available. JumpFly's clients benefit from early access to new opportunities on the Bing platform as early adoption of these opportunities allows JumpFly's clients to stay ahead of the competition.
Bing Shopping continues to be an excellent opportunity for JumpFly's clients to capture high quality results. There is an exciting future ahead for Bing Shopping and many opportunities for JumpFly's clients on the Bing platform. Bing's support and guidance is valuable to JumpFly in implementing these new pilots and optimizations.
About JumpFly:
JumpFly professionally develops, implements and manages Google AdWords, Bing Ads, Yahoo Gemini and Facebook pay-per- click advertising accounts, enabling clients to maximize Internet advertising results while saving time and money. Proper setup and management of these powerful programs will likely make the difference between an advertiser's success or failure. JumpFly's full-service solution enables clients to focus on their core business while achieving the best possible results from their search engine marketing campaigns. JumpFly is a Premier Google Partner and exclusive Bing Elite Partner. JumpFly assists more than 400 clients, offers a money-back- guarantee, ranks as the #1 PPC Management Company by TopSEOs and Clutch, and has an A+ rating from the BBB.