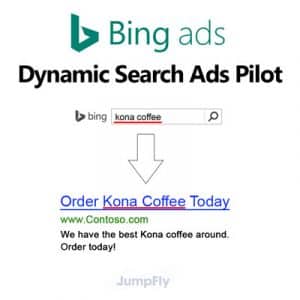 Dynamic Search Ads are now available through a Bing Ads Pilot and can help provide a boost in volume for eCommerce advertisers.  Dynamic Search Ads campaigns can be an effective supplement to conventional keyword targeted campaigns, especially in a business where you may routinely have new product listings or items temporarily changing in availability. In this type of environment, along with the fact that search behavior can be a moving target, even well-managed Search campaigns containing thousands of keywords can miss potentially relevant searches at any point in time.
Dynamic Search Ads are a great way to target these searches with dynamic ads generated directly from your website content. A well-structured Dynamic Search campaign can effectively complement your existing keyword targeted ads to achieve broader coverage across all of your products and generate incremental sales. It can also let you "data mine" for keywords you might not have thought of, which you can then add to your conventional search campaigns.
How Dynamic Search Works: Whenever a relevant search occurs that is not covered by a conventional keyword targeted campaign, Bing dynamically generates an ad headline reflecting the specific search query, and then sends traffic directly to the most relevant landing page based on the content of your website. This allows for more comprehensive exposure on your product inventory without disrupting your existing keyword campaigns.
Set Your Coverage Target: You can choose to target your whole website, specific categories of products, or even pages containing certain strings within your URL. Traditional keyword negatives can be used to help refine your targeting and prevent coverage on specific products or categories that you may not want to advertise.
Expand Your Reach and Conversion Results: Dynamic Search Ads can generate incremental sales by promoting your products on a broader range of search queries than you're currently covering through keyword-targeted campaigns alone.
Expand your reach with Dynamic Search to help ensure the most comprehensive level of product coverage, and bring shoppers to the landing pages that deliver exactly what they searched for where they are then most likely to convert. DSA is currently in Pilot, and needs to be requested through Bing representatives. JumpFly is a Bing Elite Partner, and has a representative team for pilot requests.