In true Amazon fashion, the dates for Prime Day 2023 are not announced yet, but we do have deadlines for the Deals, Promotions, and Coupons that brands need to meet in time for the e-commerce site's largest sales event after Black Friday and Cyber Monday.
So if you sell on Amazon and want to participate in Prime Day 2023, here are the important dates for you to be aware of:
Lightning Deals – The deadline to accept eligible deals is April 28, 2023.
Amazon's Lighting Deals are time-limited offers where the brand sets a unit quantity to be discounted during that sale period. For example, if a seller wants to promote their headphones, the company will allot 100 units to the Lighting Deal. The deal will run until time has elapsed or all 100 units for the deal have been claimed. The run time for these deals can be anywhere from four to 12 hours, and Amazon selects the day and time that the deal will run. The brand submits for the eligible week or shopping event – in this case, the Prime Day Window:

Best Deals – The deadline to accept or submit eligible Best Deals is April 28, 2023.
Best Deals are available to eligible products for a set number of days on the Amazon Deals Page. This page is highly searched during the Prime Day event.
Log in to Seller Central if you have questions about setting up your deals or want to reference what makes a product eligible for a deal.
Coupons – There is no submission deadline yet.
Coupons do not yet have a deadline to submit in time for Prime Day 2023. In past Prime shopping events, Coupons were available up until the week of the event date. So those who like to use Coupons over Deals have some time to plan and submit.
Prime Exclusive Discounts – There is no deadline yet, but the window to submit is open.
Prime Exclusive Discounts are available to Prime Members only and show a crossed-out discounted price. To set up a Prime Exclusive Discount, simply tick the box in Step 1 indicating that this discount is intended for Prime Day.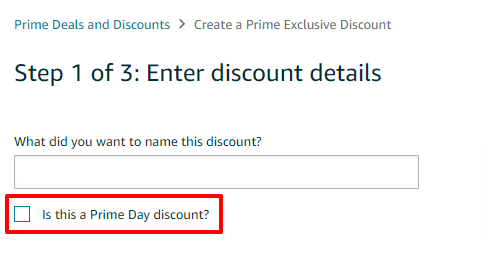 There are different criteria that products need to meet for a Prime Exclusive Discount during the Prime Day event that differs from a traditional Exclusive Discount run at other times of the year. See Amazon's criteria below:
Eligibility Criteria for Prime Day
On Prime Day, products with Prime Exclusive Discounts will display a badge to Prime members. To be eligible for the badge, your Prime Exclusive Discount must meet the following criteria:
The Prime Exclusive Discount must meet all regular eligibility criteria.
You must be a seller with at least four seller feedback ratings. Sellers that haven't received any feedback ratings from buyers are also eligible.
The product must have a rating of at least 3.5 stars, or no rating.
The discount must be at least 20% off the non-member, non-promotional price (that is, your price or sales price, whichever is lower).
The Prime Exclusive Discount price must be 15% lower than the reference price (that is, the List Price or Was Price). For more information, go to Amazon policy on reference prices and Show a reference price to your products.
The Prime Exclusive Discounted price must beat the lowest price for the ASIN in the past 30 days. The lowest price in the last 30 days is the lowest customer bought price for the ASIN in that period including all deals, promotional, and sale prices across all sellers.
Promotions – There is no set deadline for promotions at this time.
Brands who want to take advantage of Promotions (Promo Codes, Percentage Off, or BOGO), still have time to submit these. Just like Coupons, Amazon has allowed Promotions to be submitted closer to the event date in past years, compared to Deals and Prime Exclusive Discounts. However, since we do not yet have a timeframe for Prime Day, brands will have to hold tight on creating these. But it's a good idea to have a plan in place now so that when the event window is announced by Amazon, you can hit the ground running and get your promotion submitted quickly.
With the short timeframe Amazon gives for events such as Prime Day, it's critical for Sellers and Vendors to have a plan in place early and be able to adapt. Amazon Prime Day in 2022 was a two-day event (July 12-13), with a second Prime Day event in October (billed as the Prime Early Access sale), to kick off the holiday shopping season.
It's my estimation that Amazon's taste for deal days and the shopper's expectation for these events is not fading any time soon, especially as other e-commerce platforms, such as Walmart, take note and mimic these deal days. Brands need to have a promotional plan for the year in place but leave room for adaptation, as many of these event dates and deadlines are not announced until the last minute.