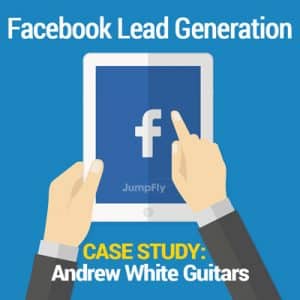 A common objective among many advertisers is to reach new potential customers and expand their remarketing lists. Luckily, Facebook allows this process to be simple and time-efficient for advertisers with the option to create lead generation campaigns.
By creating a custom lead form and a campaign that optimizes for lead generation, Facebook advertisers can provide a simple avenue for any interested Facebook users to provide their emails and other relevant contact information.
Lead ads look very similar to regular Facebook ads, but they provide the additional option to submit a form that is pre-filled with information that users have already provided Facebook – such as name, e-mail, and phone number. Once the campaign is over, Facebook makes it simple for the advertiser to collect the new leads from their Page, or by syncing them directly to a CRM.
One JumpFly client in particular – Andrew White Guitars – has run several successful lead generation campaigns that have allowed him to collect over 1,700 new potential customer emails. Some of Andrew's go-to techniques for collecting leads include advertising guitar giveaways and granting special access to exclusive content. We are able to ensure that these lead form ads get in front of relevant eyes by honing in his audience on guitar-related interests. Those who are interested in the ad's offer can easily enter or sign-up by opting into Andrew's email newsletter with their email addresses through the lead form.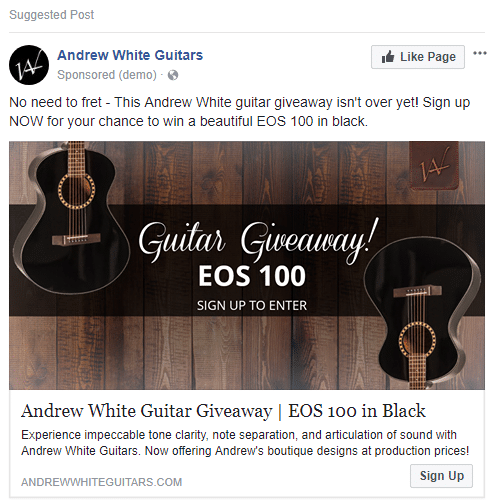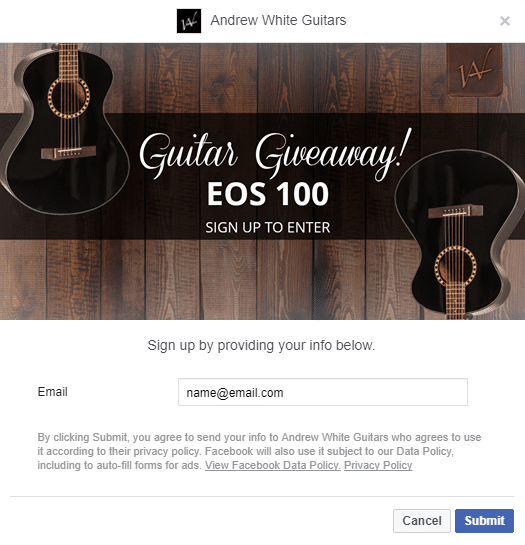 Once the giveaway is complete, Andrew is able to quickly retrieve his new leads, since Facebook allows him to seamlessly integrate his Zapier e-mail marketing platform with his CRM. He then has a whole bank of newly-collected emails that he can use in a new customer list for remarketing and add to his newsletter email list.
If you are interested in quickly expanding your pool of potential customer emails, Facebook lead generation campaigns may be well-worth exploring.